Johnny Depp's Grin After Kate Moss' Testimony Delights Social Media
Johnny Depp appeared to grin at his former girlfriend after she testified in the defamation trial of his ex-wife, Amber Heard, on Wednesday, and his smile received a notable reaction from many on social media.
Heard is being sued by Depp for $50 million for defamation regarding an opinion piece she wrote in 2018 in which she claimed—without naming Depp—that she was a victim of domestic abuse.
The actress mentioned supermodel Kate Moss on the witness stand when alleging a rumor that Depp pushed Moss down a flight of stairs during their relationship 20 years ago.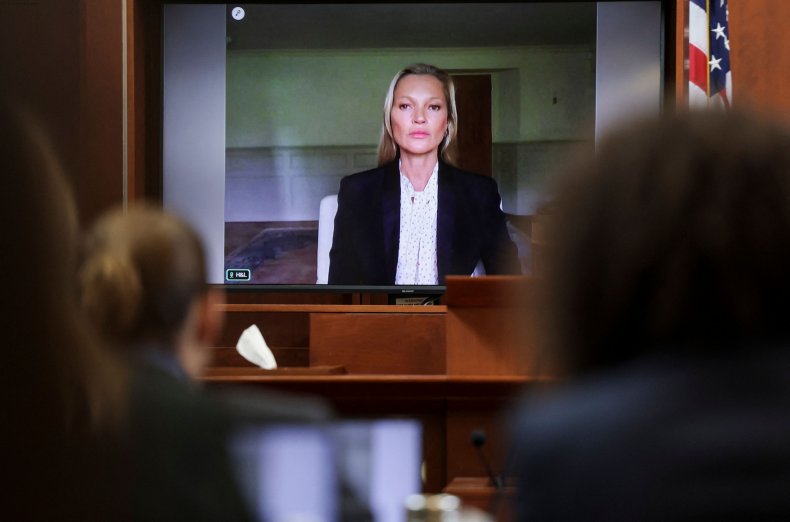 Because of the mention, Moss was asked to testify to discuss the rumor, and the model quickly denied that she was ever pushed down the stairs by Depp.
After her very short testimony, which came by video, Depp appeared to smile at the screen.
Many on social media delighted in his reaction and praised Moss for debunking the rumor, which was brought up by Heard first during Depp's 2020 libel trial against The Sun newspaper, which he sued after the paper called him a "wife-beater."
One Twitter user reacted to Depp smiling, writing: "Johnny Depp showing genuine emotions after seeing Kate Moss testify on his behalf. He couldn't stop looking at the screen when her testimony finished. He might have actually cried; It's difficult to tell. Wow. Just, Wow. Thank you, Kate Moss. Thank you, thank you, thank you."
Another user tweeted a photo of Depp smiling at Moss on the screen and wrote, "omggg the bright smile on johhny's face when kate moss ended her testimony!!!!!!"
One user predicted that Depp would smile at Moss, writing on Tuesday before Moss testified: "When Kate Moss walks in, Johnny will look the entire time at her, smile at her when their eyes meet. Amber Heard won't like that one bit and the jury will notice that too."
Additional praise for the supermodel following her testimony flooded social media on Wednesday. One user wrote: "Kate Moss is a legendary model and has never testified in any court proceedings before. The fact that she agreed to take the time to testify on behalf of Johnny Depp, thirty years after they dated, speaks volumes."
Another said that they never had a prior opinion of Moss, "but the amount of respect & admiration I have for that woman now is off the charts. 25 years after they split, she has the elegance & grace to come forward when he needed her. She is a damn queen!"
To that tweet, one Twitter user responded: "Most important thing to note is that she didn't have to. She chose to do so, the court could not have compelled her to testify. It speaks volumes about her character."
The trial continues and closing arguments are expected on Friday.
Follow Newsweek's live blog for additional updates.