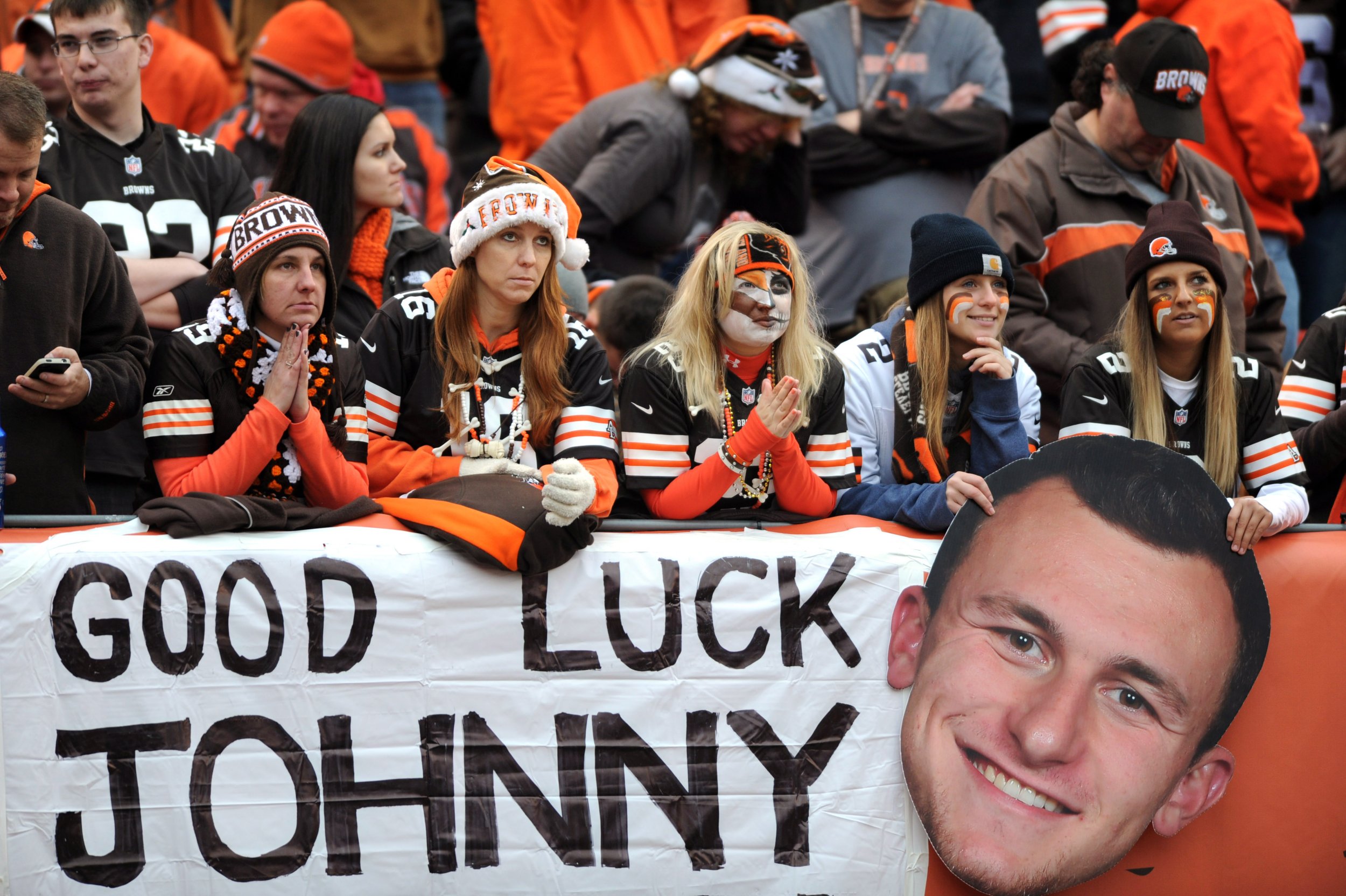 Johnny Manziel is still a member of the Cleveland Browns, but it appears that his tenure with the beleaguered franchise may soon come to an end. On Sunday, the Browns lost to the Pittsburgh Steelers 28-12, putting an exclamation point on a horrific 3-13 season. Not only did Johnny Manziel did not play in the game, he was reportedly partying in Las Vegas on Saturday night. This prevented him from showing up for a mandatory concussion protocol Sunday morning, only the latest indiscretion in Manziel's brief career with the Browns. It also may be his last. How did the team's former number-one pick become an unwanted cancer in two short years? Let's take a look, shall we?
2014
May 8: Johnny Manziel is drafted 22nd overall by the Cleveland Browns. The 2012 Heisman Trophy winner had been projected as high as the first overall pick, but concerns about his size and partying habits caused his stock to fall. He was the last player remaining in the draft's green room when he was picked.
May 24-25: Manziel spends Memorial Day weekend partying in Las Vegas with Rob Gronkowski. The media picks it up, and pictures circulate around the Internet, but new Browns head coach Mike Pettine dismisses the hype surrounding the trip. "That just comes with the territory of who is he," Pettine said. Manziel's reaction to the attention drawn by the trip? "I'm going to live my life to the fullest and be committed to this game."
June 6: Manziel floats on a swan in Austin, Texas. The next day he is drafted in the 28th round of the Major League Baseball draft the by the San Diego Padres.
June 12-13: A video is taken of Manziel pretending a brick of cash is a cellphone, a move lifted straight out of the playbook of Floyd Mayweather, whom Manziel is spotted with a few weeks later.
June 27: Manziel says he "absolutely" expects to be in the 2014 season as the Browns' starter. He also says, "I'm not going to change for anybody."
July 4: Where did Manziel spend July Fourth weekend? Las Vegas, of course. No big deal, except for a photo sent to Busted Coverage of Johnny Football in a restroom rolling a bill…rather tightly. Hmm.
July 21: Manziel has yet to take a snap as a professional, but his jersey is already the league's highest selling. Considering he plays for the team with the drabbest, most boring uniforms in professional sports, that's quite an accomplishment.
July 25: The Browns are "alarmed" by Manziel's behavior, according to a report.
August 9: Manziel makes his preseason debut for the Browns, going 7-11 for 63 yards while rushing for 27 yards on six attempts. His performance is described as "exciting," "uneventful," "impressive" and "solid."
August 18: Manziel flips the bird to the Redskins' sideline during a 24-23 loss. "I felt like I did a good job of holding my composure throughout the night, and you have a lapse of judgment and slip up," Manziel said after the game. He is later fined $12,000 for the gesture.
August 20: Head coach Mike Pettine names Brian Hoyer, not Manziel, the Browns' starting quarterback.
September 4: Manziel files a trademark for "Johnny Cleveland." It's the 10th trademark he has filed. Other trademarks he has filed include "JFF" and "The House That Johnny Built," a reference for the new stadium of his alma mater, Texas A&M.
September 14: Manziel makes his NFL debut in a game against the Saints. It is brief.
October 3: Manziel says that he misses college life after spending the Browns' bye week watching Texas A&M defeat Arkansas in Dallas.
November 5: Brown GM Ray Farmer says that he believes Manziel is the team's future starter. "We're going to put together the right group, and we're going to make sure everything is in place," he said. "He's going to be ready, and we're going to be ready when he does get that opportunity."
November 22: Manziel is involved in a hotel fight in downtown Cleveland. Reports stated that a fan approached Manziel before being "assaulted by Johnny Football and his entourage." Manziel claimed he was with only his roommate when he was accosted by an aggressive fan. Regardless of what transpired, it was "concerning," according to Browns' general manager Ray Farmer.
December 14: Manziel makes his first NFL start against the Cincinnati Bengals. He throws two interceptions and the Browns lose 30-0.
December 23: Out for the rest of the year with a hamstring injury, Manziel appears to recognize he needs to change his ways if he's going to be a successful NFL quarterback.
December 26: Manziel throws a party Friday night and is late for treatment on his hamstring the following morning. After failing to answer his phone on Saturday, team security visited his apartment in an effort to locate him. He was fined for being late. Manziel says reports of the party are "100 percent false."
2015
January 3-4: Manziel dusts off his middle finger and flips it at some hecklers at a nightclub in Houston, according to TMZ. Said hecklers proceed to throw drinks at Manziel.
January 24: An ESPN report details Manziel's "rocky rookie season." The story includes a report that a teammate called Manziel's year a "100 percent joke."
January 28: Manziel enters rehab.
February 11: Browns owner Jimmy Haslam says he "absolutely" can be the team's starting quarterback. Draining this statement of credibility, he also says that he wasn't aware of Manziel's personal life when the team drafted him.
April 1: ESPN's Chris Mortensen reports that the Browns are "90 percent" done with Manziel.
April 11: Manziel is released from rehab.
April 17: Manziel issues an apology to fans:
I would like to thank my family, friends, the Browns organization, my teammates, and Browns fans everywhere, for your patience, understanding, and support during my stay at Caron. The doctors and staff have been amazing and what I've learned in the last couple of months has been tremendous. I owe private apologies to a lot of people that I disappointed but a very public one to the Browns organization and the fans that I let down. I take full responsibility for my actions and it's my intention to work very hard to regain everyone's trust and respect. I understand that will take time and will only happen through what I do and not what I say. I also understand there's a lot of curiosity about this but anyone who has a friend or family-member that's been through things like this knows it's an ongoing process. I'm going to continue to ask folks to try to respect my privacy as I determine to what degree I am comfortable talking about a subject which I consider very personal. Most of you have been considerate about that and I thank you for it. I look forward to seeing my teammates next week and focusing on football and my desire to be the best possible player, teammate, and man that I can be.
May 30: Manziel reportedly throws a water bottle at a fan after a verbal altercation at the Byron Nelson golf tournament in Dallas.
June 17: Manziel says that he is retiring his famous "money" hand gesture. "Last year is last year, it was what it was and it was not very good," he said. "So for me, I'm trying to close that chapter and just build on what I've done so far this year and just move forward, and try to close that chapter in my life. Not one that I'm very proud of, not one that I want to look back on very much and dwell on, that's for sure."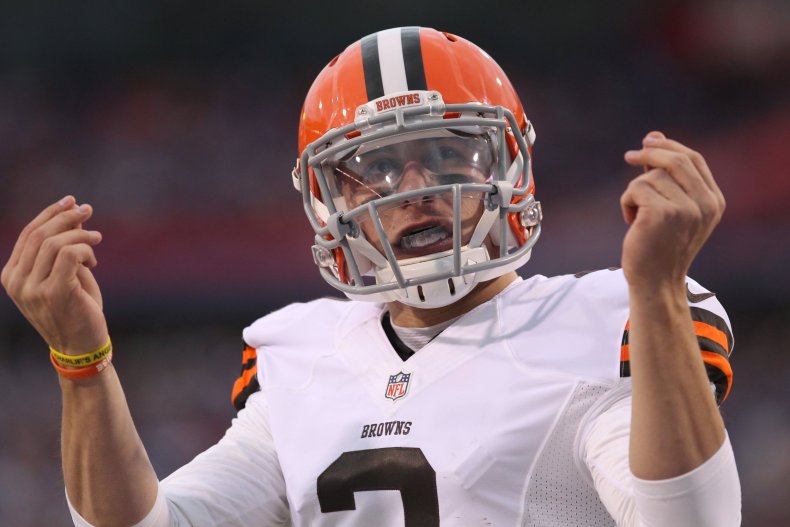 July 27: Manziel opens camp for the 2015 season as the backup to Josh McCown.
October 12: Manziel is pulled over while arguing with his girlfriend Colleen Crowley. Manziel reportedly used the shoulder to speed around a vehicle on the highway and Crowley attempted to exit Manziel's car while it was still on the road. Both Manziel and Crowley had been drinking.
October 25: It is reported that Manziel will be questioned by the NFL regarding the domestic incident on October 12. The league ultimately decides not to discipline him.
November 17: After backing up Josh McCown for the majority of the season, the Browns announce that Manziel will start for the team the rest of the way. Manziel will finish the 2015 season with a 57.8 percent completion percentage, 1,500 passing yards, 7 touchdowns and 5 interceptions. The Browns finished the year 3-13, good for the second-worst record in the league. Mike Pettine would be fired after one season with the team.
November 23: A video surfaces of Manziel partying during the team's bye week. It is later reported that Manziel told his friend to lie to the Browns about the video.
2016
January 2: Manziel is spotted partying in Las Vegas the night before the final game of the Browns' season. Earlier in the week he reported he was suffering from concussion-like symptoms, and a later report stated that he showed up "disheveled and inebriated" to practice that week. Because of the reported concussion, Manziel was not scheduled to play in Sunday's game, but he was required to report to the team's facility for mandated concussion protocol. He did not. This could be the end.…
Your move, Jerry Jones.
Uncommon Knowledge
Newsweek is committed to challenging conventional wisdom and finding connections in the search for common ground.
Newsweek is committed to challenging conventional wisdom and finding connections in the search for common ground.
About the writer
Ryan Bort is a staff writer covering culture for Newsweek. Previously, he was a freelance writer and editor, and his work has appeared at Esquire, Quartz, Paste, Grantland, VICE Sports, and elsewhere. He is originally from Dallas, Texas.