The Johnny Manziel Slow-Motion Train Wreck: Coming Soon to a Judge Near You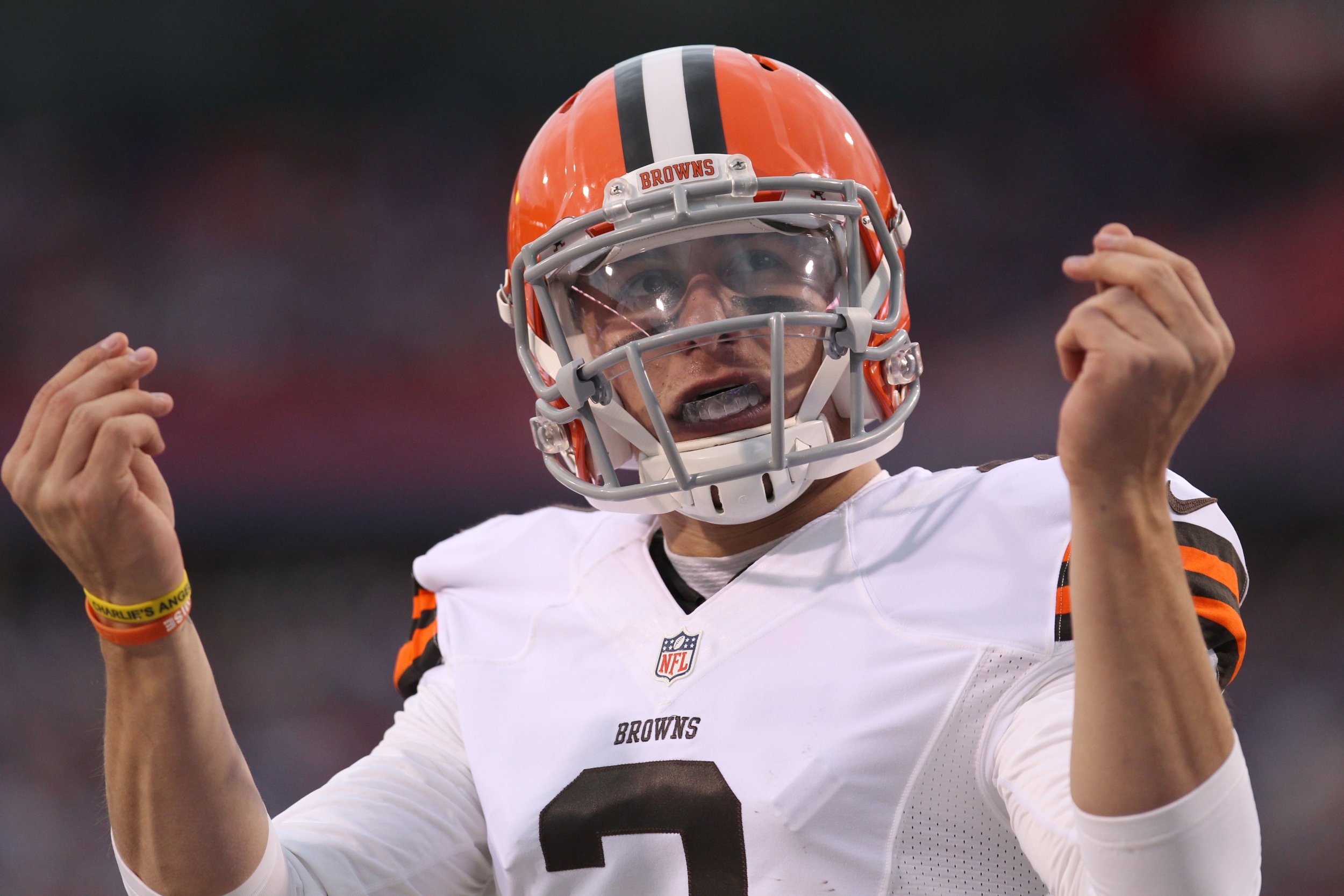 Before you venture a step—or, considering the subject, a misstep—further in assessing the gridiron odyssey of Johnny Manziel, you should watch his 2014 appearance on Gruden's QB Camp on ESPN. Throughout most of the hour that the 2012 Heisman Trophy winner out of Texas A&M spends digesting film with host Jon Gruden, he's all "yes, sir" and "no, sir," or providing succinct, earnest responses to each of Gruden's questions or comments.
Now fast-forward to the 40:15 mark, as we arrive at the signature play of Manziel's redshirt freshman season, his Heisman season, in College Station. The Aggies are playing undefeated, top-ranked Alabama in Tuscaloosa. The ball is snapped to Manziel in the red zone on a pass play that Gruden has already outlined as a simple "double under" route.
Johnny Football eschews the easy check-down pass, instead flushing himself from the pocket, running into his own lineman, coughing up the football, catching it in midair, dashing to his left and then throwing against the motion of his body a perfect spiral to a wide-open teammate, Ryan Swope, in the end zone.
Touchdown. If Picasso had ever donned a helmet and shoulder pads, he would be Johnny Football. "That's the greatest play I've ever seen," marvels Gruden. "But you know what Peyton Manning was saying back at his house? 'Just throw the damn 'under' and get on with the game.'"
Manziel concurs, then turns his head 90 degrees, shifting his gaze from the screen to Gruden. "But where's the fun in that?" he asks.
Where once Manziel tossed a pretty ball, his only spirals of late have been downward. Last weekend, Manziel partied at the Coachella music festival in Indio, California, just a few days after he and his friends allegedly trashed a West Hollywood rental home, reportedly causing $32,000 worth of damage. You would expect Manziel to be a fan and one day a featured character in HBO's Hard Knocks, but his behavior suggests another HBO show: Vinyl. "There was cocaine all over the kitchen table, and mushrooms were still out on the table in front of him," real estate broker Nicholas Goodwin told the New York Post about the wrecked rental. "There was booze everywhere…broken glass over the floor and a champagne glass in a tree."
If Manziel, who is currently a free agent, tossed that champagne flute into a tree, it might have been his last meaningful completion. Since turning 23 last December, Manziel has been sacked by one franchise, the Browns, two agents and Nike. He faces a grand jury hearing on Thursday in Dallas due to a domestic violence charge, technically a misdemeanor assault, for allegedly striking his then-girlfriend, Colleen Crowley, in the head. Drew Rosenhaus, whose list of bad-boy clients could fill a holding cell, severed ties with Manziel on Tuesday after he ignored the agent's admonishment to get help for his addiction problems. But where's the fun in that?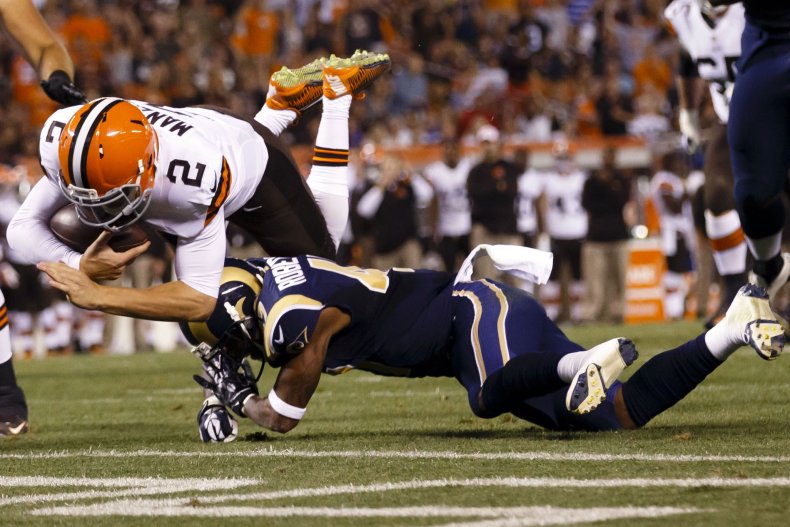 A year ago, Manziel checked himself into a rehab clinic, but he has since fallen down the same well of recklessness. Two years ago this month, Johnny Football was a potential franchise leader wrapped inside a Gump-ian box of chocolates. Here was a 5-foot-11 quarterback who had led the vaunted Southeastern Conference in rushing in his first season. With his improvisational skills and flair for drama, you could compare Manziel to Brett Favre or, reaching back a few decades, fellow SEC quarterback Fran Tarkenton. You could also, given a reckless off-field nature that mirrored his playing style, just as easily compare him to Justin Bieber. "Am I going to have to deal with this?" Gruden, who led the Tampa Bay Buccaneers to a Super Bowl win in 2000, asked Manziel during their televised sit-down as if he were still a head coach. "There's nothing for me to worry about, is there?"
"No, sir," replied Manziel.
But of course there was, and most in the NFL realized it. "Manziel's greatest strength is that he truly believes he is unstoppable and that he can find his way out of anything," an NFL scout is quoted as saying in Bruce Feldman's 2014 book, The QB: The Making of Modern Quarterbacks. "But his greatest weakness—and the thing that scares the shit out of people—is also that he truly believes he is unstoppable and that he can find his way out of anything...it's the kid's total reckless personality, and God knows what that will lead to."
Manziel, a potential No. 1 overall pick, slid down the draft board on the first night of the 2014 draft. Eventually, in what would make for a wonderful scene in the Johnny Football movie if it ever were to be made, Manziel sent a text to Browns quarterback coach Dowell Loggains that read in part, "I want to wreck this league together."
Cleveland selected Manziel, but over the course of two modest seasons he started just eight games, throwing seven touchdown passes and seven interceptions. The Browns went 3-12 in games Manziel played, and he garnered far more attention via Instagram photos from Cabo or Vegas than for anything he did on a football field.
There was indisputably a magic in the way Manziel performed in his two seasons at Texas A&M, a virtuosity comparable to Pete Maravich on the hardwood. There was passion in the way Manziel comported himself on the field, and it's very difficult not to root for the young man who sat down with Gruden. "I really like Johnny Manziel as a person," Gruden concluded after their session. "I think he's sincere in putting the past behind him in terms of some of the distractions that have taken place. I think he's got a bright future."
Manziel has squandered that future. It may be too late for Johnny Football to scramble out of a disastrous play, to turn a devastating loss into a touchdown. The former Heisman Trophy winner is now nothing more than a first-ballot Bro Football Hall of Famer.
There's an excellent chance Manziel was in the audience at Coachella on Saturday night when Guns 'N Roses took the stage as the headliner. As epic and unforgettable as GNR's footprint on rock 'n' roll shall forever be, the band is equally notorious for its failure to fulfill its promise, for what might have been if its members hadn't been so distracted by fame and excess. Last Saturday, GNR reunited and played a few hits from their massive debut album. While it was released in 1987, five years before Manziel was born, he is likely familiar with its title: Appetite for Destruction.