Johnny Marr Is 'Off The Leash' With His New Album 'Fever Dreams Pts 1-4'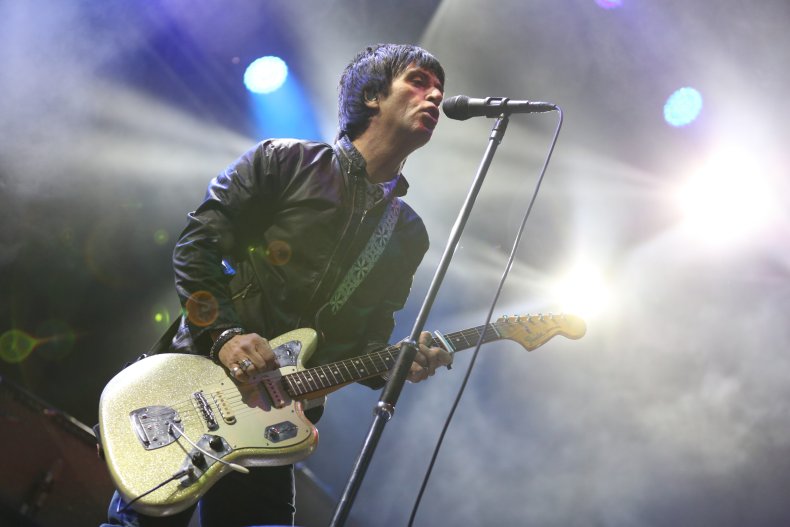 Long before he completed his latest solo album, Johnny Marr already had its title: Fever Dreams Pts 1-4. "I just like the sound of [it]," the former guitarist of the Smiths says. "And then I had to employ some lateral thinking to work out what parts 1-4 were going to mean. That's one of the great things about art: it sets up some puzzles and systems that you have to kind of make sense of."
Fever Dreams Pts 1-4, which came out on Friday via BMG, is a sprawling, 16-track collection and Marr's most expansive-sounding effort ever since he properly launched his solo career almost a decade ago. The British musician is currently in a productive period that includes not only the new album but also his recent soundtrack work on the latest James Bond film No Time to Die and an upcoming tour this year.
Work on the new record happened just prior to the pandemic lockdown. Marr says, "I think because I was on my own quite a lot so much, I was able to get back into being a studio rat in the way that I used to be. I felt like instrumentally and sonically let off the leash on this record."
Not only does it showcase his signature guitar playing and the melodic songwriting that characterized the Smiths' sound, but Fever Dreams Pts 1-4 marks a musical progression by incorporating electronic and cinematic textures. The album's first single, the danceable and hypnotic "Spirit, Power and Soul," is one example of the extroverted and anthemic sound of the entire work. "I wanted the chorus to be uplifting and be sort of self-empowering and empowering," Marr says. The song's verses are actually quite bleak: "Lay awake too long/Dark has come hope has gone." "This isn't that I was having a massive crisis myself," he explains, "but I can imagine that those feelings up were quite common at 4 o'clock in the morning for a lot of people. But I wanted to resolve it with a sense of beating hopelessness."
Lyrically, Fever Dreams taps into Marr's personal introspections as well as his observations of society at large. "Over the albums, there have been certain songs I had to express genuine personal emotions. And it turns out that there are songs that really connected people. So I went into this album thinking that it would be good for me as a writer to get better at that and develop that. But I still didn't want to make a lockdown record. I had no intention of singing about anti-vaxxers or the stores being closed or not being able to travel or anything so obvious. I like for things to have some sort of poetic leeway."
The driving and sweeping "Tenement Time," is a nod to Marr's inner-city youth in Manchester, England. "I used to live near a lot of factories and [all the boys and girls] used to sneak in there at nighttime and steal stupid stuff and chase each other around," he recalls. "And then the security guy would come in and we'd have to break a window to get out. It was exciting. Sometimes danger and fear and excitement make you feel alive, especially when you're a kid. That's what happened in a couple of my other songs as well—that sort of celebration of hyperactivity. It's really honoring being working-class."
Of the four solo albums he has recorded so far, Marr considers Fever Dreams Pts 1-4 the most ambitious. "It was the most pressurized because the previous record [Call the Comet] was really liked by fans and critics. So I knew I had to bring it on this album. But it ranks as the highest because I think there's more variety on it. There's a song on it called "Human," which is the most direct and emotional song that I've written and recorded entirely on my own to date. So that's been very satisfying because the sentiment in it is very sincere. When you put yourself a little bit more out on the line, you're kind of proud of it."
Coincidentally, the release of Fever Dreams this year falls on the 40th anniversary of the Smiths' formation by Marr and singer Morrissey in Manchester. "It's absolutely amazing," Marr says of the iconic band's legacy. "It's not something that you can design. It wasn't something I would have expected when I started out. I knew from being a youngster that I was always going to live the life of a musician—whether I was busy or broke or successful or whatever it was going to be. There was no other life for me really...that's meant I'm a touring musician 40 years after I started."
"When the Smiths started out, we were making music that was quite radical. The early songs were unusual songs, the music was unusual, and the singing was unusual. And the climate we came out of—meaning the culture of British alternative music in the very early '80s—was anti-mainstream. If you were too commercial, you wouldn't have got a deal on [indie record labels] Rough Trade or Factory. That was part of it. You were supposed to be interesting. That was the thing."
"I've always been a fan of artists who are interesting or subversive and hit the bullseye in the mainstream," he continues. "The obvious example is David Bowie. Pet Shop Boys have done that, and on and on the list goes. Can you imagine what culture would be like if it was just vanilla people? Vanilla people making vanilla movies and making vanilla pop songs. I'm always amazed when I get to gatecrash the mainstream. I think I dislike mainstream even more at the moment."
Following the Smiths' breakup in 1987, Marr forged a long career as a guest musician on records by Bryan Ferry, Blondie and Oasis, as well as a member of the bands Electronic, The The, Modest Mouse, and the Cribs. It wasn't until his 2013 record The Messenger that Marr began his solo career in earnest. "I've always lived like a musician and writing songs," he says. "I've got an instinct for work. And when I started the first solo record, I said to the Cribs, 'I've got to go, because I've got 30 songs.' I've been around long enough to know that if any one of your friends tells you they've got 30 songs, you have to kind of step aside and let them do it. I now work at my own schedule, which is pretty solid."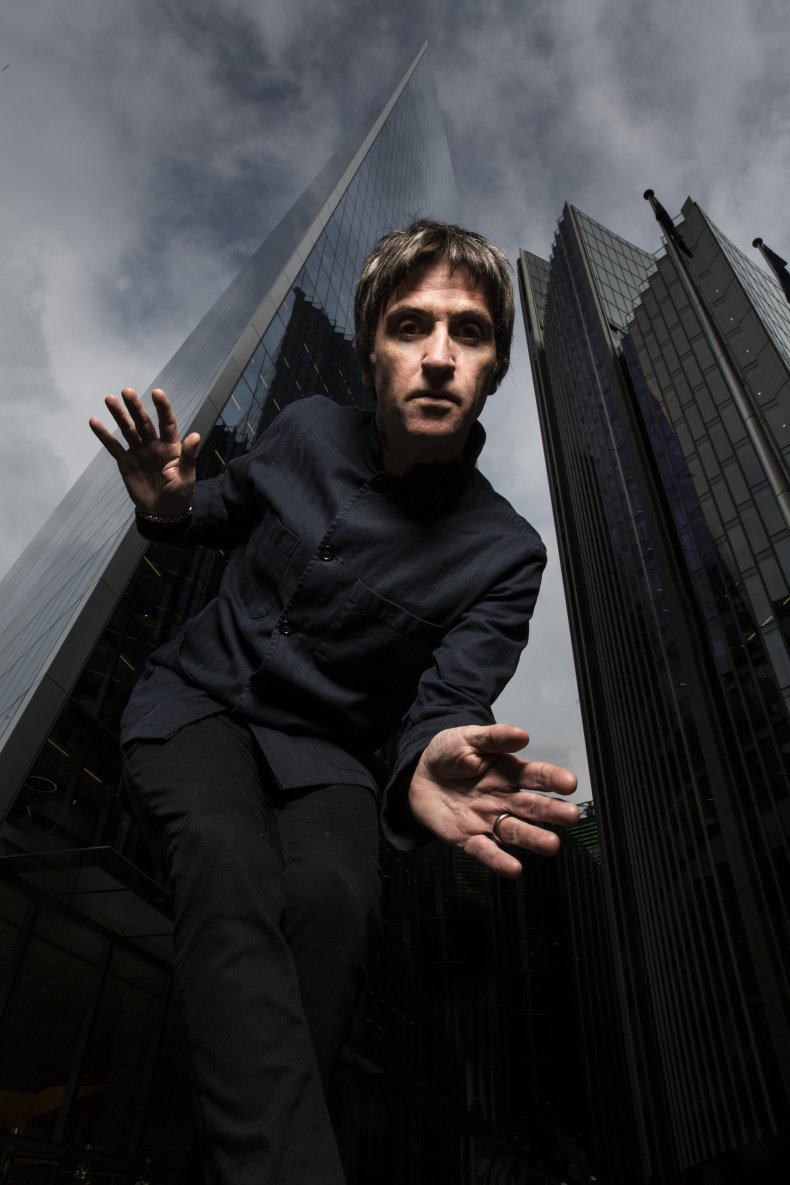 In addition to his own music, Marr has also ventured into movie soundtracks, collaborating with composer Hans Zimmer ever since the 2010 film Inception. As part of his work with Zimmer, the guitarist appears on the title ballad of the latest James Bond movie No Time to Die, performed by Billie Eilish. "Over the last 10 years, I've become sort of Hans' go-to guitar guy, and we're very tight," Marr says. "A month into working on the [Bond] film, I heard that Billie and [her musician brother] Finneas had written the song. When I heard the song, I thought, 'This is fantastic.' Billie's a really good example of someone who's taking the interesting parts of what's going on in alternative street culture and blowing it up to make it part of the mainstream culture. That's why she's a great artist."
Following Fever Dreams Pts 1-4's release, Marr is scheduled to tour beginning in the spring with Blondie in the U.K., and then with the Killers this summer in North America—further evidence that Marr continues to be one of the hardest-working musicians in the business. "When I was little, I didn't realize I had an artistic temperament," he says. "I knew I loved music and the guitar. But sometimes I found life a bit tricky when I was a kid because I didn't really know that my thing—which was playing the guitar—was really a big part of expressing myself. I feel lucky to have found my thing at an early age. Having a sense of purpose is what we all want, isn't it? I'm getting a bit philosophical now, but that's the way it is. We're living in philosophical times, I guess."
Further Listening
The Messenger
(Sire, 2013)
After years of performing as a guitarist for other bands and the Smiths' breakup in 1987, Johnny Marr made his proper solo debut record with The Messenger, which not only showcased his familiar bright guitar sound playing but also his lead vocals. The Messenger was a good old-fashioned barebones indie rock album, highlighted by such strong tunes as the punk-sounding "I Want the Heartbeat," the power-pop exuberance of "Upstarts," and the reflective "New Velocity Town." As Marr wrote in his 2016 memoir Set the Boy Free about that album: "It seemed that a lot of rock music had suddenly become extremely earnest, and too concerned with expressing some inner turmoil deep down inside, some personal malaise we all shared—as if all modern music had to be about conquering adversity as we all stand as one in a field...I thought it might be good to do something that was about other things—cities, environment, society, other people."
Playland
(Warner Music Group, 2014)
Following The Messenger and the accompanying tour, Marr released his second solo album Playland, which continued its predecessor's exuberant and upfront sound as heard on
the stomping "Boys Get Straight," the infectious "Easy Money," the head rush of "Dynamo" and the pummeling title song. The exquisite sounding "This Tension" easily was the most Smiths-sounding track of the record. "The whole idea of Playland really is looking at what it is about culture that we're chasing," Marr told DIY in 2014, "whether it's sexual gratification, consumerism, commercial gratification, money. Of course, there's a price to pay for those things, but I'm making an observation about that and in many ways, I'm celebrating that. I'm asking questions about that."
Call the Comet
(New Voodoo, 2018)
The expansive sound on Marr's new album Fever Dreams Pts 1-4 is an extension of 2018's Call the Comet, which incorporated electronic and atmospheric textures. The result sounded both dynamic and anthemic with its driving tunes "Rise," "The Tracers" and "Spiral Cities."
"Call The Comet is my own magic realism," Marr said in a press statement in 2018. "It's set in the not-too-distant future and is mostly concerned with the idea of an alternative society. The characters in the songs are searching for a new idealism, although there are some personal songs in there, too. It's something that people like me can relate to." In a Guardian interview from that same year, the guitarist said. "I'm hopefully socially aware – but I didn't want to make an overtly political, preachy record. So it became more about the feeling of the issues, the emotional response...I was also reminded that music can be about escapism, and defiance. This record is my defiance."