Johns Hopkins Police Protesters Who Chained Themselves Inside Building Arrested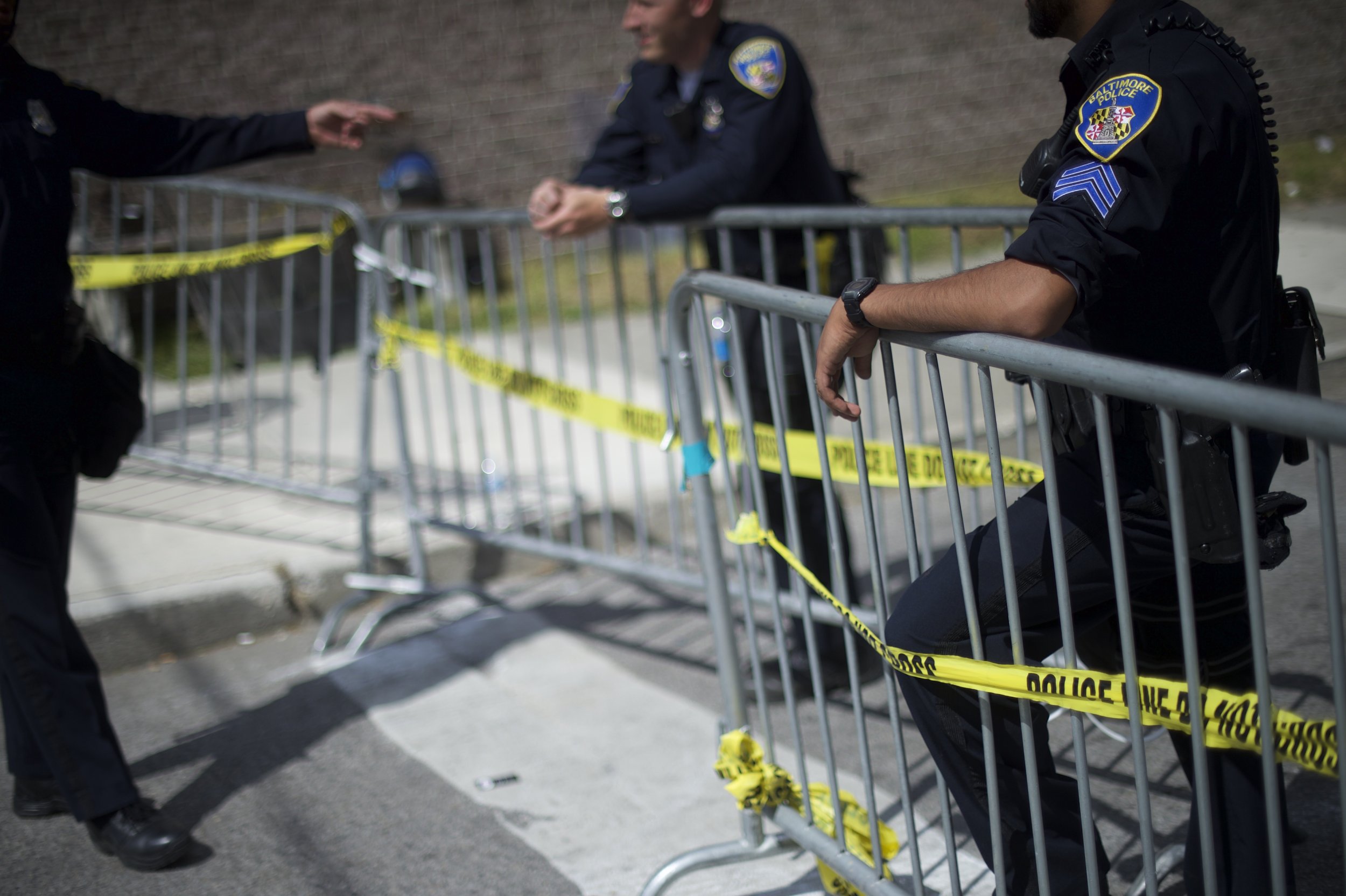 A group of Johns Hopkins University students were arrested on Wednesday morning, about a week after they chained the doors of Garland Hall closed in protest of the university's plans to establish a private police force on campus.
The sit-in at the Baltimore university began on April 3 in protest of the school's contracts with Immigrations and Customs Enforcement (ICE) and private police forces. About a month later, on May 1, the students chained the exterior doors shut and continued the sit-in, prompting the school to reach out to the Baltimore City Police Department and the Baltimore City Fire Department.
Some college and university public safety departments include sworn police officers, who are able to make arrests, issue citations and operate as part of a local police force or an individual on-campus police department. A bill signed into law on April 18 granted Johns Hopkins the authority to establish a small university police department.
Along with opposing the university's existing contracts with ICE, protesters adamantly fought the establishment of the university police force, largely on the basis that it could be dangerous to minority students.
Ahead of the arrest, protesters chanted, "Black lives matter" and "Trans lives matter" in a video posted on Facebook. As the first officers entered, the protesters chanted, "No justice, no peace, no private police. No justice, no peace, no ICE in our streets."
A total of seven protesters were arrested, representatives of the Johns Hopkins Sit-In said at a press conference, including three graduate students, one undergraduate student and three community members.
"What happened this morning was a haunting premonition of what would happen if we were to have a Hopkins police force," Turquoise Baker said during a press conference. "The Hopkins administration chose not to listen to its students, instead it chose to listen to its investors. It chose to listen to its wallet. It chose to listen to everyone other than who actually matters to this institution and to this community."
Johns Hopkins told Newsweek that the university is "unshakeable in our support of freedom of expression," adding that it's at the "core of academic freedom." However, the university said the recent chaining of the exterior doors violated fire code and presented a "safety and security threat."
"We had hoped to find a constructive means to resolve this increasingly dangerous situation, and we are disappointed that the decisions of the protesters necessitated a law enforcement response," the university said.
Hopkins President Ronald Daniels and Provost Sunil Kumar extended an invitation to meet with protesters on Sunday. The meeting did not take place, as student organizers requested more time to form a collective response.
Along with a suggested minimum 48 hours advanced notice, the protesters outlined conditions for a future meeting with administrators, including academic, professional and legal amnesty for those associated with the sit-in, a publicized live audio transmission of the meeting and a neutral mediator.
Moving forward, the university said it remains "open to dialogue" and will continue to support students.
Erini Lambrides, a Ph.D. student, said during a press conference that she was there because she didn't want to have any "doubt" when she looked back on her life. She encouraged others to look at their own communities and hold private police forces and institutions with contracts with ICE accountable.
"I don't want any doubt that when I look back and ask myself the question, 'What would I have been doing during women's suffrage? What would I have been doing during civil rights?'" Lambrides said. "I want to know, I want to know that I found a place and I found the people and I found the time to use my body in any way possible to support these causes."
The protest was a joint effort from Students Against Private Police (SAPP) and the Hopkins Coalition Against ICE and identified three demands:
The university to withdraw plans to create an armed JHU private police force
End contracts with ICE
Recognize the police murder of Tyrone West by Baltimore police officers and demand justice and accountability for Tyrone West
West passed away during a traffic stop in northeast Baltimore. Officers and witnesses said he fought with police, but the family was awarded $1 million in a wrongful death suit settlement in 2017.
"Essentially, the same anti-democratic practices that led to Hopkins ramming this police force through are the same anti-democratic practices that allow Hopkins to continue against huge community opposition, huge faculty opposition, as well as, student opposition to continue ICE contracts," Conor Bean, a graduate student at the university and member of the Hopkins Coalition Against ICE, previously told Newsweek.
Protesters set up a GoFundMe page to raise money for food, hygiene supplies, toiletries, bedding and other necessities for the sit-in. After the arrests, the crowdsourced funds will be used for bail and legal fees.