Two Johns Hopkins University professors who allegedly violated the school's sexual misconduct policy are no longer employed by the Baltimore, Maryland, school.
One of the professors, identified by the school as Juan Obarrio, was terminated, while the other, who was unnamed, resigned. Obarrio's termination came after students created a petition and held protests calling for his termination.
Days before Obarrio's termination, Morehouse College placed a professor, who students accused of engaging in sexually inappropriate behavior, on leave. In recent months, professors at Stanford University and Boston University have been fired for sexual misconduct.
On Monday, Dr. Beverly Wendland, dean of the Krieger School of Arts and Sciences, informed the Department of Anthropology, of which Obarrio was a member, that the Board of Trustees removed his tenure and terminated his appointment. Before terminating the professor, the University's Office of Institutional Equity (OIE) conducted an investigation and found he violated the Sexual Misconduct Policy.
Heba Islam, a Ph.D. student in the anthropology department, told Newsweek she witnessed the alleged incident on May 4, 2018. She said she was seated next to the dance floor at a bar in Baltimore and was walking down the stairs with the victim, a visiting graduate student, when a woman told her she was also about to intervene.
A petition created by JHToo, an organization aimed at holding Obarrio and Johns Hopkins accountable, claimed that Obarrio attempted to flirt and dance with the graduate student, who wasn't interested. At one point, the petition alleged Obarrio grabbed the student with both arms and dragged her towards the exit as she struggled. Islam told Newsweek that multiple people saw what was happening and when she pulled the student away, a struggle ensued.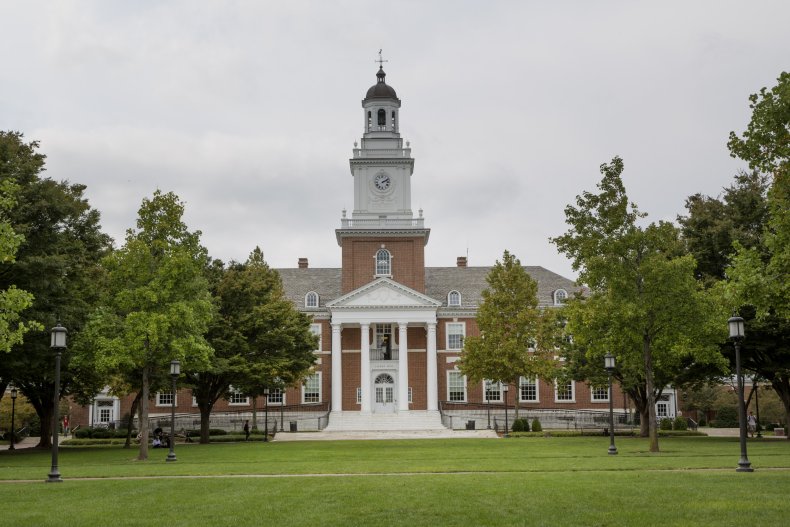 Obarrio "firmly rejected" the accusations in an email to The News-Letter, Johns Hopkins' student newspaper, and said there was "no evidence" for the claims the petition made.
Wendland didn't recount the specific incident in the email but said the faculty conduct was "deeply concerning" to her and the university as a whole. The dean added that Johns Hopkins was committed to providing everyone with a safe and healthy working and learning environment and that it takes allegations of sexual harassment seriously.
While Islam said the university's decision was ultimately the correct one, she criticized the school for how it handled the situation. She characterized the system as "broken," and had a number of improvements for the university, including making the process of reporting less dehumanizing, protecting survivors and witnesses instead of the university and not letting cases "drag on for 14 months."
"It's been an exhausting process," Islam said. "...What I currently feel is tiredness, relief, some semblance of closure and a confirmation of my belief that when you fight together you can attain justice. But I also feel angry that it took so much and so many brave people to make Johns Hopkins do the right thing."
In December, students held a protest and Marios Falaris, who along with Islam reported the incident to the Title IX office, criticized the university for not acting swiftly to resolve the Title IX complaint.
"The university promises to resolve Title IX cases in 60 days," Falaris said at the rally. "Yet here we are, seven months after we made the decision to come forward and the university has next to nothing to show for it."
In October, the university released a report that examined the OIE's response to sexual misconduct, discrimination and harassment complaints. The average time to close a case was 128 days.
Along with lengthy delays, students criticized the OIE for not contacting all witnesses in a timely manner and for only finding Obarrio's behavior constituted assault after students, faculty and the community organized.
"Public accountability was vital here and this has been a collective fight all the way through," Islam said.
On Monday, in a university-wide email, Suni Kumar, Provost and Senior Vice President for Academic Affairs, announced that a second, unnamed professor, was also no longer employed. The second professor was in the School of Medicine and resigned following an advisory board's recommendation they be terminated. The two cases were not related.
The School of Medicine professor was found to have "engaged in sexual harassment of a student, abusive and bullying behavior toward trainees and other inappropriate behaviors."
Kumar called the cases "sobering" in their own rights and added that the university was looking for ways to improve the mechanisms for reporting and responding to complaints and concerns.
"Handling reports of sexual misconduct requires fairness, objectivity, and a careful balancing of confidentiality and transparency, but we are unequivocal in our conviction that faculty or others who are found to engage in sexual misconduct will face consequences," the email said.
In 2014, the Department of Education Office for Civil Rights opened an investigation into Johns Hopkins handling of Title IX sexual harassment and violence complaints, a fact that Islam said should have been divulged to them.
As of Thursday morning, Obarrio's faculty profile was no longer available on the university's website.