Johns Hopkins University Students Stage Week-Long Sit-In to Protest ICE, Private Police
For the past week, students at Johns Hopkins University have been participating in a sit-in to protest the school's contracts with Immigration and Customs Enforcement (ICE) and private police forces and they have no plans of leaving.
Conor Bean, a graduate student at the university and member of the Hopkins Coalition Against ICE, told Newsweek the demonstration started with an organized, community march, but said the "sit-in was a surprise." He noted that while the Hopkins Coalition Against ICE and the Students Against Private Police are separate, it made sense to bridge their causes.
"Essentially, the same anti-democratic practices that led to Hopkins ramming this police force through are the same anti-democratic practices that allow Hopkins to continue against huge community opposition, huge faculty opposition, as well as, student opposition to continue ICE contracts," Bean said.
When the sit-in first started, Bean said organizers planned to have 25-person presence and weren't sure how long they could hold out. However, since it began on April 3, the graduate student said new people keep showing up to Garland Hall to participate.
"It's been pretty inspiring, honestly … At this point, as long as they keep coming we have no intention of ending this," Bean said. "We can't tell these people to leave. They've really built a home here in a kind of radically democratic space that's really hard to find, especially in today's America."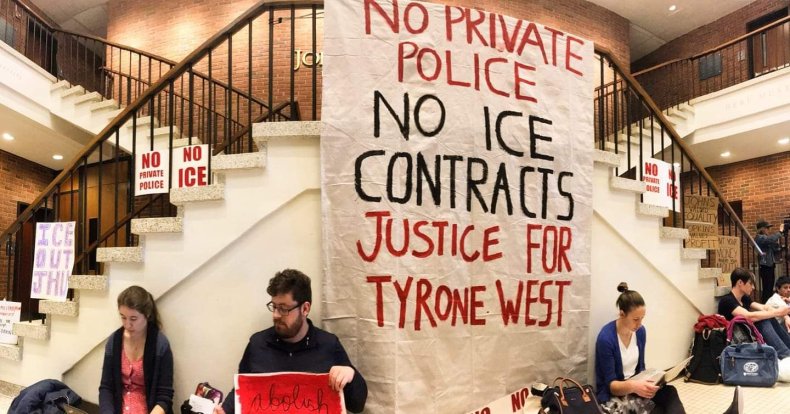 Similarly to the organic nature in which it started, the sit-in has no set shifts or regimen. People show up, others shift out and ultimately, Bean explained, "we make it work."
At first, Bean said the school administrators "definitely" weren't listening and had no intention of bargaining. He reasoned that they likely thought it would blow over.
"So, I think the calculation that they made strategically is, 'We'll wait this out, we don't have to talk seriously with them. Just let what happens, happen. It'll probably peter out in a day or two,'" Bean explained. "The trouble is, we've tapped into a really deep anger at the school."
Karen Lancaster, assistant vice president of external relations, told Newsweek that the student affairs team was working with the protest's student leaders to ensure the safety of demonstrators and that campus business and events can continue. Lancaster said the school allowed protestors to remain in the building during overnight hours, however, if they leave, they cannot return until the building reopens in the morning.
"Johns Hopkins University embraces and fosters a culture of free expression and debate," Lancaster said. "We worked with our students several years ago to develop guidelines to support student protests, which have allowed us to ensure a safe environment as students and others in our university community express their views on a broad range of issues."
She added that regardless of the protest location, demonstrators must abide by protest guidelines and the Student Code of Conduct.
On Wednesday, the two student organizations are holding a rally and march in support of demilitarizing the school and the sit-in. Set to begin at 7 p.m. ET at the Harrit Tubman Grove Monument, rally attendees demand no private police, no contracts with ICE and justice for Tyrone West, who passed away during a traffic stop in Northeast Baltimore.
Officers and witnesses said he fought with police, according to the Baltimore Sun, but in 2017, the family was awarded $1 million in a wrongful death suit settlement.
"Help us DEMAND the university negotiate with members of Baltimore City and the Johns Hopkins campus," the event's Facebook page said. "Enough is enough."
On the one-week mark of the sit-in, Hopkins Professor Nathan Connolly will hold a public talk titled, "State Violence and Public Accountability," according to the Hopkins Coalition Against ICE. The group will also be screening the film Losing Ground before the rally.
"We have no plans of leaving. People keep showing up, new faces every day," Bean said. "There isn't any plan to tell these people who showed up that they have to leave."