What is the Johnson Amendment? Trump's Religious-Liberty Executive Order Undermines Church/State Law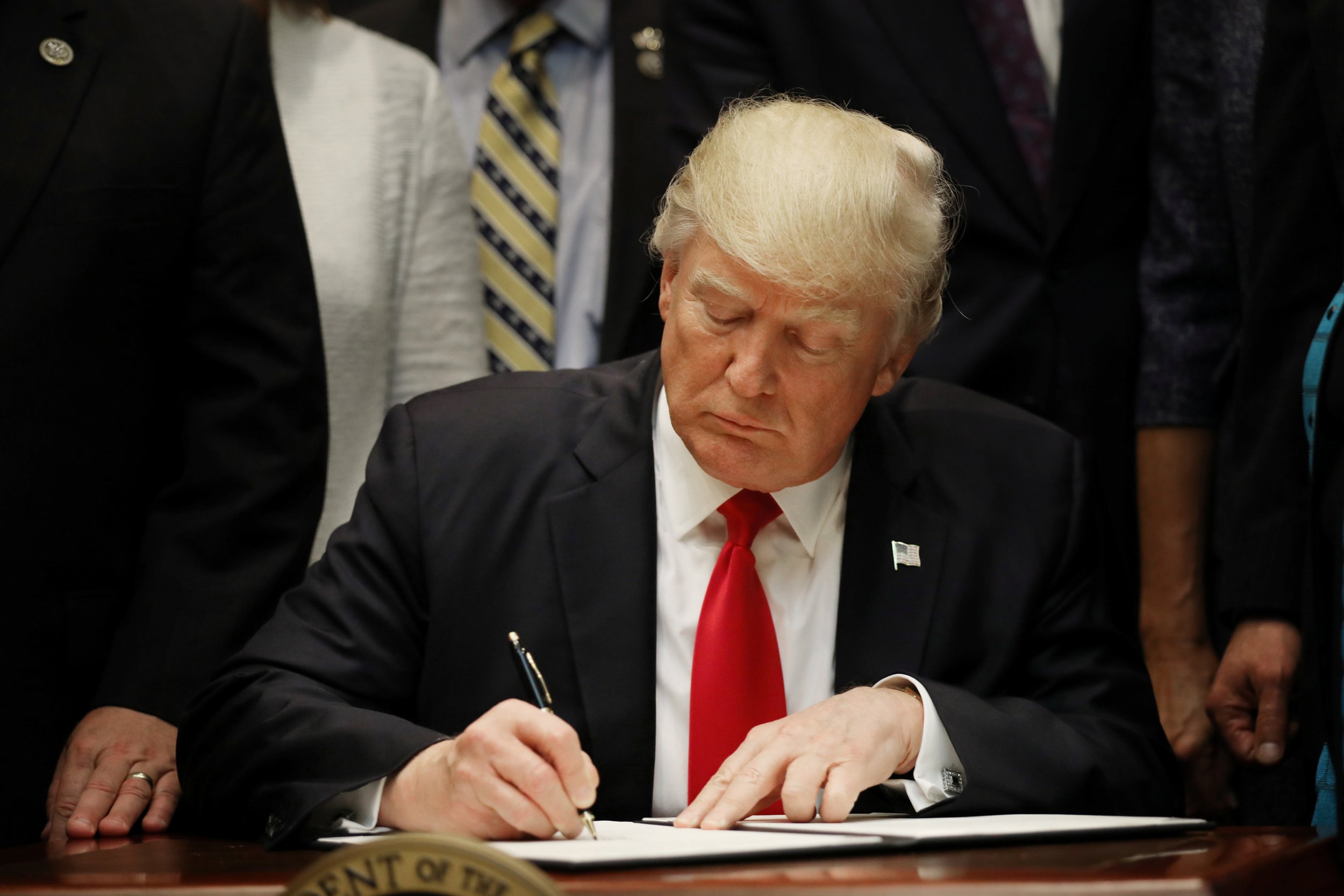 President Donald Trump marks his first National Prayer Day in the White House by signing an executive order on religious liberty that is expected to severely weaken enforcement of one of the country's foremost regulations separating church and state.
According to multiple reports, the order will instruct the Internal Revenue Service to use maximum discretion when enforcing legislation that prevents churches and other houses of worship from endorsing political candidates.
Related: Religious freedom efforts: Next front opens in battle on gay marriage
Known as the Johnson Amendment, the legislation states that tax-exempt organizations "are absolutely prohibited from directly or indirectly participating in, or intervening in, any political campaign on behalf of [or in opposition to] any candidate for elective public office."
The amendment to the tax code, which was signed in 1954 and is named for its primary sponsor, then-Senator Lyndon Johnson, has had limited impact. It does not prevent churches from engaging in all political activity, with nonpartisan voter education fully allowed.
And while the IRS does not publish the list of organizations that have been stripped of their tax-exempt status under the legislation, only one such case is known. Ahead of the 1992 election, the Branch Ministries church in New York took out a series of advertisements in major newspapers calling on Christians not to vote for Bill Clinton.
The issue had largely been dormant until Trump raised it during his campaign. And he aired his views on it once again at the National Prayer Breakfast in February.
"I will get rid of and totally destroy the Johnson Amendment and allow our representatives of faith to speak freely and without fear of retribution," he said.
Around the same time, the Free Speech Fairness Act was introduced in the House and Senate by Majority Whip Steve Scalise (R-La.), Representative Jody Hice (R-Ga.) and Senator James Lankford (R-Okla.) with the aim of repealing the Johnson Amendment. Only an act of Congress can repeal the legislation.
The move was supported by National Religious Broadcasters (NRB), an international association of Christian communicators.
"For too long, the infamous Johnson Amendment has dangled like a sword above the heads of pastors and ministry leaders, chilling their constitutional free speech rights," NRB President and CEO Jerry Johnson said in a statement. "The Free Speech Fairness Act is a fair and reasonable remedy that will ensure such leaders know they can speak as they feel called without having to worry about the heavy hand of the IRS coming down on them."
But there has hardly been a clamor for the law to be repealed. According to a Pew Research Center survey from 2016, 71 percent of Americans oppose allowing places of worship to endorse political candidates while maintaining their tax-exempt status. And not a single religious group favors eliminating the Johnson Amendment. Only 36 percent of white evangelicals support enabling churches to support candidates. The figures are even lower for white mainline Protestants (23 percent), Catholics (25 percent) and black Protestants (19 percent).
There has been widespread opposition from religious leaders too. In an open letter to Trump, 1,300 faith leaders opposed the executive order, including its possible weakening of the Johnson Amendment.
"The draft executive order flies in the face of that rich diversity by enshrining one religious perspective—on marriage, gender identity, health care and the role of houses of worship in partisan politics—into law, above all others," the letter states. "This is neither what religious freedom means in the eyes of the law nor what religion itself means to millions of Americans of faith.
"The religious freedom of individuals and organizations, including that of clergy and houses of worship, is already protected by the First Amendment and federal law," the letter says.