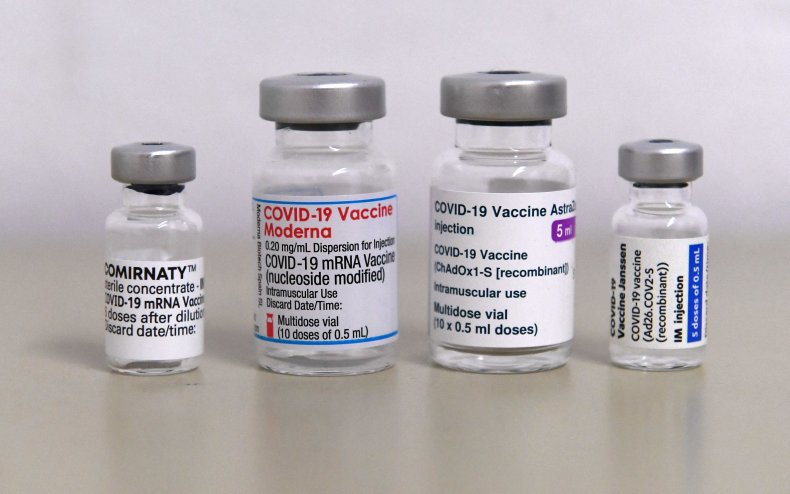 Johnson & Johnson said that it was still "confident" about its COVID-19 vaccine on Thursday after the Centers for Disease Control and Prevention (CDC) recommended that Americans get inoculated with rival vaccines instead.
The CDC endorsed recommendations from its Advisory Committee on Immunization Practices (ACIP) that asserted "a clinical preference for individuals to receive an mRNA COVID-19 vaccine over Johnson & Johnson's COVID-19 vaccine." The mRNA platform was used to develop the multi-dose vaccines offered by Pfizer/BioNTech and Moderna, while Johnson & Johnson's Janssen vaccine was developed using a viral vector method.
"We have made important strides in the year since the COVID-19 vaccination program started," CDC Director Dr. Rochelle Walensky said in a statement. "Today's updated recommendation emphasizes CDC's commitment to provide real-time scientific information to the American public. I continue to encourage all Americans to get vaccinated and boosted."
The ACIP recommendation cited evidence that the viral vector vaccine is less effective than the mRNA and concerns about a rare but potentially fatal side effect associated with the single-dose vaccine. The CDC confirmed 54 cases of Johnson & Johnson vaccine recipients developing the rare blood-clotting disorder thrombosis with thrombocytopenia syndrome (TTS), including nine deaths. All of those who developed TTS were hospitalized, while most of the deaths were in people with underlying conditions.
"Johnson & Johnson remains confident in the overall positive benefit-risk profile of its COVID-19 vaccine," the company said in a statement after the recommendation was endorsed. "Studies have shown that the Johnson & Johnson COVID-19 vaccine generates strong antibody and cellular immune responses and long-lasting immune memory and breadth of protection across variants."
The CDC panel recommended that those who were "unable or unwilling to receive an mRNA vaccine" should still have access to the Johnson & Johnson vaccine because "receiving any vaccine is better than being unvaccinated."
Dr. Mathai Mammen, global head of Janssen research and development, said that the "safety and well-being" of those who receive the vaccine "continues to be our number one priority," while stressing that the company supports education about "rare events" like TTS and information on "how to effectively manage it."
Research indicates that infection with COVID-19 is much more likely to result in the development of rare blood clots than vaccination against the virus. The 54 confirmed TTS cases were out of 14 million vaccines administered. A study published in September found that 42.8 per 1 million COVID-19 patients developed blood clots in the brain, while 393.3 patients per million developed abdominal clots.
The CDC also discussed a rare but potentially serious side effect associated with mRNA vaccines on Thursday, according to The New York Times. The agency reported eight confirmed cases of myocarditis, an inflammation of the heart, out of 7.1 million children ages 5 to 11 who had received the Pfizer vaccine.
Research previously indicated that males ages 16 to 29 were at a heightened risk of developing the condition as a side effect, with 11 cases expected per 100,000 vaccinations.
The CDC estimated that vaccinations could cause 70 cases of myocarditis in boys ages 12 to 17, while also preventing two COVID-19 deaths, 215 hospitalizations and 5,700 COVID-19 infections. A study released in August found that children under 16 who were infected with COVID-19 were 37 times more likely to get myocarditis than those who did not contract the virus.