Concern over previous Johnson & Johnson lawsuits is helping drive vaccine alarmism and skepticism, Newsweek analysis has found. Since Johnson & Johnson's one-shot vaccine was approved on February 27 for emergency use it has been critiqued for its perceived shortcomings in efficacy.
More than one in four people who do not intend to get vaccinated cited concerns about drug companies, according to a February 26 CBS/YouGov poll. But brand hesitancy has also reached those who do wish to be vaccinated.
Hundreds of social media posts have linked the vaccine with allegations the company's
talc could cause cancer. Those who spoke to Newsweek said they wanted to be inoculated but would refuse the Johnson & Johnson's vaccine if offered, specifically because of the talc lawsuits, of which there have been more than 15,000.
Most of the suits allege that the company failed to warn customers that its talcum powder contained tiny amounts of asbestos, a cancer-causing material.
The drug-maker would not comment on its vaccine being linked to the suits, but said it adheres to the "highest bioethical standards and guidelines."
The company has always defended its products. Several juries have reached verdicts against Johnson & Johnson, awarding $4.7 billion in damages to 22 women in 2018. But the company has prevailed in other cases and is appealing most it has lost.
Scientists say there is no reason to link the vaccine to earlier allegations against the company, and medical experts are urging people to take any available vaccine to help end the pandemic.
However, Kandice Ford from Louisville, Kentucky, told Newsweek she wouldn't have the vaccine, mainly because of the controversy around the talcum powder.
Asked why, she said: "It is mainly because of the talc/asbestos lawsuits. I don't trust them to be able to produce a safe vaccine. It also feels kind of rushed. We knew Moderna and Pfizer were working on vaccines for months and it seems like they [Johnson & Johnson] just popped up out of blue.
"Also the efficacy only being 66 percent raises concern for me as far as efficacy. I do want to be vaccinated. I would prefer Moderna over Pfizer. I am concerned about not having a choice. If I'm offered the J&J vaccine, I would refuse it."
Like the other candidates, the Johnson & Johnson vaccine's efficacy varies depending on how severe the COVID-19 is. The overall efficacy of a single shot was found to be 66.1 percent, but it has 85.4 percent efficacy against severe illness. Although requiring two shots, the Moderna and Pfizer candidates had overall efficacies of 94.1 and 95 percent, respectively.
In 1995, John Granic's mother died of ovarian cancer. He said she used J&J talcum powder. Granic, from Ontario, Canada, said that he is skeptical about the Johnson & Johnson vaccine because of a 2018 investigation by Reuters saying the company had known about the existence of a carcinogen in its talc for years without raising the alarm.
"If that's true then they had plenty of time to warn people, and I believe it to be true since J&J lost the class-action lawsuit," he said.
"To this day I have no idea if [the] J&J my mother used contributed to her ovarian cancer or not at all and what the actual cause was. But even if she was still alive today, I would still be saying when a company keeps quiet for a good 20 years or so instead of warning
people, [it] is a company I would NOT trust. I keep wondering what, if anything, are they hiding from the public now related to their vaccine?"
"As of now I have no plans to get the vaccine. I had not planned on getting it. And no I am not an anti-vaxxer. I have received vaccines before—when I was in school long ago—and had no issues whatsoever," he added.
"If I change my mind it will be either Pfizer or AstraZeneca and definitely not J&J. Mostly just because Pfizer and AstraZeneca seem more trustworthy to me, and yes I have heard negative stories about them as well but I believe those two are a much better option than
J&J."
Others, who did not wish to be named in this report, raised similar concerns. When contacted by Newsweek, Johnson & Johnson did not comment on people who were skeptical about taking its COVID-19 vaccine over concerns about the company.
Commenting on the safety of its talc, a spokesperson said: "Johnson & Johnson understands the U.S. talc litigation has caused confusion and concern about the safety of talc powder and is committed to ensuring the facts about talc are understood. Johnson's Baby Powder has been a trusted product for more than 100 years, and decades of independent scientific evaluations have repeatedly confirmed that Johnson's Baby Powder does not cause cancer.
"We deeply sympathize with anyone suffering from cancer, which is why the facts are so important. We remain confident that our talc is safe, asbestos free, and does not cause cancer."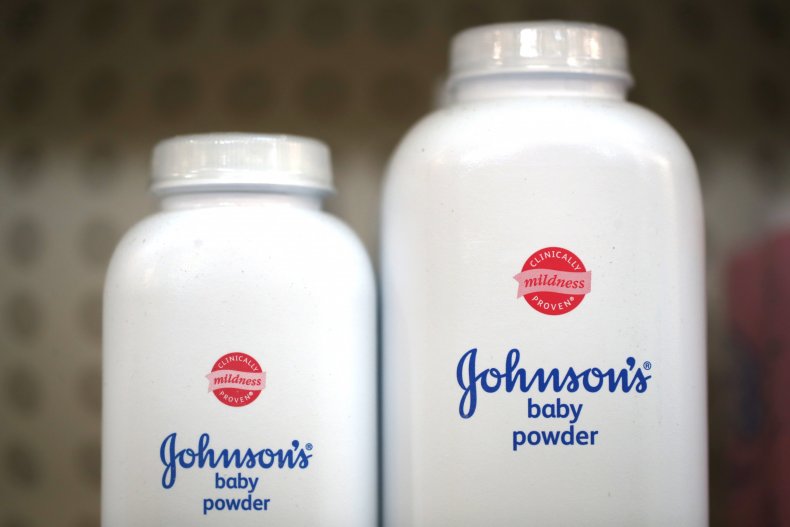 Health experts are advising people that the vaccine is safe and has been developed in a thorough and transparent manner.
Susan R. Bailey, president of the American Medical Association, told Newsweek: "Each of the authorized COVID-19 vaccines has undergone rigorous, transparent development, testing and authorization, and all three vaccines are highly effective at preventing hospitalization and death from COVID-19.
"The newest vaccine—a single-shot variety with logistical advantages, including increased ability to store and administer at physician practices, over previously authorized vaccines—moves us closer to reducing the incidence of death and severe illness from COVID-19 by offering a third safe, effective vaccine that can be used across the country. When it's your turn to get vaccinated, we urge you to take the first vaccine available to you."
Dr. Peter Hotez, dean of the National School of Tropical Medicine and Professor of Pediatrics and Molecular Virology & Microbiology at Baylor College of Medicine, pointed out that in America much of the Johnson & Johnson vaccine was not being made in-house.
On March 2, the Biden administration announced a new partnership between
pharmaceutical giant Merck and Johnson & Johnson, where the latter would help roll out the vaccine across America.
Asked whether people were right to be concerned about the Johnson & Johnson vaccine because of allegations around the company's previous safety record, Hotez said: "Merck & Company is going to wider-produce a lot of the J&J vaccines in the U.S., so that [previous talc allegation] is not even a valid reason.
"It is a good vaccine. It wouldn't surprise if downstream it winds up becoming a two-dose vaccine in the future. I think the level of antibodies are higher and might be more durable as a two-dose vaccine and they might do a booster with one of the variants of concern such as the South African one."
Newsweek, in partnership with NewsGuard, is dedicated to providing accurate and verifiable vaccine and health information. With NewsGuard's HealthGuard browser extension, users can verify if a website is a trustworthy source of health information. Visit the Newsweek VaxFacts website to learn more and to download the HealthGuard browser extension.