Johnson & Johnson Vaccine a Key Player in Achieving Herd Immunity by Early Fall
The Food and Drug Administration (FDA) could authorize the distribution of Johnson & Johnson's COVID-19 vaccine this week. With this new vaccine, combined with increased supplies and access to the shots, America's on track to return to a more normal life by early fall.
Without the one-dose shot, America would need to significantly ramp up its vaccination efforts to reach herd immunity before next winter. Vaccines from Pfizer and Moderna require two shots, and at America's current rate of administering doses, it could take nearly a year to fully inoculate up to 85 percent of the population. The benefit of the Johnson & Johnson vaccine is that full vaccination is completed with one shot.
Dr. Anthony Fauci, director of the National Institute of Allergy and Infectious Diseases, estimates that between 70 and 85 percent of the population needs to be vaccinated against COVID-19 to reach herd immunity. That goal is achievable by the end of the summer or early fall, according to Fauci, who told Newsweek his prediction was based on people getting both doses of either the Moderna or Pfizer vaccine or the single-dose vaccine from Johnson & Johnson.
About 66 million people have already received at least one dose of a COVID-19 vaccine, according to a Brown University tracker. Since President Joe Biden took office, the nation has averaged about 1.5 million shots per day, which means his goal of 100 million vaccinations in his first 100 days will be surpassed and America will move closer to herd immunity.
"Herd immunity is a population concept, so whatever limits transmission of the virus in the population is what matters. Right now, there is little evidence that one vaccine dose can limit virus transmission in the population," Vincent Racaniello a professor of microbiology and immunology at Columbia University, told Newsweek. "There is some evidence that two doses can limit transmission, and so right now we should think in terms of two doses."
Only 6 percent of the population has received both doses of a vaccine, and at the current rate, about 25 percent of the population will be fully vaccinated by April 30, according to the Brown University tracker. If nothing were to change, that timeline puts America achieving herd immunity at the end of November or early December.
But the situation is changing.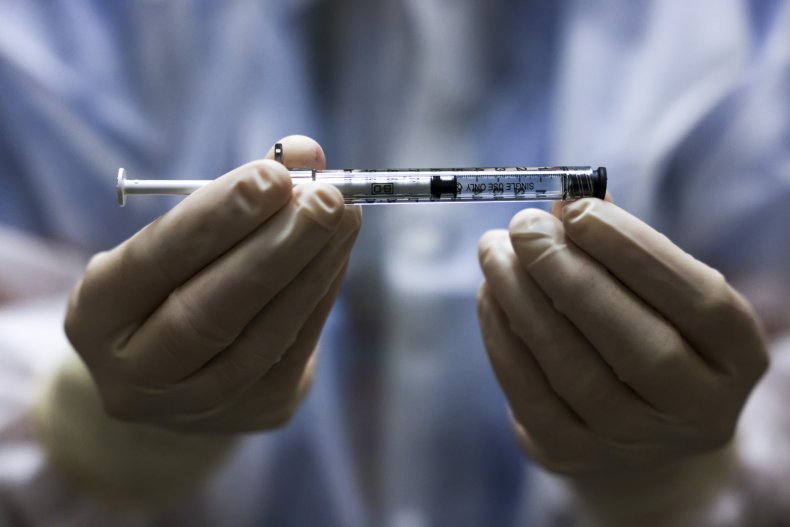 The vaccine rollout faces a supply and demand problem, in that there are more people than there are doses to go around. Along with ramping up production of the Pfizer and Moderna vaccines, one way to increase supply is to increase the number of vaccines that are available.
If the FDA grants an emergency use authorization (EUA) to Johnson & Johnson on Friday, 100 million doses could be available by the end of June, according to the purchasing agreement. That's enough to vaccinate 100 million people. Although the company ran into production problems, it said it could deliver 20 million doses of its single-shot vaccine by the end of March, and some doses will ship out immediately.
Jeff Zients, the White House's coronavirus response coordinator, said the administration will "waste no time in getting this lifesaving vaccine into the arms of Americans." Three or 4 million doses could be shipped out next week, pending the EUA.
Along with being a single-shot vaccine, the Johnson & Johnson vaccine is easier to store and transport, as it doesn't require the special refrigeration that the Pfizer and Moderna vaccines require.
"It could be a game changer in the U.S. It's such a flexible vaccine," Will Humble, the executive director of the Arizona Public Health Association and former director of the Arizona Department of Health Services, told Arizona TV station KOLD.
Fauci also sees a one-shot vaccine as a potential "game changer," telling the New York Press Club on January 29 that there are logistical challenges to getting people to return for their second shot. With more than one vaccine, Fauci said, officials can deploy vaccines in situations where they'll have the most effectiveness.
The FDA's own analysis of the Johnson & Johnson vaccine found it to be safe, and its efficacy against moderate to severe disease was 66 percent at least 28 days after vaccination. The analysis also indicated that the vaccine was more effective against a concerning variant, first identified in South Africa, than the company's initial data showed.
Along with the 100 million doses from Johnson & Johnson, Fauci told Fox News Sunday host Chris Wallace, the U.S. will have the 600 million doses it contracted from Pfizer and Moderna by July. That's enough to vaccinate 300 million people and at that point, "virtually anybody and everybody" should be able to be inoculated, according to Fauci.
Being vaccinated doesn't negate the need for people to continue practicing public health measures, such as social distancing and wearing a mask, but widespread vaccinations are key to resuming a normal life. If that happens in summer or early fall, Fauci said, there is a "reasonable chance" entertainment venues and theaters could reopen to full houses before winter.
Newsweek, in partnership with NewsGuard, is dedicated to providing accurate and verifiable vaccine and health information. With NewsGuard's HealthGuard browser extension, users can verify if a website is a trustworthy source of health information. Visit the Newsweek VaxFacts website to learn more and to download the HealthGuard browser extension.