The Food and Drug Administration (FDA) granted Johnson & Johnson its Emergency Use Authorization, creating the potential for 3 or 4 million more people to be fully inoculated against COVID-19 next week.
Johnson & Johnson became the third company to receive an Emergency Use Authorization for its COVID-19 vaccine on Saturday. It's the only vaccine currently available in a one-dose form, so people are fully protected after just one shot. It's also easier to transport because it doesn't have the same refrigeration needs as the other two vaccines.
Ahead of its authorization, Johnson & Johnson said it could deliver 20 million doses by the end of March and 100 million by the end of June, as per the purchasing agreement. Three or 4 million doses could be shipped out next week, according to Jeff Zients, the White House's coronavirus response coordinator, fully vaccinating people once the shots are administered.
"If the FDA approves the use of this new vaccine, we have a plan to roll it out as quickly as Johnson & Johnson can make it," President Joe Biden said on Thursday. "We'll use every conceivable way to expand manufacturing of the vaccine."
Dr. Anthony Fauci, director of the National Institute of Allergy and Infectious Diseases, considers the Johnson & Johnson vaccine a "game-changer." Since full protection is achieved after one shot, there isn't the logistical challenge that the Pfizer and Moderna vaccines have of making sure people return for their second dose.
Along with preventing additional hospitalizations and loss of life, the authorization of the Johnson & Johnson vaccine could help put America on its return to a degree of normalcy.
"Herd immunity is a population concept, so whatever limits transmission of the virus in the population is what matters," Vincent Racaniello, a professor of microbiology and immunology at Columbia University, told Newsweek. "Right now, there is little evidence that one [Pfizer or Moderna] vaccine dose can limit virus transmission in the population."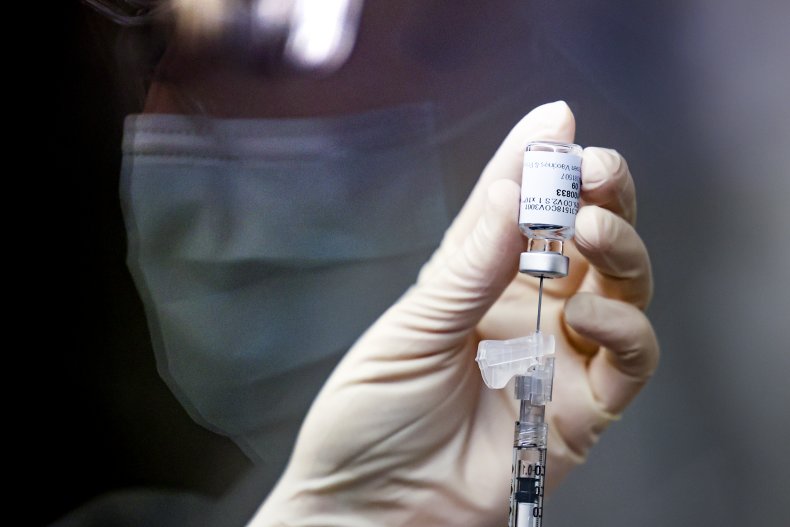 When creating his late summer, early fall timeline for reaching herd immunity, where 70 to 85 percent of Americans are inoculated, Fauci told Newsweek he factored in people having both doses of the Pfizer or Moderna vaccines or the single-shot Johnson & Johnson vaccine.
About 14 percent of Americans received at least one dose of the Pfizer or Moderna vaccine, but only 6.5 percent of Americans have received both, according to the most recent Centers for Disease Control and Prevention (CDC) data.
Without Johnson & Johnson's single-dose shot, America's current rate of vaccinations would mean the country wouldn't reach herd immunity until the end of November or early December.
The FDA's analysis of the Johnson & Johnson vaccine found it to be safe and 66 percent effective against moderate to severe disease at least 28 days after vaccination. It also determined the vaccine was more effective against a variant that originated in South Africa than the company's initial data showed.
Vaccinations are key to curbing the pandemic, and the CDC is expected to issue guidelines for areas where vaccinated people can ease up on restrictions. However, being vaccinated doesn't negate the need to follow basic public health measures, such as social distancing and wearing a mask. Little is expected to change until vaccinations are widespread.
If that happens in summer or early fall, as Fauci predicts, he said there's a "reasonable chance" people could return to entertainment venues and theaters at full capacity before winter.
Newsweek, in partnership with NewsGuard, is dedicated to providing accurate and verifiable vaccine and health information. With NewsGuard's HealthGuard browser extension, users can verify if a website is a trustworthy source of health information. Visit the Newsweek VaxFacts website to learn more and to download the HealthGuard browser extension.