Johnson Risks One Term Government With North-South Divide, Tory MP Says
Boris Johnson is being warned that he risks the future of the Conservative government if he fails to deliver economic support for northern England - the region hardest hit during the COVID pandemic.
Johnson won a majority of 80 seats in the U.K. general election last December, thanks in large parts to a key campaign pledge to "level-up" the North of England and reduce regional inequality by properly investing in towns felt abandoned by Westminster and the affluent South. This promise alongside a campaign to get Brexit done saw a wave of "blue" Conservatives winning seats that were historically safe for the "red" opposition Labour party - the so-called 'red wall'.
Simon Fell, MP for Barrow and Furness in Cumbria, North-West England, is one of the new "red wall" Tories now putting pressure on the PM to deliver on his "level-up" pledge. Over 50 Conservative MPs representing areas in the north of England, North Wales, and the Scottish borders, have publicly signed a letter calling for "a clear road map out of lockdown", warning restrictions are "disproportionately" affecting people in the north of the country.
Every area plunged under England's strictest COVID restrictions are in the North or Midlands of England. It sees around eight million people placed under the toughest restrictions in a three-tier system. In areas under tier three rules, pubs and bars not serving substantial meals must close and households are not allowed to mix indoors or outdoors in hospitality venues or private gardens.
In their letter, the group of backbench Tory MPs - named the Northern Research Group (NRG) - warned that the virus has exposed "deep structural and systemic disadvantage faced by our communities" and "threatens to continue to increase the disparity between the North and South still further".
Fell, who refers to the group as a Conservative "trade union", tells Newsweek the prime minister risks losing the hard-fought support that won him the 2019 election if the group's requirements are not met.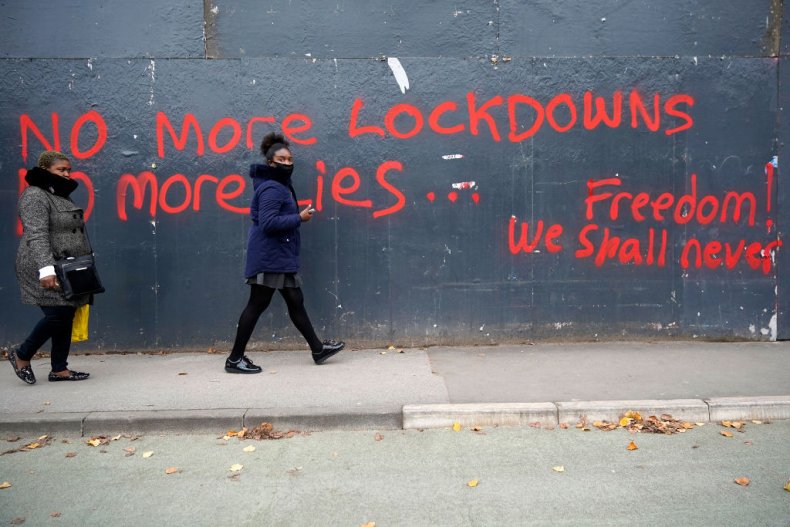 "For people living in towns in Northern England, for years it feels like we have been left behind and that promise of leveling up really cut through," he tells Newsweek. "It's not in any of our interests not to deliver on that promise - if we don't then this will be a one-term government. I'm under absolutely no illusion that a great number of [former Labour supporters] lent me their votes.
"They want to see tangible changes and that's true of so many 'red wall' Tory MPs. We need to see our towns benefitting from tangible improvements and if we don't, we are going to be in a very difficult position going forward."
Fell thinks Johnson is the man to curb the North-South divide but hopes the NRG can keep the pressure up. "This new group is about pushing for that to happen and getting a trade union of Northern MPs to tell the prime minister 'this is what we need'," he says. "I do think this government will deliver on that. Some places are being hit really really hard by COVID restrictions, like Liverpool which relies on hospitality and tourism, these places are looking around and saying this is about making sure we have got an economy that can survive well beyond the pandemic."
The group welcomes financial support already in place for businesses under the tightest coronavirus restrictions but said in their letter: "We share concerns that the cost of COVID could be paid for by the downgrading of the leveling-up agenda, and northern constituencies like ours will be left behind," he says.
"We believe this would threaten to undermine the government's hard-won mandate in December, at a time when the political and economic case for the leveling-up agenda we have been elected to deliver, has never been more essential."
The NRG is led by former northern powerhouse minister Jake Berry, MP for Rossendale and Darwen just outside Manchester in Lancashire - one of the areas now under tier 3. Like Fell, he denies that the group is staging a "revolt" against the government, instead stating that they are asking Johnson to "reaffirm" his commitment to "stimulate the North" in this time of global crisis.
"The reason we've written to the prime minister asking to work with him on his leveling-up agenda as northern MPs is, for many areas of the North, we have been in restrictions similar to tier three, almost identical to tier two, since August," he told the BBC.
Sara Britcliffe, who at 24 became the youngest Conservative MP when she won the seat of Hyndburn, in Lancashire, previously said she joined the group as she has a "responsibility of making sure that we do deliver on our promise".
A spokesman for Number 10 said: "We are absolutely committed to leveling up across the country and building back better after coronavirus. We stood at the last election on a solemn promise that we would improve people's lives, and although the pandemic has meant 2020 is not the year we all hoped it would be, our ambitions for the country are unchanged."