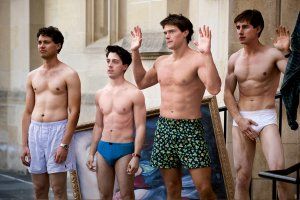 Glory Daze is a new scripted comedy that's not quite original but is ambitious nonetheless: it's set in college. College shows have always had a lousy pass-fail ratio. A Different World (six seasons) and Felicity (four) lasted the longest, while Judd Apatow's Undeclared is remembered as an underappreciated gem for its one 17-episode season. That's to say nothing of 90210, Dawson's Creek, and Saved by the Bell, which waded through the treacherous high-school-to-college transition with varying success.
College is hard to dramatize for several reasons: the vastness of the ecosystem, the tedium of lectures, the insufferably self-centered kids. But the main explanation is that only about a quarter of Americans have a degree. To the majority of viewers, these shows aren't relatable. They remind them of an experience they either wish they had or are relieved they didn't.
Glory Daze has the potential to break the streak because it's the college experience nobody had. Set in 1986 at Indiana's fictional Hayes and focused on the keg-fueled high jinks of fraternity life, it has more in common with Animal House than the with hair-twirling self-reflection of Felicity. Elements that should doom a show (the '80s nostalgia, the broad characters) work here for those who fetishize that comedy subgenre wherein debauchery is college's raison d' tre. Perhaps for anyone else, Glory Daze will just feel anachronistic, though maybe that's a good thing. Finally, someone realized that college is one of those experiences in which authenticity is the enemy of drama.