Joint Chiefs Issue Rare Political Rebuke, Remind Armed Forces of Oath to 'Defend' the Constitution
The Joint Chiefs of Staff released an advisory notice Tuesday reminding all U.S. armed forces personnel of their pledges to support and protect constitutional tenets, one week before President-elect Joe Biden's inauguration.
With last Wednesday's Capitol Hill riot stoking fears that President Donald Trump's supporters could carry out another violent uprising ahead of the swearing-in ceremony, the Joint Chiefs underscored the armed forces' fundamental opposition to acts of insurrection and implored service members to remain steadfast in their oaths. Tuesday's memorandum, signed by top uniformed officials at the Department of Defense, was a rare example of the government body sharing political criticism in the public domain.
"The violent riot in Washington, D.C. on January 6, 2021 was a direct assault on the U.S. Congress, the Capitol building, and our Constitutional process," the Joint Chiefs said in Tuesday's memo, addressed to the joint forces.
"We mourn the deaths of the two Capitol policemen and others connected to these unprecedented events. We witnessed actions inside the Capitol building that were inconsistent with the rule of law. The rights of freedom speech and assembly do not give anyone the right to resort to violence, sedition and insurrection," the memo said.
Thousands of Trump's followers stormed the Capitol complex during a siege that shocked the country. Five people died as a result of the violence, while dozens of others suffered injuries. In the aftermath of the attack, which followed a pro-Trump rally where the sitting president continued to assert baseless claims that Biden's election victory was illegitimate, federal authorities reportedly warned that additional armed protests could occur before Inauguration Day. Biden will formally succeed Trump as president when he is sworn into office on January 20.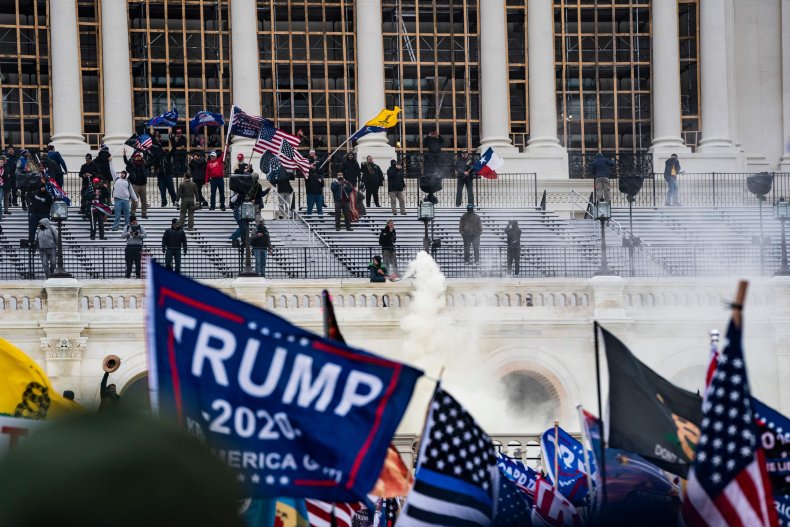 The Joint Chiefs' memo seemed to acknowledge these potential threats, directing armed forces members to "remain focused on the mission" to uphold an allegiance to public safety and community welfare. Referencing the inauguration specifically, it urged military personnel to "stay ready" and "keep [their] eyes on the horizon."
"The American people have trusted the Armed Forces of the United States to protect them and our Constitution for almost 250 years," the memo read. "As we have done throughout our history, the U.S. military will obey lawful orders from civilian leadership, support civil authorities to protect lives and property, ensure public safety in accordance with the law, and remain fully committed to protecting and defending the Constitution of the United States against all enemies, foreign and domestic."
Newsweek reached out to the Joint Chiefs of Staff for further comment but did not receive a reply in time for publication.
This story was updated at 5:25 p.m. ET to include additional details and background information.