'Jojo Rabbit' Release Date, Cast, Trailer, Plot: Everything You Need to Know About the Movie
Jojo Rabbit is the new comedy from Thor: Ragnarok director Taika Waititi, in which he has cast himself as Adolf Hitler. The plot sees a young Nazi whose imaginary friend is Hitler have his life changed when he discovers a young Jewish girl hiding in his attic.
A hilarious trailer has been released that gives some idea of the film, but you can read on for everything you need to know about the movie.
When is Jojo Rabbit Out?
The U.S. and Canada release date for the movie is Friday, October 18, 2019, though Waititi fans across the world will have to wait a little longer to see it.
For example, the film does not come to the director's native New Zealand until October 24, with an Australian release scheduled for December 26. Other countries in the world, however, will have no showtimes for Jojo Rabbit until January 2020, with the distributors allowing awards season buzz to build up before it shows in other countries.
Who is in the Cast of Jojo Rabbit?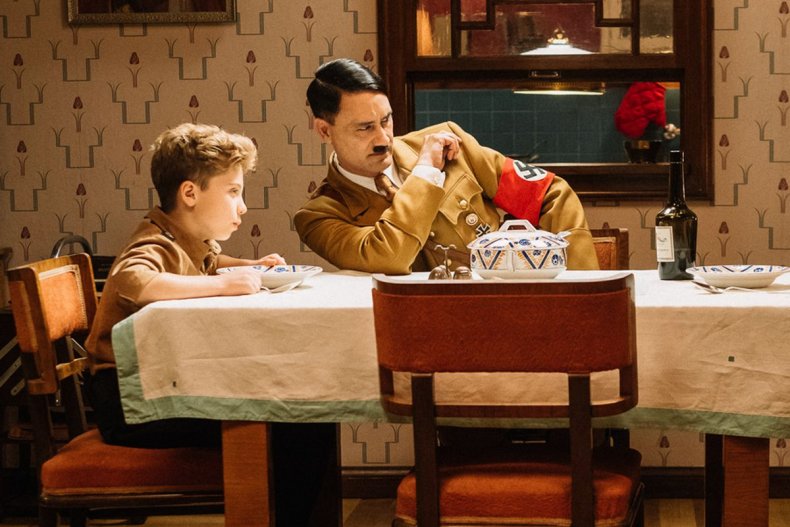 A number of big names join a promising cast of young newcomers. Jojo himself is played by Roman Griffin Davis, starring in his first film, while his mother Rosie is played by Scarlett Johansson.
Speaking to Newsweek at the European Premiere of the move, Davis said of working with the Lost in Translation actress: "She was encouraging as she's a mother now. She was a child actress so she knew how it felt to be new and nervous."
Director Taika Waititi plays Jojo's imaginary friend, a version of Adolf Hitler. Davis described him as "a total manchild," who would direct scenes still in his Nazi uniform. Waititi told IMDB: "I did have this one embarrassing moment on this riverside scene with [Roman] and Scarlett and I was trying to communicate with the camera crew who was on the other side of this river. I was dressed up as that idiot, yelling across this river at the crew like 'why can't you guys get it right, why can't you follow these simple orders, just yelling at them dressed with the moustache and everything in the open air in Prague."
Also in a lead role is Thomasin McKenzie, who won worldwide acclaim in 2018 for her role in Leave No Trace, who plays Elsa, the plucky young Jewish girl hiding in Jojo's attic.
Big name actors in supporting roles include Oscar-winner Sam Rockwell as the flamboyant Captain Klenzendorf, Game of Thrones' Alfie Allen as his aide de camp (emphasis on camp) and Rebel Wilson as Nazi party official Fraulein Rahm.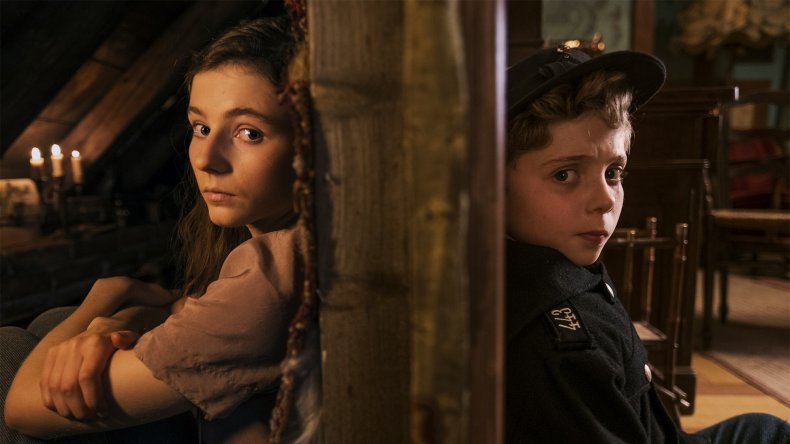 What Will Happen in Jojo Rabbit?
The Fox Searchline plot tagline for Jojo Rabbit reads: "A World War II satire that follows a lonely German boy named Jojo (Roman Griffin Davis) whose world view is turned upside down when he discovers his single mother (Scarlett Johansson) is hiding a young Jewish girl (Thomasin McKenzie) in their attic. Aided only by his idiotic imaginary friend, Adolf Hitler (Taika Waititi), Jojo must confront his blind nationalism."
Speaking at the European premiere, Waititi joked that he hoped the film "would be something more like Smurfs," before adding: "I wanted to make something that would resonate with people. The film feels very relevant now, I feel this film is becoming more important, and yet when I wrote it I just wanted to explore what children see when adults lose their minds and go to war and act like lunatics."
Is There a Trailer for Jojo Rabbit?
The first promo for the film came in July, where it was described as "a satire that goes to war on hate."
In September, an extended trailer was released. Set to a German versions of The Monkees song "I'm a Believer" and David Bowie's "Heroes", the preview gave viewers their first glimpse of the first plot as Jojo finds Elsa for the first time.
Jojo Rabbit comes to cinemas on October 17
'Jojo Rabbit' Release Date, Cast, Trailer, Plot: Everything You Need to Know About the Movie | Culture