'Joker' Gotham City Map Honors Marshall Rogers and Steve Englehart's Batman Stories
The first look at Joaquin Phoenix's Joker came with very few details about the film itself, but a leaked Gotham City subway map highlights director Todd Phillips' attention to detail. The image, captured from set video, teases dozens of Easter eggs.
The most obvious is Kane County, a nod to Batman co-creator Bob Kane. Closeby is Adam's Drive, probably a reference to Batman actor Adam West. Starlin Avenue likely refers to comic book artist/writer Jim Starlin, known at Marvel for Captain Marvel and Infinity Gauntlet (and characters such as Shang-Chi and Adam Warlock), and at DC for Darkseid and the four-part Batman story (#426-429) from 1988, "A Death in the Family." It's no coincidence Englehart Boulevard is closeby. Starlin and Englehart, known for their psychedelic adventures in and out of comics, co-created Shang Chi and wrote Master of Kung Fu together.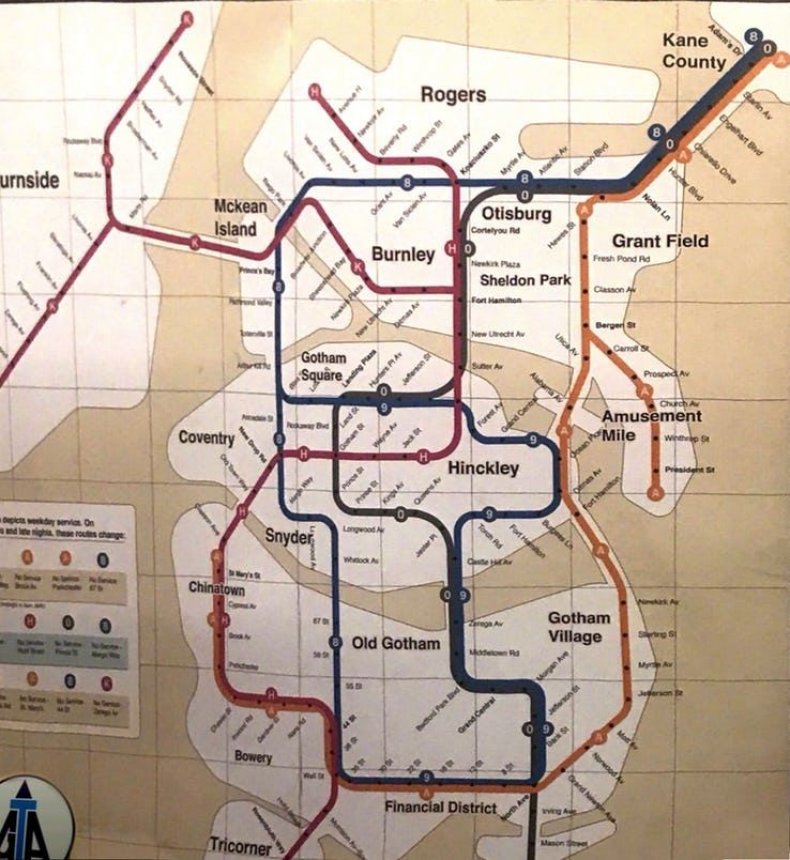 The Rogers neighborhood pays respects to the late Marshall Rogers, known for his spectacular run on Detective Comics (469-479) with Englehart. Those were some damn good Batman and Joker stories: "The Laughing Fish" and "Sign of the Joker" were adapted into the 46th episode of Batman: The Animated Series. The Otisburg section is nod to Lex Luthor's henchmen, Otis, from Superman: The Movie. The Snyder district could be one of two names: Zack Snyder, director of Man of Steel, or Scott Snyder, DC Comics writer known for his work on Batman and the Vertigo imprint.
Get your unlimited Newsweek trial >
Amusement Mile is classically home to The Joker's lair. Burnside is a borough of Gotham City (Batgirl fans should be familiar.) Sheldon Park could be a reference to two DC vets, Sheldon Mayer or Sheldon Moldoff. The former is a member of Jack Kirby's Hall of Fame and the latter is known for creating Batman villains Mr. Freeze and Poison Ivy, as well as Batgirl and Batwoman.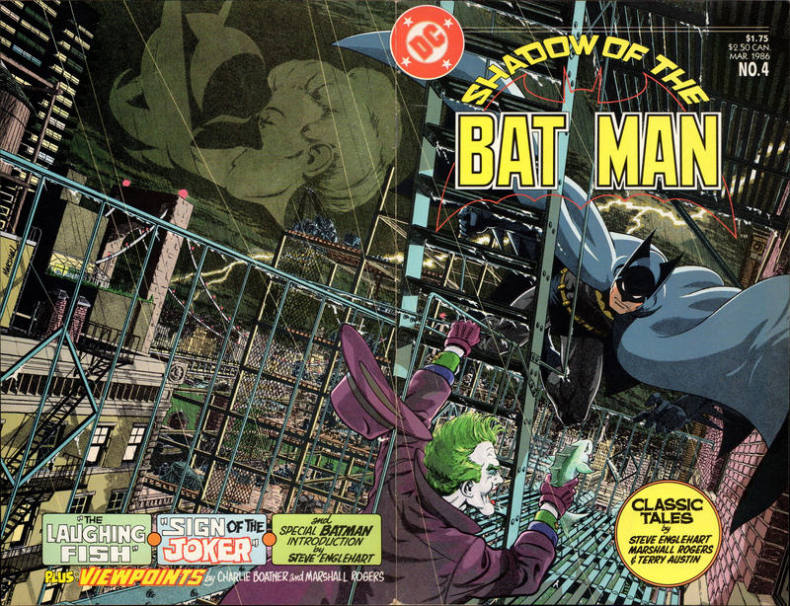 Chiarello Drive is a reference to DC Comics editors Mark Chiarello, known for pairing Jeph Loeb and Jim Lee for Batman: Hush in 2002. The former is now the head of Marvel Television and the latter chief creative officer of DC Entertainment. Nolan Lane, perhaps the most obvious reference, is a call to Christopher Nolan's Dark Knight trilogy. Meredith Lane could be a call to Burgess Meredith, the actor who played Penguin in the 1960's live-action Batman series.
Those are all the references we could spot, but there's definitely more. See anything? Let us know in the comments.
'Joker' Gotham City Map Honors Marshall Rogers and Steve Englehart's Batman Stories | Culture