Jon Bernthal found it "fascinating" speaking to the real Wayne Jenkins ahead of his performance as the former Baltimore police Sergeant in We Own This City, the actor told Newsweek.
Jenkins was a member of the Baltimore police department's Gun Trace Task Force (GTTF), a plain-clothed unit tasked with finding guns and drugs in bulk in a bid to tackle the city's high murder rate, only for them to become corrupt themselves.
After a two-year federal investigation into the unit it was revealed in 2017 that members of the GTTF had stolen money from Baltimore citizens, planted evidence, and taken and resold drugs back onto the street after seizing them.
Jenkins is currently serving a 25-year prison sentence for multiple offences, including racketeering, but Bernthal told Newsweek he was able to meet his real-life counterpart while preparing for his role in HBO's true crime drama.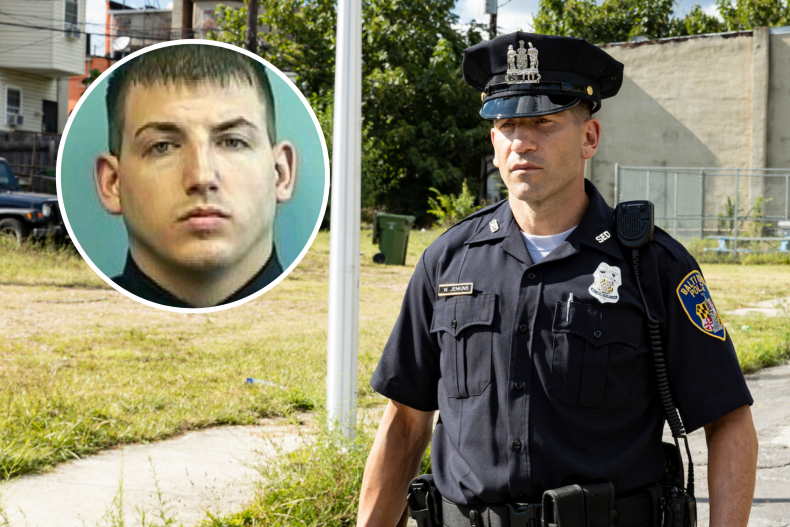 Jon Bernthal's "Fascinating" Meeting with Wayne Jenkins
"I did talk to Wayne, we did connect a few times which was fascinating and interesting, and had its own effect, you know, maybe not in the ways that I thought it would," Bernthal said.
"But I think I owe a great deal of gratitude to the Baltimore Police Department. I got to do a lot of ride-alongs with a plainclothes unit, somewhat like what the Gun Trace Task Force was like, and I got to go out with people [on patrol]."
Bernthal named the show's police consultant Detective Andres Severino as a helpful source, saying: "He was incredible, unlike any advisor I've ever worked with before, and I got to know Wayne's best friends, and I got to ride out with them.
"I got to patrol the streets with them and I tried to learn the brand of policing that that he participated in. I got to know Donnie Stepp really well, who is the drug dealer [who worked with Jenkins], they robbed other drug dealers and sold drugs through.
"I got to communicate with [Jenkins'] wife, I got to communicate with his friend that he coached youth football with."
Reflecting on how these conversations all helped with his process, Bernthal shared: "That's really sacred to me, that part of the research, it informs everything, it colours and shapes everything.
"When folks open up to you and allow you to enter into their world it's such a privilege, it's such an honour and I walk away with some real lifelong friends, and I'm really grateful for it."
How Jon Bernthal Connected to the Story
We Own This City was developed for TV by The Wire's David Simon and his regular collaborator George Pelecanos, with several of the iconic show's writing team also returning.
As well as getting the chance to work with the team behind The Wire, Bernthal felt a personal connection to the show.
"I'm fascinated by the subject matter, issues of policing, and race, and corruption are all issues that have had real resonance in my life, and I've had real sort of personal experience with," the actor shared.
"David and George are absolute heroes of mine; The Wire was [one of] my favourite shows of all time. I grew up in DC, which is in close proximity to Baltimore, so I was captivated by the authenticity of the storytelling they achieved in the show."
Bernthal also went on to praise director Reinaldo Marcus Green, who he first worked with in King Richard, as he added: "Being able to [work] with artists that I believe in so much, and even more so this man that I believe in so much, that I trust so much, that I love so much.
"We're genuinely brothers... if you're going to tell a story like this, this is team to tell it with, and this is the guy to work for."
Green shared in kind: "Jon is one of the most talented actors that I've ever worked with. There are very few people that are willing to take on a role like Wayne Jenkins, it's a very difficult role to want to do and then to get right.
"But the level of commitment that he has to the craft on top of his natural skill set, he just loves research. He loves pain, he loves not sleeping, he is one of those people that completely changes himself for a role — but not to the point where you can't have a conversation, and I don't have to call him Wayne."
Simon and Pelecanos also commented on Bernthal's dedication to the part and the extensive research he did, even managing to find details about the former sergeant that they hadn't known about.
Pelecanos praised the actor by saying: "He's one of these guys that he came to town and he just jumped right in. We always offer the actors the opportunity to meet up with cops and maybe doing ride alongs, or something like that, but on his own he went in, he made relationships with police, and did all kinds of things that we hadn't, at least I wasn't, aware of that he was doing.
"He would come to set and say, 'oh, yeah, Jenkins always wanted to drive' or 'he always did this or he always did that.' It wasn't in my research, it was in his, and he just went at it, he was Jenkins."
Simon shared an amusing anecdote about one time Bernthal's research took him by surprise on set during a courtroom scene.
"There was a moment where he's testifying on the stand, and he's wearing his raid vest in there," he explained. "There used to be a better decorum among Baltimore cops where you wouldn't wear your raid vest, even to a motions or hearings in front of a judge you take your vest off.
"Maybe you didn't have a sport coat, but you you didn't wear the [raid vest]. Anyway, so he sits down to shoot, we start to shoot the scene and he's wearing a raid vest, and I go over to your wardrobe.
"At some point, Jon comes over me he's got a picture of the real Wayne Jenkins testifying at a motions hearing in a raid vest, I was undone. I had nowhere to go, I just sat down quietly and had to bring the craft services."
Reinaldo Marcus Green on Making a Show That Will 'Stand the Test of Time'
Green told Newsweek how important it is for him to make art that has "something to say" and will prompt a "real conversation" amongst viewers, which he feels We Own This City definitely does.
"The Wire was a pinnacle show for me, and six episodes to work with the creators that did that show... my first film Monsters and Men I had 90 minutes. Here I have six hours to have a real conversation with myself, a real conversation with people that look like me," Green said.
"Real conversations with friends of mine that are police officers, real conversations with people in Baltimore. It just was an opportunity for me to tackle a really, really important story in a way that was fun and cinematic, and with people that I love, and people that I respect."
The filmmaker explained that Bernthal was already attached to the show before he came on board, and this was one of the reasons he accepted to direct the series.
"All those things for sure drew me to the project, but number one was that Jon was going to be at the head seat at that table," he said. "To know that you have someone who was giving you truly more than 110% in everything that they do. It's like you can't lose, you know?
"But look, people want The Wire and a lot of people want to stay away from that, and I'm one of those people that just walks towards the fire.
"I think in that risk there's a lot of reward, in the risk of doing something that's beautiful, and painful, and powerful there is a lot of reward if you get it right."
Green praised Simon, Pelecanos, and The Wire writers William "Bill" F. Zorzi, and Ed Burns for their work on We Own This City, as well as the show's "amazing ensemble cast" and D. Watkins, who worked on the writing team.
"Hopefully we did it in a way that's fun and engaging and entertaining and not just the history lesson," the director said of recreating the GTTF scandal. "Something that's timeless and will stand the test of time, that's always the things that we're thinking about when we're driven to telling these stories.
"But I just personally can't be a part of anything that doesn't have something to say, this has a lot to say, and I only want to be a part of things that have something to say. So, ultimately that's what drives me to wanting to be a part of these kinds of stories and hopefully we did it some justice."
We Own This City airs Mondays on HBO.