At Sunday Night's Emmys, Jon Hamm Will Finally Get His Award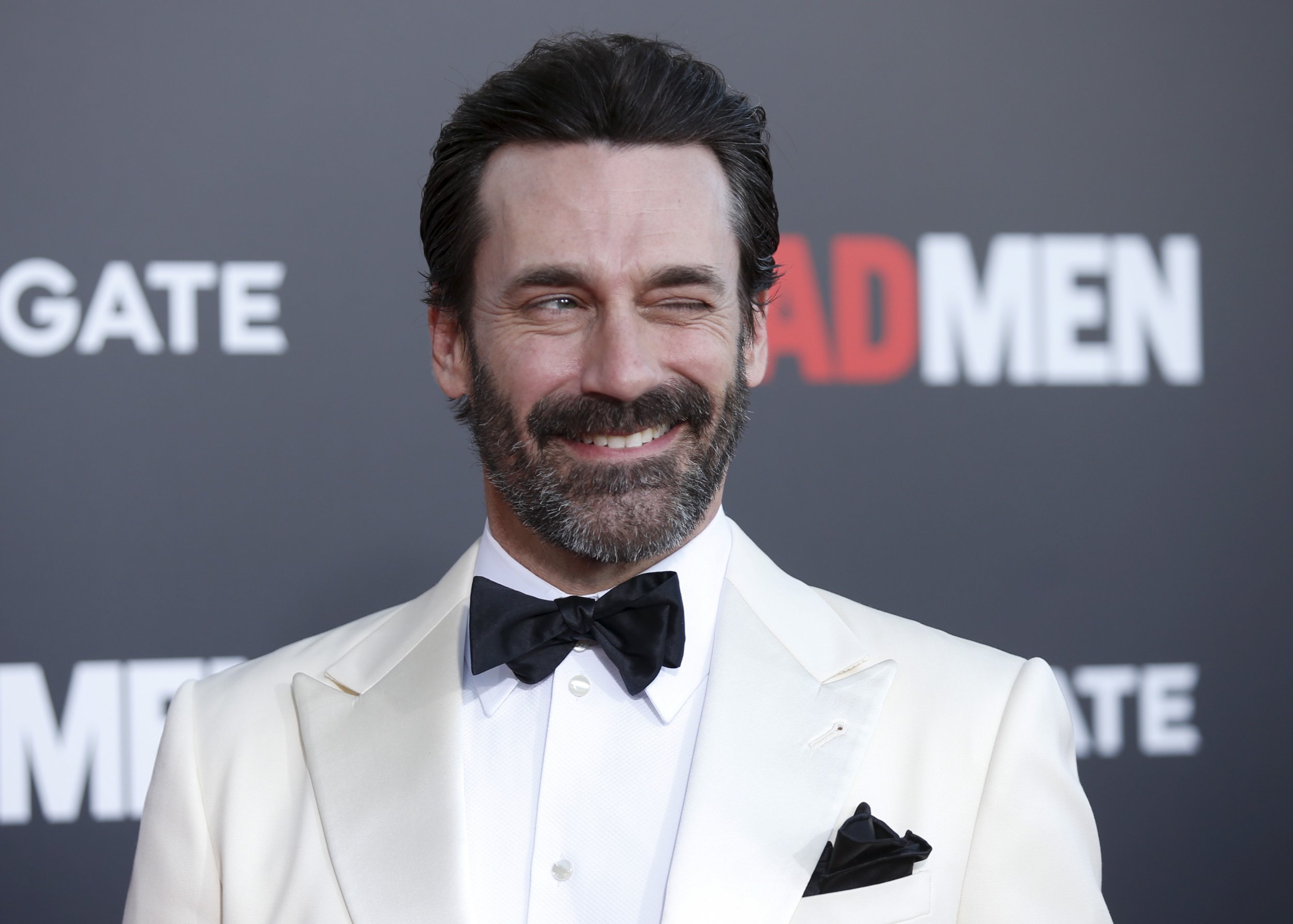 Donald Draper is about to receive his Clio—and this time neither Duck Phillips nor Walter White will be able to spoil the moment.
At the 67th Primetime Emmy Awards this Sunday, Jon Hamm, the actor who portrayed Draper for seven magnificent seasons on Mad Men, will in all likelihood win an Outstanding Lead Actor in a Drama Series statuette. And it's about time. Sunday night marks the eighth consecutive year in which Hamm, who was a relative unknown when America first saw him order an Old Fashioned and light up a Lucky Strike in 2007, has been nominated. But he has never won an Emmy.
"You want some respect?" Draper once asked his protégé, Peggy Olson (Elisabeth Moss). "Go out there and get it for yourself." And certainly Hamm, whose roguish charm juts out more prominently than even his magnificent mandible, has never much appeared to care about this annual September rite of disappointment.
But keeping in mind that we are talking about the relative tossing of laurels to people who already have won the fame and fortune (and gene pool) lottery, it is a grave injustice that Hamm has never been so recognized. It's a bit like watching Harry Crane being continuously—and comically—passed over for partner even though his media division has become the rudder steering the ship at Sterling, Cooper, Draper, Pryce.
Since we first met Donald Draper, fittingly, sitting alone in a crowd of people (which, not uncoincidentally, is also how the series ended), Mad Men has won four Emmys for Outstanding Dramatic Series. It will win a record-breaking fifth on Sunday night. And Bryan Cranston, as the conflicted crystal meth kingpin Walter White on Breaking Bad, has also won four Emmys competing directly against Hamm in the Outstanding Actor category.
The problem here is that Mad Men, even though it was an outstanding ensemble piece (it's funny how far down the roster you must travel before you find a character that is only two-dimensional—even Mrs. Blankenship had some wit), does not win five Emmys in eight years without Hamm, the soul of the show. And while Cranston's Walter White/Heisenberg tightrope was well played, I'd argue that Hamm's task as an actor was not just similar to Cranston's—playing a character who, in a sense, was playing a character—but exceedingly more difficult.
As compelling as Breaking Bad was, to me there was always an element (pardon the comparison) of Mr. Ed or even I Dream of Jeannie to it. Whether Walter's wife, Skyler, or his in-laws, one of whom was a DEA agent, would discover his evil secret was tantamount to Wilbur's wife, Carol, or the Addisons discovering that Wilbur's horse could discourse, of course. Walter keeping Heisenberg a secret from his wife or from Hank, his brother-in-law, often bordered on slapstick.
And while that may have been intentional on the part of series creator Vince Gilligan, his counterpart at Mad Men, Matthew Weiner, never played Don Draper's secret identity for cloak-and-dagger effect. Instead, Weiner challenged his unknown star to be an allegory within an allegory: a product that is misrepresenting itself as something drastically different from its true self in order to enhance its appeal to the consumer.
To that end, Hamm played Draper with almost uncharted aplomb. The consumer was any attractive female, co-worker or potential client that happened across his path. Don Draper was deeply flawed and by nature dishonest, and yet he was so charismatic and so damn likable that many of us found ourselves rooting for him.
"You're a monster," Peggy Olson once told Draper, and who could argue? And yet who cared more deeply about Draper throughout the course of the series than that upwardly mobile gal from Bay Ridge? We were all of us Peggy Olson, and how many actors could have toyed with us, manipulated us, as well as Jon Hamm did?
And so come Sunday night, hopefully right before a well-positioned ad for a Coca-Cola product, Jon Hamm will finally hear his name called following the words, "And the Emmy goes to..." It will be a moment of happiness. In that moment before he needs more happiness.
The long overdue coronation of Hamm, and a final curtain call for Mad Men, will be Monday morning's Emmy headline. (That is, unless host Andy Samberg dares to pull a stunt as outrageous as "Dick in a Box" in primetime.) Elsewhere, though, the most intriguing subplot involving Emmy moving forward is elemental: What is television?
Two of the seven nominees for Outstanding Dramatic Series (Orange Is the New Black, House of Cards) appear on Netflix, a streaming video service. Two more, Game of Thrones (HBO) and Homeland (Showtime) appear on premium cable channels that also offer streaming services. Whether you are watching your favorite shows on a traditional television or a laptop is not really the issue, though; rather, it's that favorable time slots or nights of the week will soon be a vestige of the medium, not unlike the words "in living color."
Soon, only live happenings will be subject to traditional viewing habits: sporting events, breaking news and the ratings-friendly presidential debates (the second GOP debate drew 22 million viewers on Wednesday night—more than the last NBA Finals or World Series averaged—so expect Mark Burnett to find a way to capitalize on this).
Finally, for as little drama as Outstanding Actor in a Drama promises, at the opposite end of the intrigue spectrum will be the award for Variety Talk Series. Among the nominees will be The Daily Show, whose host, Jon Stewart, recently stepped down after a tremendous 16-year run; and Late Show With David Letterman, whose eponymous host retired last May after 35 years behind the desk.
Which one of them will be afforded the honor of a victory lap? Or will Emmy just stage a lip-synch contest between the nominees while presenting the Emmy to The Tonight Show With Jimmy Fallon?