Jon Huntsman: a Different Kind of Republican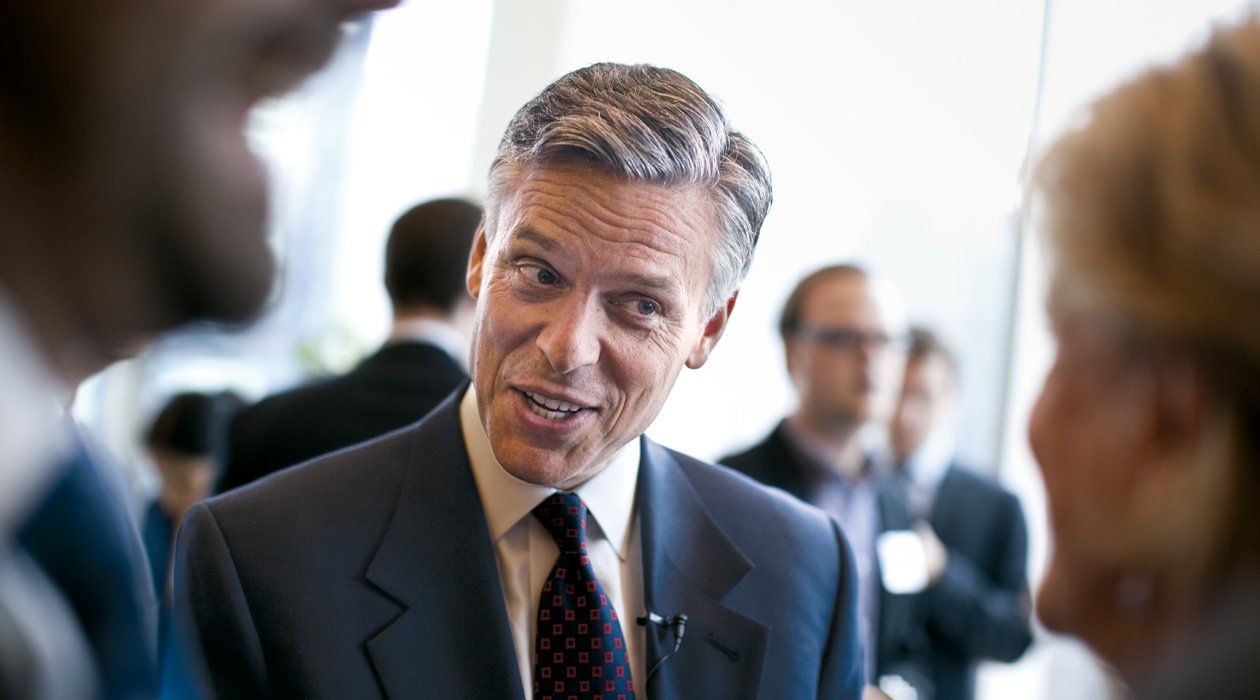 When you spot Fred Davis in the room, you know a Republican is about to get a makeover. Or, in the case of Jon Huntsman, a professed motocross fanatic, a little fine-tuning for a well-oiled political machine. For Davis, a campaign strategist and filmmaker famous for his skill at crafting political ads, Huntsman's varied résumé offers a banquet of creative options: high-school dropout and ambassador to China, dishwasher at Marie Callender's and governor of Utah, classically trained pianist and rock keyboardist who still has a band, Politically Incorrect, that practices in his basement.
Add to those bullet points a wife, Mary Kaye, who was a high-school sweetheart and a salad tosser at said Marie Callender's, seven children (two adopted), and, oh yeah, made-for-TV looks and a billionaire philanthropist father.
To say that Huntsman is "different" is to cheat the thesaurus. He is a mixed metaphor, a symphony of cognitive dissonance and, it turns out, a speaker in triplicates. He admits this, which helps to humanize his three-point responses to nearly any question. A tic? "It's easy to manage, easy to stay on top of, and easy to do." There he goes again.
There must be something to the formula. Huntsman had a whopping 90 percent approval rating from Utah voters when he left the governorship in 2009 to become ambassador to China. As governor, he accomplished at the state level many of the policies he hopes to bring to the White House, chiefly a flat tax and other reforms to stimulate business. In Utah, industries such as renewable energy and mining received about $30 million in tax credits. Huntsman also oversaw health-care reform that expanded insurance coverage to children, an "entitlement" that some Republicans have criticized. Davis describes it as "Obamacare and Romneycare done right." Huntsman plans to defend his record as quintessentially conservative, including measures to protect the environment that included support of cap and trade. Contrary to charges that he has flip-flopped—that ever-handy label usually applied by the nonthinking to the thinking—Huntsman now says that economic changes mean that other priorities, such as job creation, come first.
Huntsman was hungry when we talked. He had skipped lunch earlier in the day as he joined Henry Kissinger for a conversation about China at a Reuters luncheon. Huntsman is lean by virtue of more than genetic luck, it seems. He confesses to having skipped lunch because he didn't want to "regurgitate" on Dr. Kissinger. Apparently, no matter one's accomplishments, one never conquers butterflies in the presence of an éminence grise. As the two took turns answering questions, Huntsman looked every bit the eager student waiting to raise his hand and give the correct answer.
Looking to grab a bite across from Penn Station before hopping his train back to Washington, Huntsman asked the waiter: "Got any matzo-ball soup?" Eh? As I said, cognitive dissonance.
It's safe to say that Americans beyond Utah have never met anyone quite like Huntsman, and whether he can prevail against the pack is anyone's guess. His biggest challenge, says Davis, is his own good nature. "He is a guy that firmly 100 percent believes that he can help make America a better place. But he is not willing to beat his chest and pound podiums to convince people of that. We're hoping people will prefer wisdom over fireworks."
Huntsman himself thinks his biggest challenge leading up to the primary will be countering the charge that he worked for Barack Obama. One can easily argue that he was working for his country and not the Democratic Party. Though they differ philosophically, Huntsman and Obama share many of the same gifts and deficits. Both are cerebral, cautious, civil, and, yes, cool. On the latter, even Huntsman's children think so. All these qualities can be hazardous to those courting voters. And those additionally blessed with good looks and privilege have to work harder to convince others of their regular guy–ness. This perhaps explains in part Huntsman's renegade years as a musician, his pride in having been a dishwasher, and his preference for "divey" restaurants.
Campaign-wise, Huntsman may lack the grandiosity required of those who dare to lead. This is refreshing, of course, but could prove problematic. At times Huntsman speaks so softly, one has to lean forward to hear. He dismisses this observation as a function of day's end weariness, while insisting he can give speeches all day long.
Meanwhile, Davis has been introducing Huntsman via the Internet, email, and Twitter during the countdown to Huntsman's formal announcement this week. The three video teasers I've seen are difficult to categorize. Simple, witty, and romantic, they're a quirky blend of Zen and the Art of Motorcycle Maintenance and Dirty Harry. In each video, Huntsman is portrayed on a dirt bike weaving through Monument Valley. The first is just 25 seconds long with this spare text: "In six days. Did not become famous with his band 'Wizard'." Another reads: "In four days. Has seven children, one from India, one from China."
Huntsman and his family say they're ready for the grueling haul ahead of them. No one ever really is, of course, but at 51, Huntsman seems ripe for the job—a man of the moment in much the same way Obama was. At a time of global insecurity, when the U.S. has become a debtor nation to China, Huntsman seems almost computer-generated. Dropping Chinese names into his discussion with Kissinger, Huntsman offered reassuring insights about Chinese culture, thinking, and the likely future. "Americans are very good short-term thinkers; [the Chinese] are good at long-term thinking."
Far from being a juggernaut that Americans should fear, China is an opportunity-rich environment for the United States, says Huntsman. But China is also suffering "enormous insecurity," struggling with inflation, corruption, income disparity, and a population that is increasingly demanding transparency, including 500 million Internet users and 80 million bloggers. Huntsman insists that sustained dialogue between heads of state is crucial. It can't hurt if the American head of state, like Huntsman, speaks Mandarin Chinese.
Huntsman's foreign-policy bona fides can't be rivaled by any of the current slate of candidates, but his domestic agenda may pose a challenge. How does this moderate, pro–civil union, "spiritual" but not religious Mormon convince Americans—especially Republicans steeped in Tea Party politics—to elect him? "People want to be proud again and know that the country matters … that the shining city on the hill is still there," says Huntsman. This means that America first must get its own house in order. Otherwise, "we can't project our goodness, power, and might to the rest of the world."
Wondering whether it wasn't chauvinistic to talk of projecting power and might, I asked Huntsman if he agrees with the softer tone of Obama's foreign policy (notwithstanding four wars and the termination of Osama bin Laden). No: "This nation is extraordinary and always has been. Our influence and inspiration are crucial to the rest of the world. I've witnessed this among Chinese dissidents. When our light goes out, the world goes dark."
No Republican candidate would disagree, but on other issues they will. Is Huntsman ready for the inevitable mudslinging? He won't go negative, says Davis, somewhat resignedly. When asked about frontrunner Mitt Romney, Huntsman says he has "nothing but respect" for him. And second-placer Michele Bachmann? Detecting a slight tilt of the head, I recount what an editor said to me after Bachmann's widely admired performance in the recent CNN debate: "When Michele carries the day," he said, "you know there's an opening for a new guy."
Smile. "Fair point."