Jon Moxley Joins Chris Jericho Podcast To Explain Why He Left WWE, Says "Vince Is The Problem"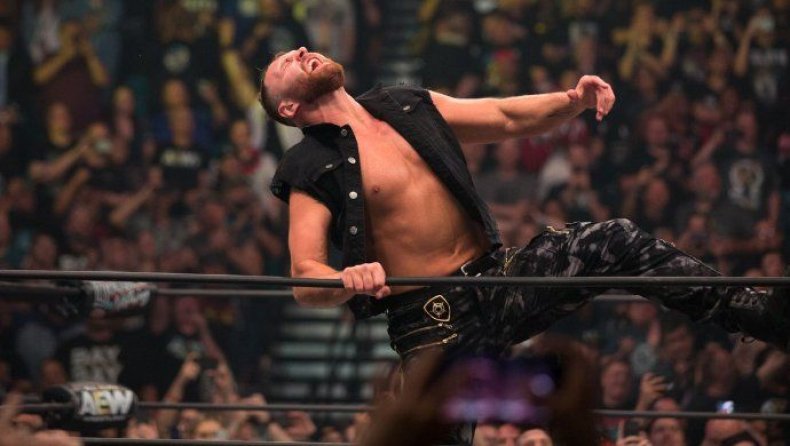 Jon Moxley 's surprise appearance at All Elite Wrestling's Double or Nothing show was the talk of the weekend in the wrestling industry, but the story of why Moxley a.k.a. Dean Ambrose decided to leave WWE for AEW is finally being told.
The latest episode of Talk is Jericho had Moxley on as a guest and was recorded before his surprise appearance at Double or Nothing.
During the episode, Moxley explained he left WWE over his frustrations with the creative team and Vince McMahon. Moxley says he knew in July 2018 he was ready to leave but kept it to himself because he wanted to be a professional and didn't want his wife, WWE commentator Renee Young, to be in an awkward position. So he decided to ride out the rest of his contract, but told Jericho he was happy when it was over.
"I feel like the weight of the world has been lifted off my shoulders. Nothing but gratitude towards WWE," Moxley said. "I'm so grateful for my run there, that place changed my life. I went in as a kid and now I'm an adult. I grew up there and I'm a different person because of my time there."
But a big reason for not re-signing with the WWE was the constant fight with creative and McMahon over the direction of the Dean Ambrose character. Moxley recalled two times when he got into heated arguments about promos and pre-taped segments.
The first was an episode of SmackDown Live when he received a script and said he was told to say was something "only an idiot would say," and that it didn't fit with someone fans were rooting for.
Moxley says he told the writer to rewrite it and he gets it back with Vince's notes that put it back in. Moxley says he had to go in and talk to Vince.
"Vince says this is good, this is you," Moxley said. "This is what makes you you and why they connect with you. That sums up the battle I've been dealing with for six years."
Another argument happened on an episode of RAW when Ambrose was a heel and was working with Seth Rollins. Moxley said that the script, which had him do multiple segments throughout the show, didn't tell a tangible story or get either character over with the crowd. It made "no sense" to him. He asked for re-writes and instead got a note from Vince that said "Dean needs to read his promos verbatim and not try to rewrite them."
That night Moxley mentioned Roman Reigns' real life battle with leukemia, something he was opposed to but gave in to Vince.
"I cut the promo, and as soon as that line left my mouth, I went, 'Oh my God, I can't believe I just said that,'" Moxley said.
This was one example of interactions with Vince and the creative team that eventually exhausted him physically and mentally.
"I remember leaning on a road case and just feeling actual exhaustion. Just like emotional, physical, mental exhaustion. Not so much because of that day, but because of six of years of this," Moxley said. "Six years of having to go into this man's office, this old man, and trying to explain to him why wearing a surgical mask is a stupid idea, why carrying a little red wagon to the ring is a stupid idea, why maiming a mannequin in the ring is a stupid idea. I was done."
Moxley said he almost walked out of the company during a Monday Night RAW in Milwaukee. WWE fans remember the now infamous segment when Dean Ambrose is shown in a doctor's office getting inoculations because he said he didn't want to catch anything from the audience. He was told to do that segment in a text from a writer. He hated the idea and word got to creative about how he was feeling before he even got to the arena. Michael Hayes, a backstage manager for the WWE, came to Moxley to try and quell the situation, but Moxley went to Vince's office to try and change it.
Vince tried to convince him that the bit is not comedy and that it would give him a ton of heat. He eventually gave in and did it. When he was done with the show, Moxley got a flight out that night and reflected about his career while sitting in an airport bar.
"What is the thing that I can't recover from? I was always able to recover, but I remember sitting there thinking 'this might be the one I can't recover from,'" Moxley said.
Moxley did say that there was another reference to Roman's cancer that he refused to say and Vince agreed. Moxley wouldn't repeat it on the podcast but says that the WWE would have lost a lot of sponsors if he went along with it.
"The WWE's creative process sucks. It doesn't work. I've said that to Vince, I've said that to Hunter, Michael Hayes. I can't even tell you how it works," Moxley said. "It doesn't work, it's killing the company I think. And I think Vince is the problem. Vince and the structure around him of writers and producers."
Jon Moxley's first match with AEW will be against Joey Janela at Fyter Fest on June 29.