Jon Ossoff's Blistering Attack on David Perdue at Georgia Debate Watched Over 2 Million Times
Georgia Democratic Senate candidate Jon Ossoff went viral on Wednesday night after criticizing Republican Senator David Perdue's record on health care and the COVID-19 pandemic at a televised debate.
The former investigative journalist told viewers that his rival had been "looking after" his own assets amid the pandemic while downplaying the threat posed by the virus. He also accused Perdue of trying to "end protections" for Americans with pre-existing conditions.
Opening his salvo on the incumbent in Savannah, Georgia, last night, Ossoff said Perdue had attacked the health of Georgians with his response to the COVID-19 pandemic, and his record of health care votes.
"You did say COVID-19 was no deadlier than the flu, you did say there would be no uptick in cases," Ossoff said. "All the while, you were looking after your own assets, and your own portfolio. And you did vote four times to end protections for pre-existing conditions."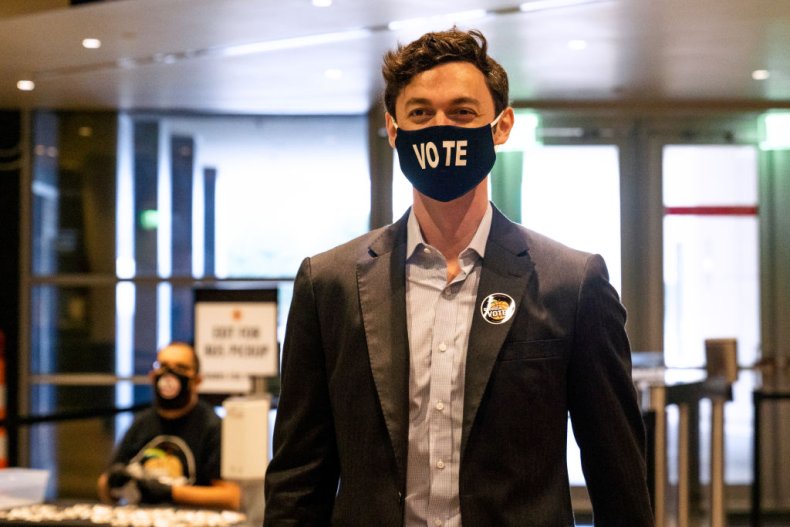 The Democratic challenger added that Perdue's proposed bill to replace Obamacare, the Protect Act, contained loopholes for insurance companies to block policies for those with pre-existing conditions.
"Can you look down the camera and tell the people of this state why you voted four times to allow insurance companies to deny us health coverage, because we may suffer from diabetes, or heart disease, or asthma, or have cancer in remission?" Ossoff added.
A clip of the Georgia Democrat's remarks has been watched more than 2.7 million times since it was posted on social media late last night. A tweet of the footage has been liked and shared over 20,000 times.
Perdue has denied that he wishes to remove health care protections for Americans with pre-existing conditions, but has repeatedly stood against the Affordable Care Act, which offers such protections.
Posting on Twitter last night, the Georgia Republican said: "I believe health insurance should always cover pre-existing conditions. Period. I've sponsored legislation to do just that."
According to the latest polls, the race between Ossoff and Perdue is running almost neck-and-neck with less than a week to go until election day. One poll released by Monmouth University on Wednesday found that just 3 percentage points separated the pair among registered voters—putting them at a statistical tie.
Another survey published by the University of Georgia on Sunday showed Ossoff led Perdue by a single percentage point after 46 percent of likely voters in the state told pollsters they'd back the Democratic challenger.
Cook Political Report analysts consider the Georgia Senate race to be a "toss-up" contest, along with six other close contests for seats in the upper chamber.