Jon Ossoff Insists Democrats Will Win Georgia Senate Runoffs As Poll Shows Republicans Ahead
Democratic Senate candidate Jon Ossoff has insisted that his party will win the Georgia Senate runoff elections needed to take control of the upper chamber, despite polls showing Republicans leading the contests.
As he continued a tour of Georgia on Thursday ahead of his crucial Senate runoff battle against GOP Sen. David Perdue, Ossoff simply tweeted: "We will win back the Senate." If Democrats win both Georgia Senate runoff elections on January 5 next year, the upper chamber will have a 50-50 split, with Vice President-elect Kamala Harris having the deciding vote.
While it is possible that Democrats could gain effective control of the Senate—a massive boost for President-elect Joe Biden's incoming administration—the first Georgia Senate runoff poll, released this week, favors the Republican incumbents.
The Remington Research Group survey found that 50 percent of likely Georgia runoff election voters intended to back Perdue for another term in the Senate—putting Ossoff 4 points behind with backing from 46 percent of state voters.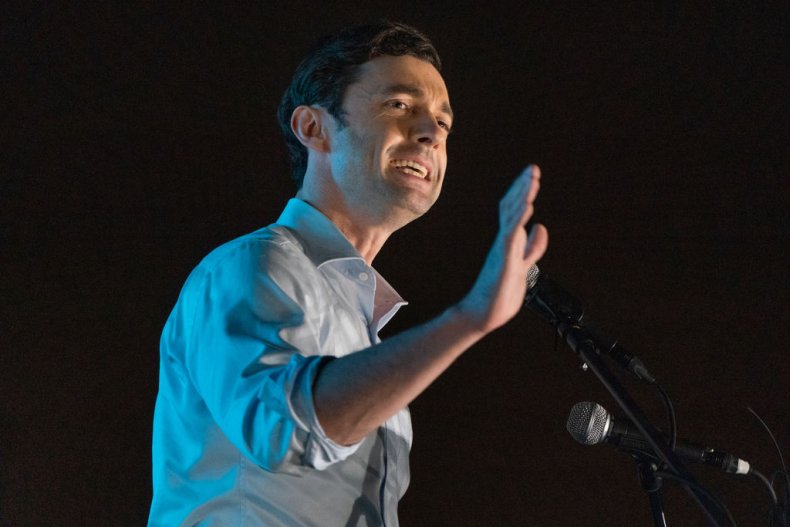 A further 4 percent of Georgians said they were undecided on who to vote for in the runoff contest.
In the Georgia special election between Republican Sen. Kelly Loeffler and her Democratic challenger Raphael Warnock, the incumbent was found to have a narrow 1-point lead over her rival, with 49 percent of likely voters backing her for a second term.
But with a further 3 percent of voters still undecided, Warnock is still within range to overturn the small 1-point deficit before Georgians go to the polls again in two months' time.
Remington Research Group surveyed 1,450 likely runoff election voters in Georgia between November 8 and November 9 for its latest poll. Its margin of error stands at 2.6 percentage points.
Public opinion polling has come under intense scrutiny as many surveys proved well wide of the mark, with candidates trailing in polls ahead of Election Day winning their congressional contests comfortably.
Speaking to The Atlanta Journal-Constitution about the new Georgia poll, Remington Research Group President Titus Bond said: "This is going to be 100 percent start to finish a base turnout election. It's going to be intensified. It's going to be ideology from beginning to end. It's all about getting the base motivated to vote again."
As it has become clear that the Georgia Senate runoffs will have a huge impact on the power of a Biden administration, Democrats and Republicans have both sought to flood money into the races in the hope of tipping the scales their way.
Representative Alexandria Ocasio-Cortez of New York (D) raised more than $280,000 for grassroots campaign organizations looking to help the Democratic candidates in the state to victory in January.
Meanwhile, Republican Senator Lindsey Graham of South Carolina said he would donate $1 million from his own successful Senate campaign to Loeffler and Perdue's fighting funds of the election day.