Jon Rahm Wins U.S. Open Two Weeks After Tournament Removal For COVID Tracing
Jon Rahm finally got his win. Two weeks after getting forced out of The Memorial with a six-shot lead after three rounds because of COVID tracing, Rahm won the 121st U.S. Open Championship at Torrey Pines Golf Course.
Rahm finished the tournament at 6-under par, just ahead of Louis Oosthuizen, who now has six second-place finishes in his career.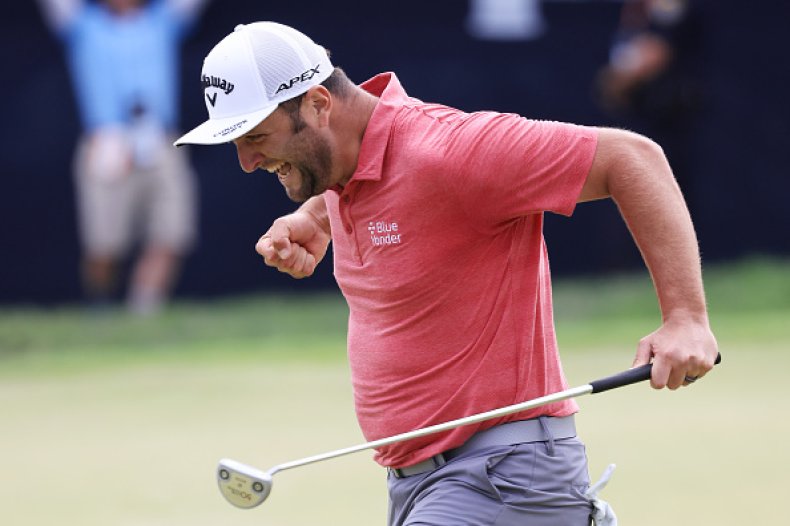 Professional golfers finally began looking like everyday, recreational golfers Sunday afternoon during the back nine at the U.S. Open Championship at Torrey Pines in San Diego. What looked like a packed field getting ready to make a surge for a major title turned into the best golfers in the world shanking shots and trying to save par and not slip out of contention.
Oosthuizen shot even par on the first nine, and then made a birdie on 10 to bring him to 6-under. However, a bogey on 11 brought him right back to 5-under, where he remained with a one-shot lead over Jon Rahm for several holes.
Rahm sank a curving, winding birdie on the 17th green to put him tied with Oosthiuzen at 5-under while the South African was drilling his second shot onto the 14th green. Oosthiuzen just missed birdie on a long putt and settled for a 2-foot par and tie for the lead.
Rahm hit a perfect tee shot onto the fairway at 18, but then knocked his second shot into a sand trap near the green. He birdied the par-5 hole to put him at 6-under and the tournament lead as he left the course.
Oosthuizen's tee shot on 17 went wide left, and he needed a drop on the par-4 hole. He then sent his third shot onto the green, but he ended with a bogey. He needed to eagle the par-5 18th to force a playoff with Rahm. Oosthuizen's third shot missed, giving Spain its first U.S. Open champion with Rahm.
Oosthuizen finished at 5-under par after a birdie on the final hole.
Americans Harris English (-3) and Brooks Koepka (-2) finished their final round an hour ahead of the pack and went to the clubhouse to await their final standings as the last groups of golfers made their way through the course.
American Bryson DeChambeau was in a four-way tie for first place before he birdied the par-3 on hole 8. DeChambeau used a pitching wedge on the hole that was 175 yards away. His first shot landed within an inch of the hole, and a tap-in put him at 5-under—one shot in the lead.
Things took a turn on the back nine when DeChambeau made bogey on 11 and 12, then a double bogey on 13 to put him at 1-under par for the tournament, tied for seventh at the time. He triple-bogeyed the 17th hole to put him at 3-over par for the tournament.
Two weeks ago at The Memorial, Patrick Cantlay called the final round "weird" after Rahm had been forced away from the tournament. It wasn't the late, pop-up shower on the 17th, or the 25-foot birdie on 18 that sent Cantlay into a playoff with Collin Morikawa.
The "weird" part was that the leader who walked off the course with a six-shot lead after 54 holes on Saturday, Jon Rahm, wasn't there Sunday since he had to suddenly withdraw from the tournament after testing positive for COVID-19.
"It was such a weird situation, so unfortunate," Cantlay said. "Everyone, me included, knows it would be totally different today if that hadn't happened. But there's nothing I could do about it. I tried as hard as I could to reset and refocus."
Rahm, whose 64 ranked as one of the great rounds at the course Jack Nicklaus built and tied two Memorial records, included that tournament's largest 54-hole lead.
But he tested positive for the coronavirus - Rahm had been in the contact tracing protocol - and was withdrawn from the tournament.