Jon Schaffer, 'Lifetime Oath Keepers Member,' Is First to Plead Guilty in Capitol Riot
Jon Schaffer has become the first defendant to plead guilty and agree to cooperate with prosecutors in their ongoing investigation into the January 6 insurrection at the U.S. Capitol.
Schaffer, 53, is from Central Indiana and a frontman of the metal band Iced Earth. The Federal Bureau of Investigation (FBI) captured footage of Schaffer inside the Capitol building wearing a blue sweatshirt and a baseball cap that read "Oath Keepers Lifetime Member."
On Friday, the Department of Justice said Schaffer "acknowledged he is a founding lifetime member of the Oath Keepers" in his plea agreement.The Oath Keepers are a far-right militia group. At least a dozen members or associates of the Oath Keepers are facing conspiracy charges in connection with the January 6 riot.
Schaffer turned himself into the FBI on January 17 and had been in jail since. On Friday, Schaffer pleaded guilty in federal court to two charges: obstructing an official proceeding and entering restricted grounds.
The FBI said Schaffer was "among the rioters who sprayed United States Capitol Police officers with bear spray," which is similar to pepper spray but much more potent. Prosecutors described bear spray in their court filing Friday as "a deadly and dangerous weapon."
As part of Schaffer's deal with the government, he was released from prison and prosecutors agreed to sponsor him for the Witness Protection Program.
The plea agreement, which will require Schaffer to "cooperate fully with the United States," was reached exactly 100 days after the Capitol insurrection, when a mob of pro-Donald Trump supporters stormed the building to disrupt the congressional certification of President Joe Biden's electoral victory. Five people died in the riot, including Capitol Police Officer Brian Sicknick.
More than 400 people from at least 45 states have been arrested for participating in the attack, according to the Justice Department. More than 100 defendants have been charged with assaulting, resisting or impeding law enforcement officers.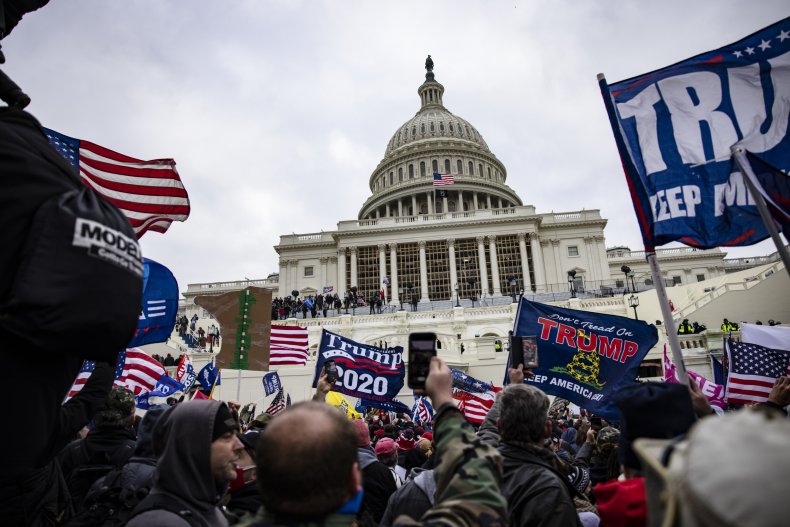 Schaffer was originally charged with six crimes, including engaging in an act of physical violence.
The FBI said that Schaffer attended a pro-Trump march in November with other members of the Oath Keepers, where he said: "We're not going to merge into some globalist, communist system. It will not happen. There will be a lot of bloodshed if it comes down to that, trust me."
The Indiana Oath Keepers chapter released a statement a week after Schaffer was arrested, saying he is "NOT" a member of that group.
"Indiana Oath Keepers does not and has never sponsored, planned or funded any activities that involve riots, violence or unlawful actions," the state chapter said. "No IOK members were sent to Washington DC on January 6th nor did IOK leadership ask for volunteers to travel to Washington DC. ... The individual arrested in Columbus, Indiana and was wearing an Oath Keepers (not Indiana Oath Keepers) hat in the US Capitol building on January 6th is NOT a member of Indiana Oath Keepers."
Updated 4/16/2021, 1:41 p.m. ET: This story has been updated with additional information from the Department of Justice.