Jon Stewart's 5 Best Jokes From His Mark Twain Acceptance Speech
Members of the comedy world paid tribute to Jon Stewart on Sunday night as he became the 23rd recipient of the annual Mark Twain Prize for American Humor.
The award hadn't been handed out since October 2019 because of the pandemic. Previous winners include Richard Pryor, Whoopi Goldberg, Steve Martin, Ellen DeGeneres and most recently Dave Chappelle.
The ceremony was held at the John F. Kennedy Center for the Performing Arts in Washington D.C., and the likes of Jimmy Kimmel, Olivia Munn, Pete Davidson, Stephen Colbert, Steve Carell and Chappelle all spoke to pay tribute to the former star of The Daily Show.
Stewart hosted The Daily Show on Comedy Central for 16 years before stepping down in 2015. In 2021 he returned to television with a new Apple TV+ series The Problem with Jon Stewart.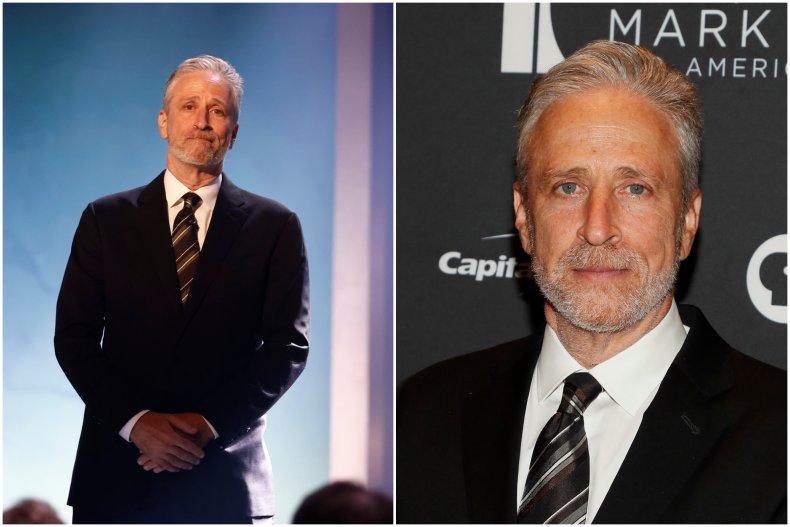 The night culminated in Stewart speaking at length to accept the award. He highlighted the importance of comedy in an increasingly troubled world but he also made sure to fill his acceptance speech with zingers. Here are Jon Stewart's best five jokes from the event.
1. Bill Cosby reference
There have been 23 recipients of the Mark Twain Prize, but one of those winners has had their award rescinded. Bill Cosby received the award in 2009 where the likes of Jerry Seinfeld, Chris Rock, Willie Nelson and Rita Moreno spoke to honor him.
The award was rescinded in 2018 due to his sexual assault conviction.
Stewart addressed this in his own speech. He said he was pleased to get the award since "almost none of the other recipients turned out to be serial rapists,"—a clear reference to Cosby.
2. "How many people I carried"
With so many comedians and entertainers in attendance, Stewart's impact on the industry was clear. The likes of Munn, Carell, Colbert and Samantha Bee all spoke about their time working for Stewart at The Daily Show.
Noting how many people spoke on his behalf, Stewart told the audience. "It reminds of ... just how many people I carried."
3. Blind date with his wife
Stewart paid tribute to his family during his acceptance speech, recalling the first time he met his wife of 22 years, Tracey McShane.
He talked about how he met McShane on a blind date, but his nerves were so bad on the night that he "gave a monologue" because he spoke so much.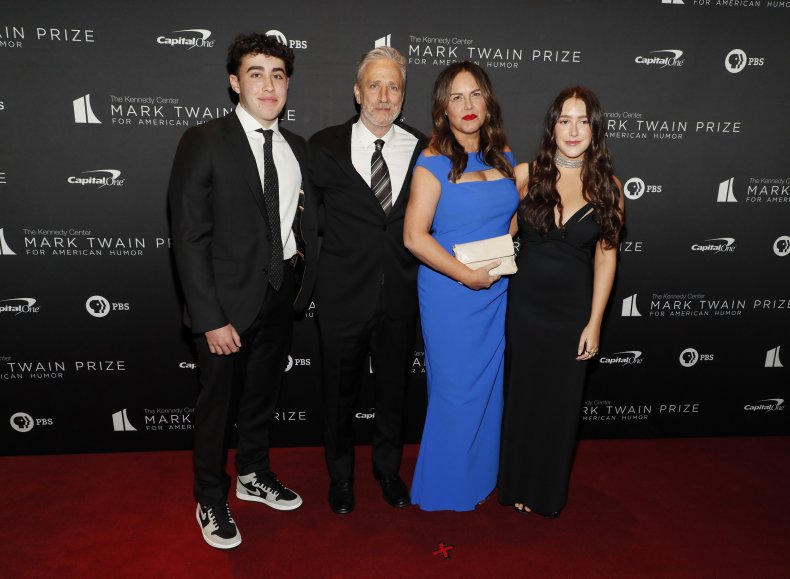 4. His aging
Many of the comedians honoring Stewart on the night made sure to tell a few jokes at his expense too. A number of them made light of his gray hair but Stewart addressed his image too.
"The Jews, we age like avocados," he quipped.
5. Will Smith's Oscars slap
Stewart's speech turned serious when he addressed the importance of comedy and the job of a comedian, whilst simultaneously criticizing leaders for being fragile. Whilst making his point, he made subtle references to Will Smith's actions at the 2022 Oscars when he slapped Chris Rock on stage.
"It's not the woke police that are going to be an existential threat to comedy. It's not the Fresh Prince. It's the Crown Prince. It's not the fragility of audiences. It's the fragility of leaders," he said.
"You don't owe us anything as an audience. If we say s*** you don't like, say s*** back, do whatever you got to do," he added, "don't get up and hit us.
"But that's just the game we're in. We talk s*** for a living, you talk s*** back and we've just got to be better than you. We've got to find a way to entertain you, but the threat to comedy—comedy doesn't change the world, but it's a bellwether. We're the banana peel in the coal mine. When a society is under threat, comedians are the ones who get sent away first. It's just a reminder to people that democracy is under threat. Authoritarians are the threat to comedy, to art, to music, to thought, to poetry, to progress."
You can see Stewart's speech in full when Sunday's event airs on PBS on Tuesday June 21, 2022.