Jon Stewart Thinks Trump Can Make America Great...Just Not the Way You Might Think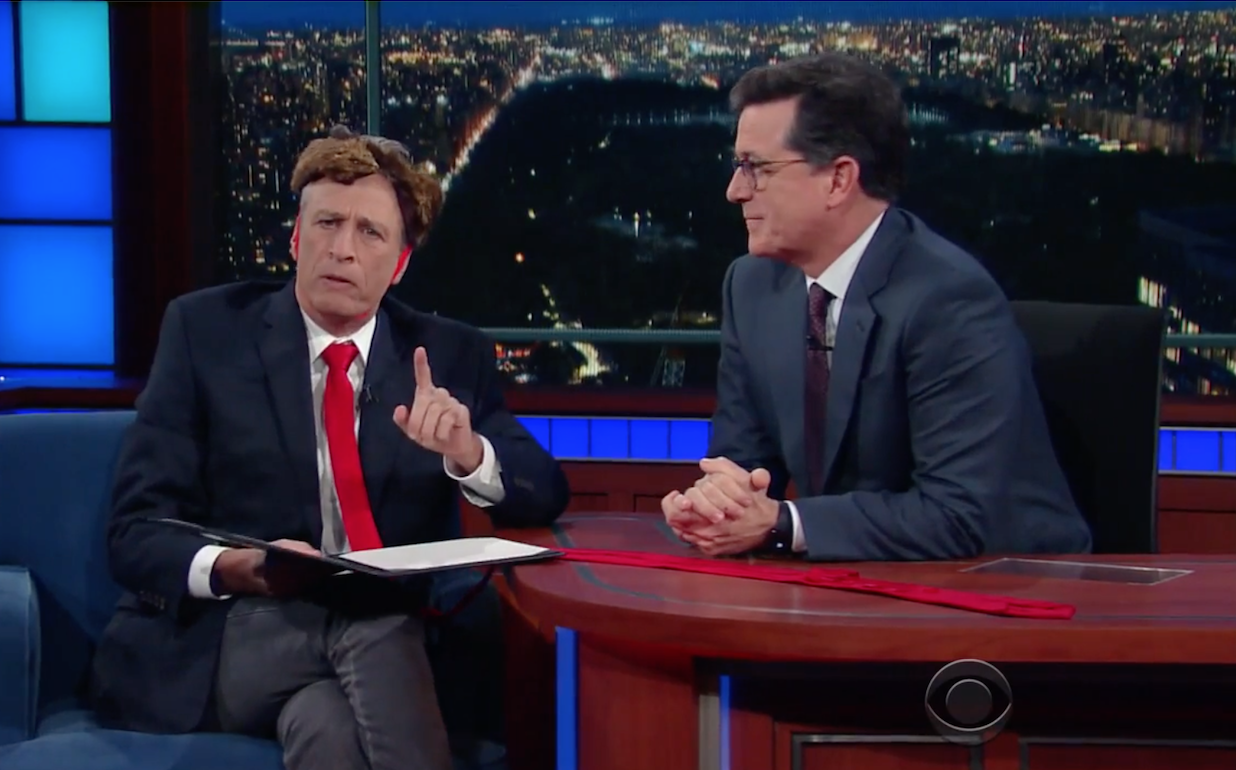 Jon Stewart has largely kept to himself as Donald Trump has taken over America. After the Republican National Convention in July, he sat behind Stephen Colbert's Late Show desk to talk about how Trump, the "angry groundhog," came out and "just vomitted on everybody for an hour." In November, he helped out Colbert with his live election coverage. A few weeks later, he sat down with Charlie Rose to offer perspective on the president-elect. "This is the fight that we wage against ourselves and each other," he said of the struggle to maintain democracy. "America is not natural. Natural is tribal. We're fighting against thousands of years of human behavior and history to create something. That is what's exceptional about America. This ain't easy. It's an incredible thing."
But other than that, we haven't heard much from the man who once dubbed Trump "Fuckface Von Clownstick," securing for Stewart a spot on Trump's list of the most overrated losers on the planet. On Tuesday night, though, for the first time since the inauguration, the former Daily Show host once again stopped by the Late Show to weigh in on Trump.
After Colbert pointed out that Trump couldn't possibly sign any more executive orders, Stewart emerged as Trump, with a rodent's pelt on his head and an oversized tie dangling to the floor, to prove him otherwise. After reading some mock executive orders, including one in which he pronounced "bullshit" to be the official language of the United States, Stewart directed some harsh words toward the president...as the president.
"It has been 11 days. The presidency is supposed to age the president, not the public. The reason I, Donald J. Trump, am exhausting is that every instinct and fiber of my pathological self-regard calls me to abuse of power. I want, no deserve, not just your respect, but your adoration—parades with the tanks, and the synchronized dancing. Why can't they train 10,000 doves to spell out "Trump" in the clouds? How hard could it be? They're already flying! I, Donald J. Trump, am exhausting, because it is going to take relentless stamina, vigilance and every institutional check and balance this great country can muster to keep me, Donald J. Trump, from going full Palpatine, with the lightning coming out of the fingertips. We have never faced this before. Purposeful, vindictive chaos. But perhaps therein lies the saving grace of my, Donald J. Trump's, presidency."
Then, Stewart's tone changed.
"No one action will be adequate," he continued. "All actions will be necessary. If we do not allow Donald Trump to exhaust our fight, and somehow come through this presidency calamity-less, and constitutionally, partially, intact, then I, Donald J. Trump, will have demonstrated the greatness of America, just not the way I thought I was going to."
The crowd cheered as Stewart gave Colbert a hug, took a bow, ripped off the long red tie and left the stage.