Jon Stewart Calls Out GOP 'Cruelty' After Vote Against Veterans' PACT Act
In a nearly 10-minute speech, Jon Stewart unleashed his vitriol toward Senate Republicans over their votes against advancing the veteran-focused PACT Act.
In June, the U.S. Senate passed the Sergeant First Class Heath Robinson Honoring Our Promise to Address Comprehensive Toxics (PACT) Act of 2022 in a bipartisan effort to address health care, research, resources and more for veterans exposed to toxic substances during military service, Newsweek previously reported.
Although the bill passed both houses of Congress in June, a revote was mandated due to a technical change the House made to the bill. In Thursday's revote, 41 Senate Republicans blocked the bill. Democratic senator Chuck Schumer switched his vote from yes to no in order to allow for a second vote to take place at another time.
"So ain't this a b**ch?" Stewart said in an irate speech after the vote. "America's heroes, who fought in our wars, outside sweating their asses off, with oxygen, battling all kinds of ailments, while these motherf**kers sit in the air conditioning, walled off from any of it. They don't have to hear it, they don't have to see it. They don't have to understand that these are human beings."
One of Stewart's particular focuses is "burn pits," which are areas devoted to open-air combustion of trash. The use of burn pits was a common waste disposal practice at overseas military sites, and "smoke from these pits contained substances that may have short- and long-term health effects, especially for those who were exposed for long periods or those more prone to illness," according to the U.S. Department of Veterans Affairs.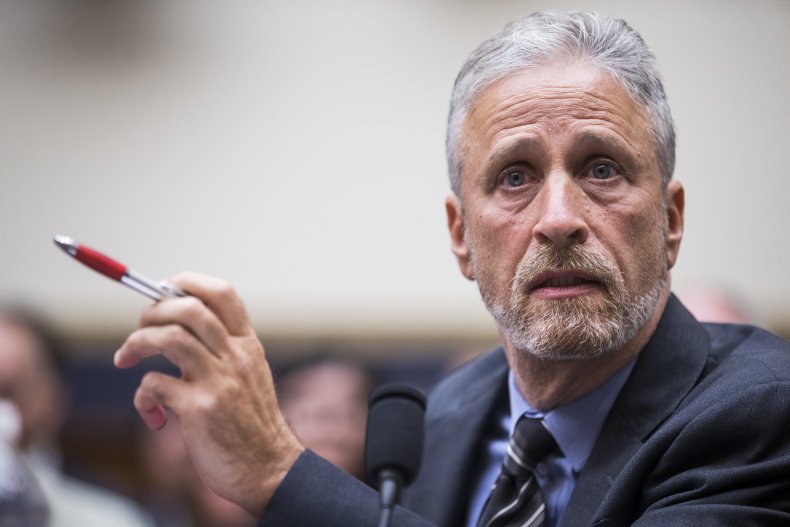 A visibly shaken and irate Stewart apologized for cursing, then offered something "beautiful" as penance. "Let me say something beautiful. This is a tweet from Senator Rick Scott from Florida from yesterday—it's beautiful, and I'm sorry about the cursing, and let me say something beautiful to make it up to you."
The tweet from Scott—one of the Republicans who voted against advancing the bill—read, "I was honored to join the USO today and make care packages for our brave military members in gratitude of their sacrifice and service of our nation."
"I've been coming down here 10 to 15 years. I'm used to the hypocrisy," Stewart continued. "The Senate's where accountability goes to die. These people don't care. They're never losing their jobs, they've never losing their health care." He specifically called out Senator Mitch McConnell and Senator Pat Toomey, whom Stewart called a "f**king coward."
"I'm used to all of it, but I'm not used to the cruelty," Stewart added.
A spokesperson for Senator Toomey told Newsweek on Thursday, "Earlier today, someone asked the senator his reaction to Jon Stewart's harsh comments. He said, 'That's not worth responding to.'"
The spokesperson also pointed to an earlier tweet of Toomey's about the vote that said, "Tonight, the Senate voted to give us the chance to fix a completely unnecessary budget gimmick in the underlying text of the PACT Act. This gimmick allows $400B in spending completely unrelated to veterans care." A subsequent tweet added, "We can easily fix this tonight, and there is no reason we cannot do so NOW. This simple fix would not reduce spending on veterans in the underlying bill by a single penny. It's wrong to use a veterans bill to hide an unrelated slush fund."
Since stepping down from The Daily Show in 2015, Stewart has been a key celebrity ally for veterans and first responders, most notably through his advocacy for 9/11 victims, including emergency personnel.
Newsweek has reached out to Jon Stewart for comment.