Jon Stewart Defends Stephen Colbert's Sex Joke About Trump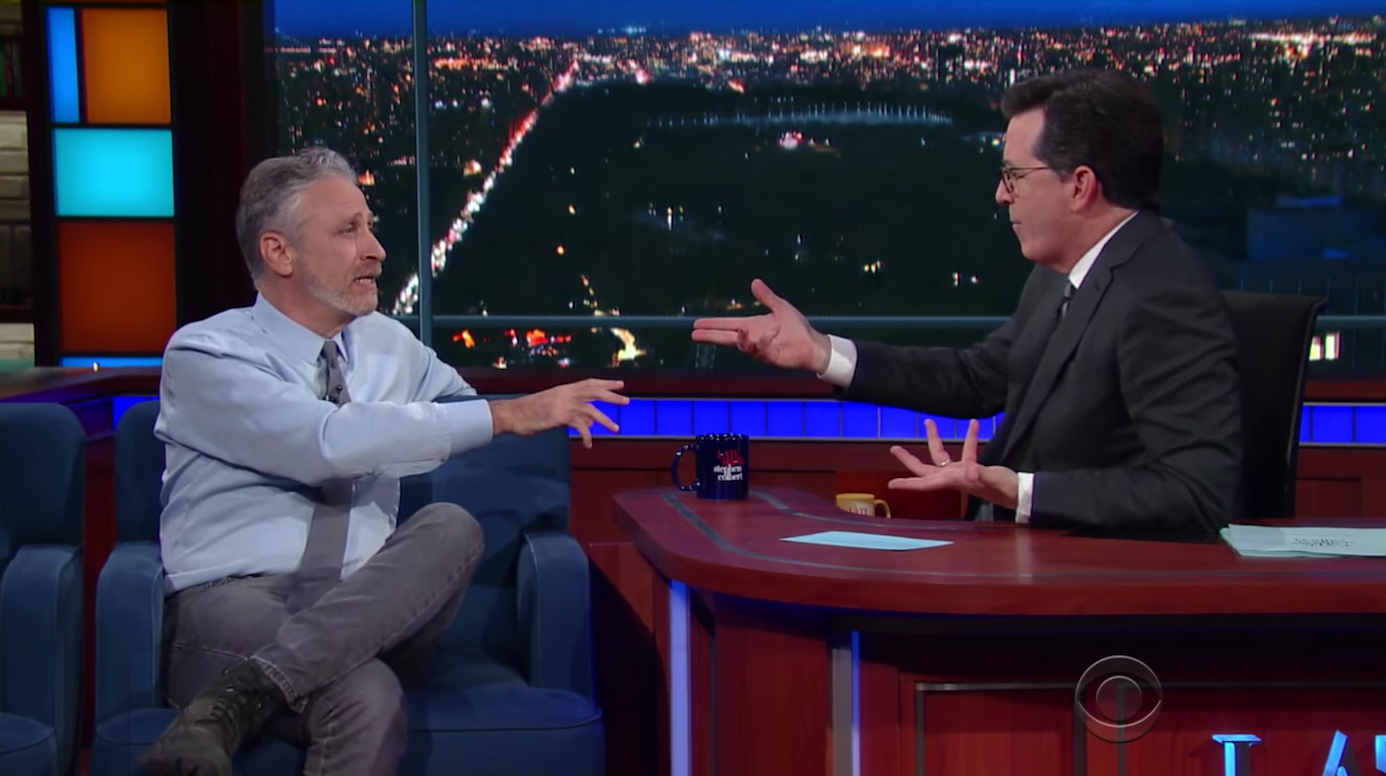 Stephen Colbert on Tuesday used his Late Show to host a reunion of Daily Show correspondents. John Oliver, Samantha Bee, Ed Helms, Rob Corrdry, Jon Stewart and Colbert himself reminisced about their time on the popular Comedy Central program that launched most of their careers. Somehow, to Stewart's dismay, he seemed to be the only one who had aged. "This looks like a group of students coming back to see Mr. Holland," Stewart said while gesturing to the still-dark hair of his former counterparts.
Related: Stephen Colbert's sex joke provokes #FireColbert
Jon Stewart being Jon Stewart, Colbert also interviewed him one-on-one. The news of President Donald Trump's decision to fire FBI Director James Comey had just broke, and Stewart seemed a little wistful for the good old days when he would have been able to get in front of a camera and address it. "There are nights when I find myself sort of impotently shouting into the abyss," said Stewart. "When you think about it, it's not that different from what I did on a nightly basis."
Tuesday night was also the first time Stewart and Colbert had spoken since their longtime nemesis, Bill O'Reilly, was finally forced out at Fox News following years of sexual harassment allegations. "The place was run by a guy who was doing the same thing, Roger Ailes," Stewart said when Colbert asked if he was surprised that O'Reilly's ouster took so long. "How could you call someone who works for you and say the sexual harassment stuff and the money we're paying out has got to stop, when you're paying out money for sexual harassment. There was no accountability throughout the entire building."
Toward the end of the interview, Colbert said something that the censors needed to bleep, which conveniently led Stewart to address the recent #FireColbert controversy that followed a crude joke the Late Show host made at the expense of Trump. As he did for 17 years on the Daily Show, Stewart offered a simple, clear-headed perspective to an issue that divided the media for days.
"The things that you say, even if they're crass, or even if they in some ways are not respectful enough to the office of the presidency...," he said. "We can insult. He can injure. It's the difference between insult and injury. For the life of me, I do not understand why we try to hold comedians to a standard we do not hold leaders to. It's bizarre."