On Louis C.K., Jon Stewart Once Again Falls Short Of His Progressive Reputation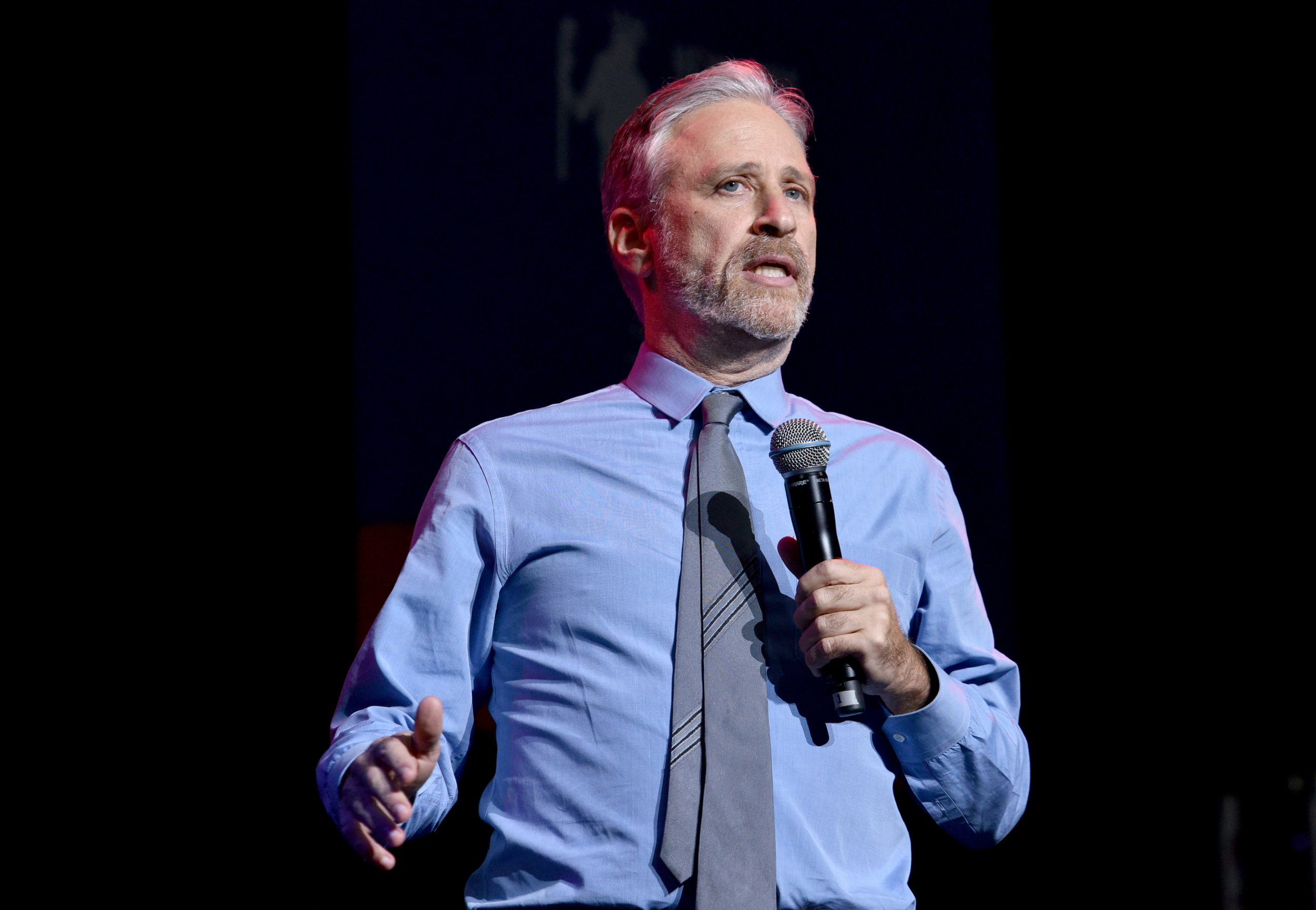 On the Today show Tuesday, former Daily Show host Jon Stewart said he was "stunned" when he heard the stories of Louis C.K.'s sexual misconduct, which the disgraced stand-up comedian has confirmed as true.
Stewart seemed visibly shaken. "You always find yourself back to a moment of 'Did I miss something? Could I have done more?'" Stewart said. "And in this situation, I think we all could have. So you feel anger at what you did to people."
Despite his apparent surprise, the Chicago Tribune reports Stewart was confronted with the allegations a little more than a year ago, thanks to University of Chicago student Dan Ackerman. During a live taping of David Axelrod's The Axe Files podcast, Ackerman asked Stewart why he hadn't brought up long-swirling rumors of sexual misconduct when he interviewed C.K. for the final episode of The Daily Show. Stewart's response was very different from his Today show appearance: He burst out laughing.
On the Today show, Stewart attempted to address that dismissal—though he didn't quite apologize for it. "My first response was 'What?' And then, joke, joke, and as he kept going, I was like, 'Look, I know this is very serious, but I know Louis, he's always been a gentleman to me.' Which, again, it speaks to the blindness that I think a man has."
Stewart conceded that he did some "digging around" on the allegations after that podcast taping. "But we were all assured, like, no. But we took somebody's word for it, and maybe that's an error on our part."
Throughout this vague, noncommittal response, Stewart manages to dance around condemning himself or even C.K. "You give your friends the benefit of the doubt. I tried to think about it in terms of, I've had friends who have had compulsions and have done things: gambling or drinking or drugs. And we've lost some of them," he said.
He then stumbled through an awkward acknowledgement that "comedy on its best day is not a great environment for women," but was unable to say the words "sexual harassment."
Compared with fellow comedian and C.K. pal Marc Maron's response to the scandal, Stewart's comments register as weak. On his podcast this week, Maron admitted he knew about the rumors and said that when he confronted C.K. about it, C.K. lied. He called C.K.'s actions "gross, creepy, massively inappropriate and potentially traumatizing."
It's not the first time Stewart has fallen short in practice when it comes to his supposedly progressive reputation. Wyatt Cenac, a former correspondent and writer on The Daily Show, famously got into a heated argument with Stewart in 2011 over a segment he perceived as racially insensitive. Cenac was the only black writer on the show at the time.
He described the incident on Maron's podcast in 2015, saying Stewart continually "shut down" Cenac's suggestions and eventually left the room, yelling expletives at him. Cenac stayed on the show another year after the incident but felt miserable, eventually quitting. Here's how Cenac described their parting conversation to Maron:
I'd say the longest conversation we ever had was the day I quit, and that was the most real conversation. And it was sad, because I honestly thought in that conversation, I was like "This is how I wished I'd been able to talk to you for four and a half years, and maybe I wouldn't be leaving now if we had this kind of relationship," where it just even felt like respect. Because you can be a boss and still respect your employees. It felt like he was a boss, and especially by the end, where it was just like, "Oh no. I don't feel like if something were to happen to me tomorrow, this guy would give a shit."
Over the years, many have pointed out Stewart's failure to hire women and minorities for his show. MSNBC reporter Irin Carmon published "The Daily Show's Woman Problem" for Jezebel in 2010, in which an anonymous former executive told her "there's a huge discrepancy between the Jon Stewart who goes on TV every night and the Jon Stewart who runs The Daily Show with joyless rage."
The then-host responded to the criticisms by promoting more women and people of color, adding Kristen Schaal, Hasan Minhaj, Jessica Williams, Aasif Mandvi, Al Madrigal and Larry Wilmore to the correspondent corps. Still, the writers' room remained largely white and male, despite the show's growing tendency to tackle issues of race and gender ruthlessly. When Stewart stepped down from hosting in 2015, just four out of the 15 writers on staff were women, according to ThinkProgress.
A Wikipedia list suggests new host Trevor Noah has bumped up that number to five.