9/11 First Responder Warns Mitch McConnell to Keep His Word on Victims Fund Or His Team Will Make His Life 'Miserable''
A 9/11 first responder in an MSNBC appearance with comedian Jon Stewart told Senate Majority Leader Mitch McConnell to reauthorize the 9/11 Victims Fund or else his team would make the senator's life "miserable."
"If Mitch McConnell or anybody in the Senate plays games," first responder John Feal said on Andrea Mitchell Reports Friday, "Myself and my team, Jon Stewart, we come back and make their lives miserable."
Feal's threat came right before the House of Representatives voted 402-12 to reauthorize the fund, which was initiated after the terrorist attacks to help with medical expenses and financial loss but has become severely depleted and will face cutbacks if not reauthorized.
"We are not going to apologize for that," Feal continued. "They work for us. Mitch McConnell is in charge of 99 people and the speaker is in charge of 434 people. They're working for us."
Stewart, a former Daily Show host who has become a passionate advocate for the fund, added, "They should do it before August 2nd. Keep your word."
The comedian said that McConnell's word was "this passes, unattached and as a standalone bill, fully funded."
McConnell in late June responded to congressional testimony by first responders and Stewart specifically by saying, "Many things in Congress happen at the last minute ... We will address it again. I don't know why he's all bent out of shape."
Stewart responded: "No, Mitch McConnell, I am not bent out of shape! I am in fine shape. I am bent out of shape" for first responders.
Shortly after, Rudy Giuliani, who was New York City mayor during 9/11 and now serves as legal counsel to President Trump, sided with Stewart.
"I remember when all Americans were ONE after the 9/11 attack," Giuliani tweeted on June 21. "It's our duty to support the bill to protect those ill because of their work to protect us. The Senate must vote as ONE for them."
A group of first responders who met with McConnell said the senator vowed the bill will be voted on and passed before Congress' recess in August.
McConnell stated the Senate will "consider this important legislation soon," after the House passed it.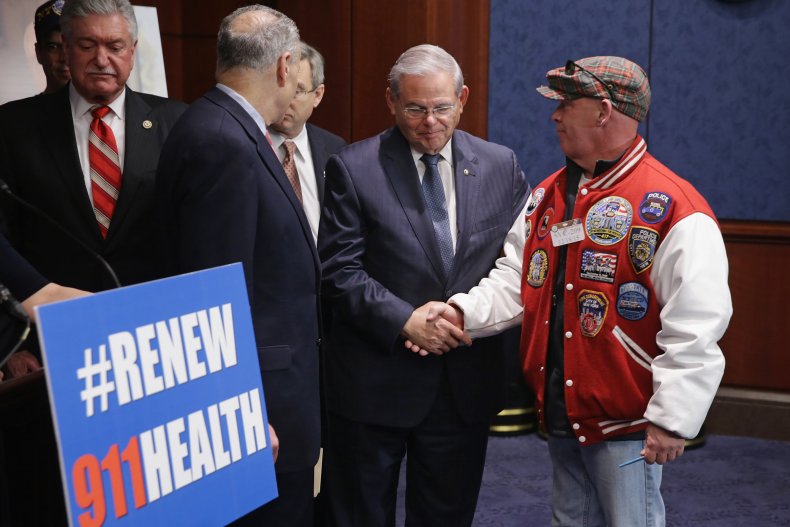 On MSNBC, Feal and Stewart paid tribute to Luis Alvarez, who gave a heartfelt testimony to the House in favor of the fund and died weeks later.
Feal and Stewart also remembered Luis Alvarez, who died just weeks after delivering moving testimony to the House.
"I will not stand by and watch as my friends with cancer from 9/11, like me, are valued less than anyone else," Alvarez said in his testimony.