Jon Stewart Rails Against Poor Showing at Memorial Day Veterans Event
Comedian Jon Stewart bemoaned the apparent lack of support from regular Americans at a veterans event on Memorial Day in Washington D.C.
The former Daily Show host hit out at the lack of people in attendance who were not associated with veteran organizations and family members during a fiery speech at the Rolling to Remember event on Saturday.
According to its website, Rolling to Remember is a motorcycle run that takes place in Washington D.C. over the Memorial Day weekend in order to raise awareness of veteran suicides, prisoners of war and the estimated 82,000 service members still missing in action.
Speaking to the small crowd, Stewart, who was flanked by advocates for veterans' causes said: "The people sitting behind me, it's hard not to be here today and not get frustrated again. Because as I look out in the crowd, I see the same thing I always see—veterans and their families and caregivers. But where are the American people?"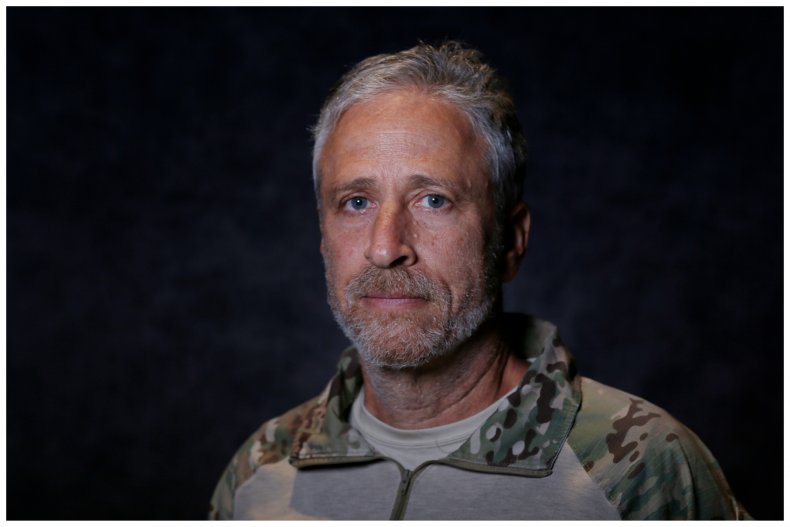 He continued to rail against surface-level support from people who merely shared sympathetic posts online or discount offers without tackling wider issues that are faced by the veteran community.
Stewart added: "This Memorial Day weekend. Man, you're going to read the tweets this weekend. You're going to look at the Facebook pages and you're going to think to yourself, 'Oh, does America love me. Boy, they love us.'
"You're going to go to Applebee's. They're going to give you them baby back ribs. Probably 20 percent; not even, 10 percent because of how much they support you.
"And yet we come out here today looking for the support of the American people, and what do we have behind me? It's veterans organizations. It's veterans. It's their families. This country can't be this broken. If we can't do the simple s***, we have nothing."
Stewart then lashed out at the inaction of Congress to help sick veterans who claim to have been exposed to toxic materials, such as Agent Orange.
A bill, dubbed the Sergeant First Class Health Robinson Honoring our PACT of 2022, offers bipartisan support to assist veterans who have been exposed to toxic material.
The legislation is now set to arrive in the Senate in June.
Senate Veterans Affairs Committee Chairman Jon Tester (D-MT) and Ranking Member Jerry Moran (R-KS) said in a May 24 joint statement: "This is a big step forward in showing all Americans the Senate's plans to deliver toxic-exposed veterans and their families the comprehensive health care and benefits they have earned for the first time in this country's history."
"As leaders of the Senate Veterans' Affairs [VA] Committee, we have worked tirelessly with our colleagues from both sides of the aisle to ensure this legislation expands VA health care eligibility for Post-9/11 combat veterans, improves VA's claims processing, and delivers VA the necessary resources to take care of our veterans from every generation.
"While our work is far from over, together we're committed to keeping up our end of the bargain to those who sacrificed on behalf of our freedoms by getting this bill across the finish line as soon as possible."
Should the legislation pass, it would expand health care eligibility to more than 3.5 million toxic-exposed veterans and strengthen federal research on toxic exposure among several other provisions, according to the press release.
It also states that "Sergeant First Class Heath Robinson deployed to Kosovo and Iraq with the Ohio National Guard. He died in 2020 from toxic exposure as a result of his military service."
Newsweek has contacted Rolling to Remember for comment.