Jon Stewart Says Voting for Trump Was Like Putting 'Our Dick in the Toaster'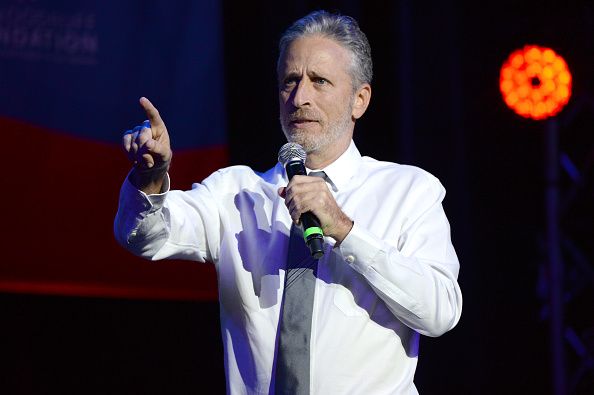 Jon Stewart hasn't been on TV much since departing The Daily Show in 2015. But he does regularly appear at the annual Stand Up for Heroes benefit for military service members, veterans and their families. And this year he used the opportunity to comment on Donald Trump, comparing his election as the 45th president of the United States to America putting "our dick in the toaster."
He made the comments when trying to understand how some voters who cast a ballot for Barack Obama in 2012 could then help elect Trump four years later. One study from the Democracy Fund Voter Study Group found that 9.2 percent of Obama voters went on to pick Trump.
"It's like a guy who's like, 'Yeah, it didn't work out with my girlfriend, so now I'm going out with a toaster. I stick my dick in it,'" he said. "That's really, I think, where our country is at right now," he said. "We put our dick in the toaster and we're all waiting to see what happens. What the fuck, man?"
Setting aside for a moment the (not entirely inappropriate) assumption that the country is a man with a penis, Stewart's choice of words demonstrated his bleak take on the past 12 months. But it's not like he didn't see it coming. At the last Stand Up for Heroes event, the 2016 presidential election was still a week off and he seemed to feel Trump's election coming. "To be here tonight with you guys, my heroes, on the eve of the last American election is so exciting," he said. "Two hundred and forty years…we gave it a shot."
Stewart's dick-in-toaster comment Tuesday, then, feels more like a prophecy fulfilled than a shocked taking-stock of the past year—even if he still seemed confused about how Americans voted. And he wasn't the only one.
Stewart's Daily Show successor, Trevor Noah, also found a way to compare Trump's first year in office with male genitalia. "I don't know how to feel about Donald Trump," Noah said. "There is terror and there is joy. You know what it feels like? There's a giant asteroid headed towards the Earth, but it's shaped like a penis."
But Stewart's former correspondent and the current host of Last Week Tonight, John Oliver, struck a relatively optimistic tone—even if it came wrapped in another lovely image. "Falling in love with America right now is like falling in love with a girl who's throwing up all over herself," he said. "Just holding her hair back saying, 'Shh, let it all out. You just made a mistake, that's all. You can't repeat this mistake, otherwise you become less sympathetic.'"