Jon Stewart Slams 'Nearly Empty' Congress During 9/11 Responders Hearing: They 'Brought Our Country Back'
Comedian Jon Stewart slammed Congress on Tuesday for largely failing to show up to a testimony for 9/11 first responders, telling lawmakers that their behavior is "shameful" and embarrassing for the country.
"As I sit here today, I can't help but think what an incredible metaphor this room is for the entire process that getting health care and benefits for 9/11 first responders has come to," Stewart said. "Behind me, a filled room of 9/11 first responders and in front of me, a nearly empty Congress."
Stewart and a number of first responders traveled to Capitol Hill to testify before a House Judiciary subcommittee in an attempt to persuade lawmakers to allocate money toward the 9/11 Victims Compensation Fund.
The fund, which must be renewed by Congress every year, is running out of resources due to a record number of claims. In 2015, the fund was allocated $7.375 billion to give out over the next five years. But as of February, over $5 billion had been spent.
The House of Representatives is set to vote on the "Never Forget The Heroes Act" this week in order to permanently extend the fund past its 2020 deadline. The legislation has been pushed for by New York politicians like Alexandria Ocasio-Cortez, Kirsten Gillibrand and Chuck Schumer.
During his testimony on Tuesday, Stewart said it was embarrassing that first responders need to come to Washington D.C. every year for nearly two decades to fight for health care assistance. Especially since only just over half of the lawmakers on the House subcommittee appeared to be present.
"Sick and dying, they brought themselves down here to speak—to no one. Shameful, it's an embarrassment to this country and it is a stain on this institution," Stewart said. "You should be ashamed of yourselves for those who aren't here, but you won't be because accountability doesn't appear to be something that occurs in this chamber."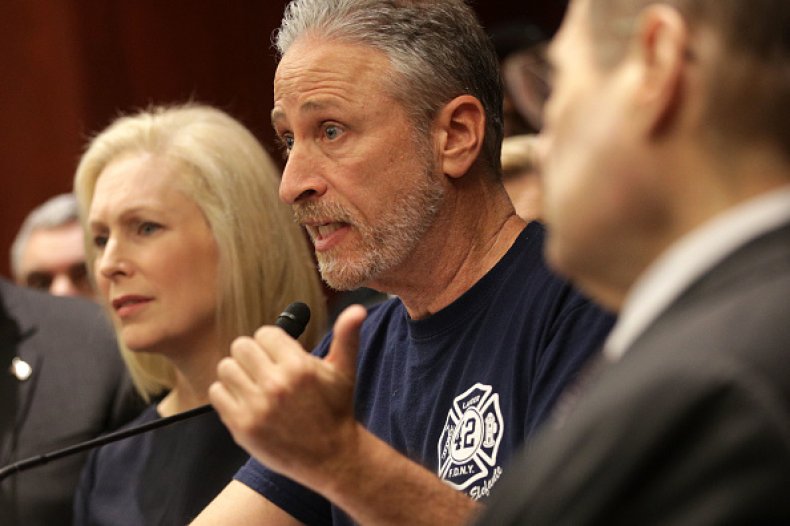 The New York Daily News reported in February that the number of victims after the 2001 attack will eventually exceed the 2,977 killed that day. The 9/11 victims fund had to cut payments to victims by as much as 70 percent because of the rising number of cases and dwindling resources.
Stewart also told lawmakers that he was "sick and tired" of hearing the September 11 terrorist attack described as a "New York issue."
"Al-Qaeda didn't shout death to Tribeca. They attacked America and these men and women and their response to it is what brought our country back," he said.
Shortly before the hearing, Stewart was given the turnout coat of FDNY officer Ray Pfeifer, who died from a 9/11-related cancer two years ago. Pfeifer had made dozens of trips to Washington D.C. to lobby for health and compensation bills for first responders before his death.