Watch: Jon Voight Cries on Fox News over 'Our Man' Donald Trump, 'Thank God'
Academy Award-winning actor and vocal Donald Trump supporter Jon Voight broke down in tears while discussing an interaction he had on a flight talking about "our man" and 45th president.
Speaking with Mark Levin on the Fox News Channel's "Life, Liberty & Levin" Sunday night, the 79-year-old actor began crying as he recalled a speechless moment he'd shared with a "conservative woman" on his flight to the TV studio. Voight said he asked the actress, "So what do you think about our man?" He then imitated how she placed her hand on her heart, before he began crying during the show.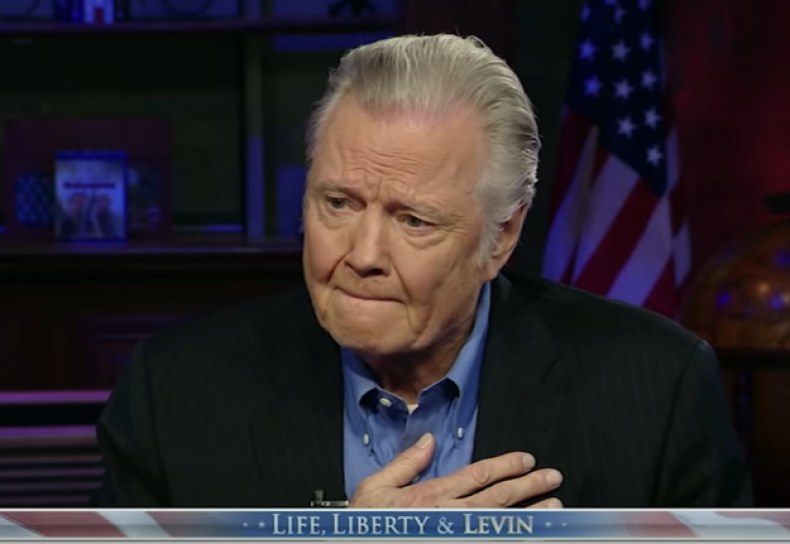 "That's me crying," said Voight, his voice shaking. When asked by Levin why he was crying on the show, Voight described how he was overcome with emotion discussing President Trump in such a breathless moment.
"Because, first of all, the gesture was so beautiful she couldn't even speak she was just saying, 'thank God,' and I said, 'thank God,'" Voight added, gesturing to the sky. "And one of the reasons I can say 'thank God' is because I know he's there for us all."
"God," Levin says, clarifying the distinction from President Trump.
"That's one of the things that we've lost is this compass of God," Voight continued. "What did Karl Marx come up with? He eliminated God from the picture." The actor described how America's founding fathers knew "we are endowed by our creator," which he said is not the case in communist countries. He noted a story about his first time going to Moscow in 1991 to shoot a film.
One of the president's early supporters, Voight made a 2016 video "to save America" before engaging in a Twitter spat with fellow actor Robert DeNiro in which Voight described Trump as having the potential to be the "greatest president" in U.S. history.