Jonah Hill's New Look Is Nuts, Sure, But I Must Have His Hawaiian Shirt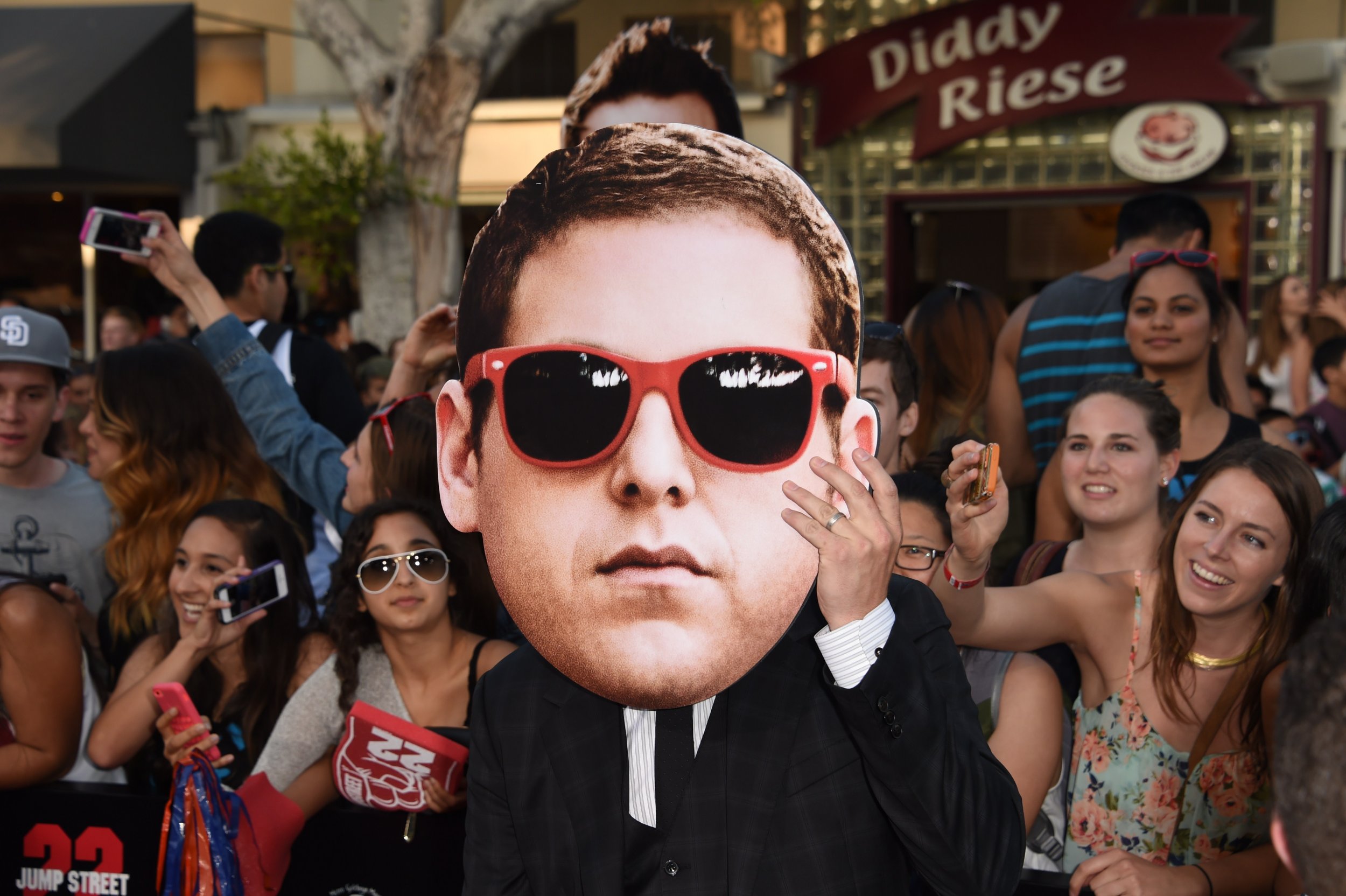 Updated Do not be distracted.
The internet is ablaze, abuzz, a'tweetin' about actor Jonah Hill's new look. Photos Thursday showed the actor slimmed down with braids and tattoos filming a role in the upcoming Netflix series titled Maniac. "Unrecognizable," wrote Entertainment Tonight. "Unrecognizable," wrote People Magazine. "Unrecognizable," wrote the Daily Mail.
But I implore you to not let the Superbad actor's stunning transformation into Post Malone sidetrack your thoughts from what truly matters in these photos. What's important is as follows: Jonah Hill has been pictured wearing an incredible Hawaiian shirt and I simply must have it.
I like Hill, I think he's a good actor, but my man seemingly goes through a look transformation every other Wednesday. Who cares about some temporary braids for filming? But that shirt...
It's glorious.
Let me explain: My affection for Hawaiian shirts is well documented (over at Twitter.com/timmarcin).
When I am not on the clock as a Content Creator, I like to relax and relieve this old noggin from the lunacy that is making things on the internet. But it's hard to unwind, difficult to disconnect. (A Baby Boomer rushes in from a distant mansion on a hill and screams, "Millennials and their technology!")
A Hawaiian shirt is a reset button. It says, "Buddy, I may be doing a lot of things, but I ain't workin'."
I do not go on vacation without packing at least one Hawaiian. I once went to a birthday party for a coworker here at Newsweek and showed up in a Hawaiian shirt and people said, "This is weird, why is Tim in a Hawaiian shirt?"
"Congratulations," I responded. "You just met Weekend Tim."
So... my passion is real. And Hill's Hawaiian on set for Maniac makes me want to bring my index and middle fingers together with my thumb and kiss the air like an Italian chef who made a perfect spicy meatball.
It's a brilliant shirt. The base is black, which allows the wearer to camouflage into formal situations (let's say... a banquet, not one in which you'll be honored in any way, but still you have to show up nonetheless). The understated, calming waves are a nice touch. But then, bam: neon palm trees, neon flamingos, neon dune grass. Hawaiian shirts are not a canvas for metaphors. They are a billboard that says in all caps: I'M NOT HERE FOR A LONG TIME; I'M HERE FOR A GOOD TIME.
And how Hill's Hawaiian delivers. I saw it and my heart skipped a beat. In fashion circles there's this concept called grails—as in the Holy Grail—where people have specific, rare items for which they search high and low. I never got it until I saw Hill's shirt. (Thus far I have found shirts close to it, but not quite it.) The shirt must be mine.
Do you know how people who are trying to lose weight sometimes buy pants that are a size too small to remind them of an end-point that lies ahead? I need that Hawaiian shirt because it would be a reminder, hung neatly in my closet, of the person I want to be. Most days I'm neurotic and busy and nervous about something in the future—what that thing is, exactly, isn't clear—but the guy who would wear that shirt is the opposite of that.
I need that damn shirt.
Please send tips to t.marcin@newsweek.com and shirts to: c/o: Tim Marcin, 7 Hanover Square, Fl. 5, New York, NY 10004.
Update: This post was updated to reflect that it appears Hill actually has braids in the photo from the set of Maniac and not dreads. Thank you, Twitter.