Jonas Brothers 'Chasing Happiness': Best Moments and Fan Reactions From Emotional Family Film
The Jonas Brothers haven't always been as close as they seem to be now, and it's due to their band. Fans were devastated when the Jonas Brothers broke up in 2013, many wondering why the mega-famous brothers would do such a thing. Now, they know.
In Chasing Happiness, the Jonas Brothers' new documentary on Amazon Prime, the band explains why they're back together, and how this time around will be much sweeter. But there was a long road to finding that camaraderie, and it's a story that Kevin, Joe and Nick Jonas are not afraid to tell.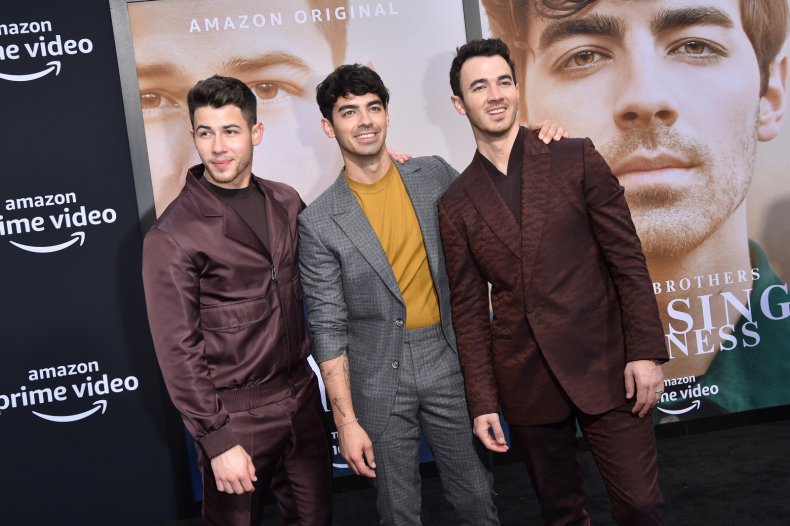 The Jonas Brothers broke up because of conflicts within the band, from sneaking around behind each other's backs to make band-wide decisions to general direction disagreements. Now, they're telling the full story, and fans love it.
The initial reception to Chasing Happiness was love, excitement and awe from fans who viewed the film on its release date Tuesday. Twitter conversations focused on some of the more impressive and endearing moments in the documentary, which included throwbacks to major tunes as well as glimpses into the brothers' personal lives today. Here are some of the leading moments, and what fans have to say about them.
Miley Cyrus' Influence
Some fans were thrilled and somewhat shocked when they learned Nick wrote the famous Jonas Brothers song "Lovebug" about his teen girlfriend Miley Cyrus. Though both married their significant others in the last year, the throwback to the romance that captivated Disney Channel audiences struck a chord for some. A few, however, were disappointed by the fact.
The Wife Appearances
The Jonas Brothers seem twice as powerful with the backing of their famous wives, and there was no shortage of the women in the film. Danielle Jonas, Sophie Turner and Priyanka Chopra, who call themselves the J-sisters, have shown their support both in and out of the film, and fans can't get enough of it.
The Church
In one of the more emotional moments of the film, the Jonas Brothers revealed they're no longer welcome at the church they attended while growing up. Because the brothers entered pop music and mainstream fame, they were rejected from attending after they abandoned Christian music for pop.
The Emotions
Jonas Brothers fans were filled with emotions while watching Chasing Happiness. There was no shortage of memes on Twitter that explained how fans felt while watching the documentary.