How the Northeast Is Shoveling Its Way Out From Under Jonas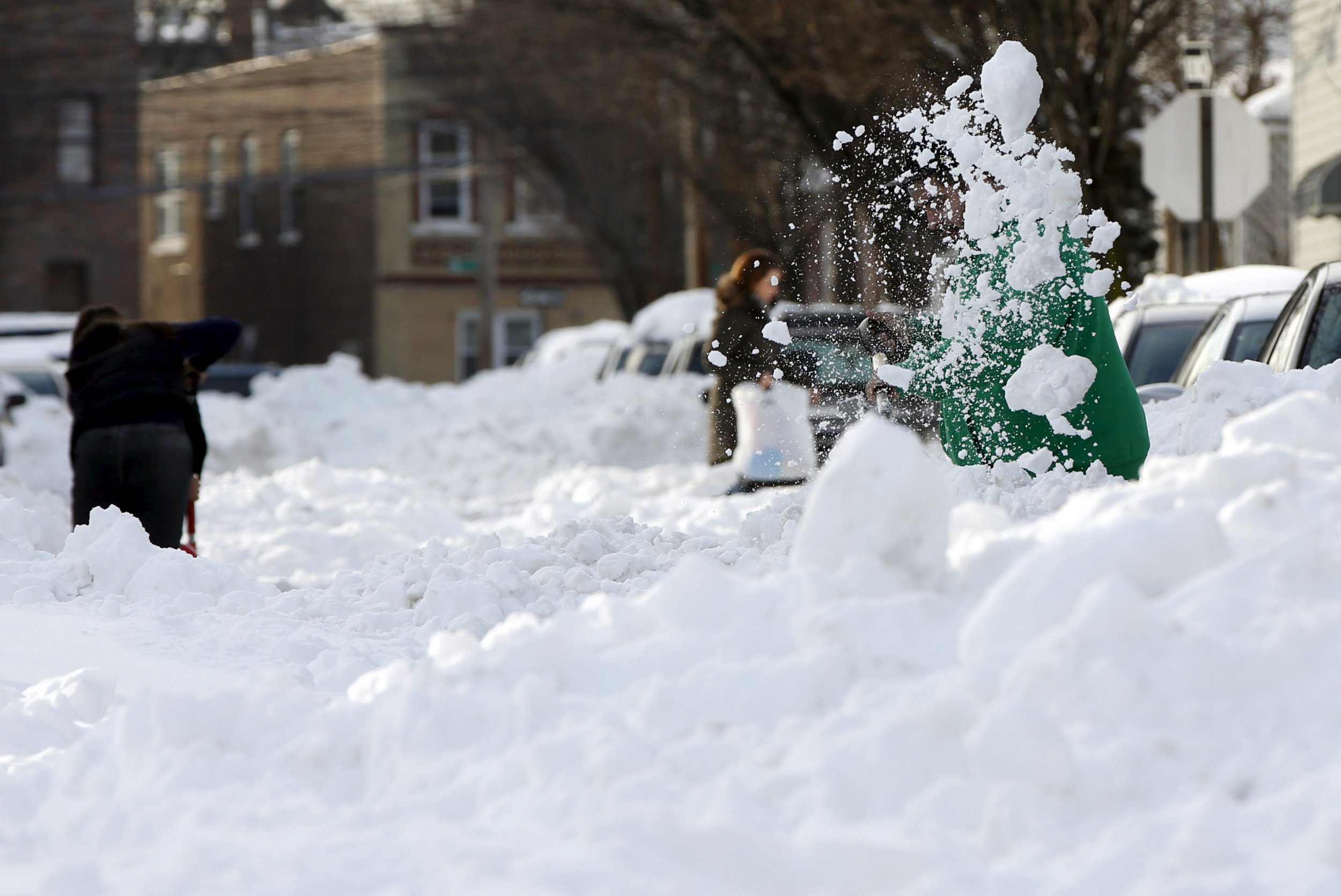 After the storm named Jonas left much of the Northeast under 2 feet of snow, it's up to teams of dedicated shovelers to dig out some major East Coast cities. While Washington boasts a volunteer digging team, New York City is looking to hire shovelers, and New Jersey is offering contracts for plows, salt spreading trucks and hauling services.
The nation's capital started prepping for the storm weeks in advance by signing up volunteers for the D.C. Resident Snow Team. Made up of 2,600 people from around the city, the team banded together to fulfill 5,200 shoveling requests from senior citizens.
"The primary focus of the last couple days has been on seniors. Then, we ask people to focus on fire hydrants," Delano Hunter, the program's director, tells Newsweek. "The response was just so overwhelming. They really want a way to channel their energy and help the community."
This isn't the first year for the volunteer program, but it is the first time it's been so large and so organized. The city was able to provide free bright yellow shovels to volunteers and an app which connects shovelers to those who need shoveling is on the way. With so many volunteers, the city was able to get each shoveler a home to clear within a half mile of their own residence, to prevent anyone from having to walk too far to lend a helping hand.
D.C.'s volunteer snow team was made up of just about everyone: "We are seeing high school students, millennials who noticed it on Twitter, baby boomers who have been shoveling snow for seniors for years," says Hunter. "We are even seeing other seniors who are shoveling other seniors out."
Adam Hoyt, a five year resident of D.C., found out about the program on Twitter. He and his girlfriend braved Jonas and went to shovel three houses in the Cleveland Park area of the city. "I thought that could be really cool to be helpful and not just sit around during the snow day," Hoyt tells Newsweek. "I registered online, and on Friday I got called into action."
During the next storm, Hoyt plans to be out there again. "I'm young, so I felt fine," he says. "Well...this morning I felt it a bit more. But it's all worth it. You want people to have access to basic things."
The yellow shovels provided by the city became a calling card of sorts among volunteers. Described as "very recognizable," they encouraged camaraderie among the shoveling teams, Hoyt says. It's a shade of yellow one can see even in the flurry of white.
Volunteers also popped up on SnowCrew, a service developed by SeeClickFix to match snow shovelers with those who are snowed in. Requests are spread across Virginia, Maryland, Philadelphia, New Jersey, Connecticut and Massachusetts.
SnowCrew allows users to register for assistance or to volunteer, and then notifies the volunteers when someone in need is nearby. Of the almost 1,300 shoveling requests the service received in the last 30 days, the vast majority were made in the days since the storm began, according to SeeClickFix CEO Ben Berkowitz. "Please help with mom's snowy steps! Mom is not capable of doing this herself and we can't get to her," wrote one SnowCrew requester in the D.C. area on Monday afternoon. "I promise I'll help people in our neighborhood."
SnowCrew calls its volunteers "yetis," and these yetis come in every shape and size: Berkowitz has shoveled with everyone from college students to boomers, women and men. "These micro acts of volunteerism, as altruistic as they are, there is some selfish motivation here," he says. "People will see you do this and they might inspire other people."
Caroline Smith, a yeti during her days at Yale who now works for SeeClickFix in New Haven, Connecticut, got involved in volunteer shoveling to help bridge a gap between the college community and the city's residents. "It was a way for us to feel a little bit more like neighbors with each other," she says. "I think my main experience with SnowCrew is realizing and seeing the true power of collective generosity."
Not every city depends solely on volunteers. In New York City, there's not a single SnowCrew request, despite there being plenty of snow and ice on the ground. Instead, the city hires a crew of temporary snow laborers to work for $13.50 an hour, with an overtime wage of $20.25. The job is open to anyone over the age of 18 who is allowed to work in the United States and is willing to perform "heavy physical labor," the city says. As of Monday afternoon, 920 snow laborers had been hired.
But all that snow clearing comes at a cost. The city's comptroller, Scott Stringer, released a "budgetary blizzard" on Monday in which he determined New York City spent $2.5 million per inch clearing snow and ice in 2015. That cost included the snow laborers. "The unpredictable nature of winter storms can sometimes necessitate large personal services expenditures," the comptroller wrote in a January 2015 report about snow removal costs. In 2014, emergency snow laborers were paid just $12 an hour with overtime of $18, so the cost to employee these diggers has gone up. (The comptroller's office did not respond to request for comment on whether New York City would look into a D.C.-style volunteer program to alleviate snow removal costs.)
New York isn't alone in paying for snow laborers: New Jersey hires contractors for snow removal all winter long, according to a spokesman from the state's Department of Transportation. The state also boasts digger extraordinaire Cory Booker, the Newark mayor turned U.S. senator who famously dug out his constituents during a major storm in 2010. "In this day of digging out, help someone, engage in acts of goodwill," Booker tweeted on Sunday after Jonas had moved through. "Perhaps the biggest thing [you] can do today is a small act of kindness."