Pulitzer-Winning Food Critic Jonathan Gold on Writing, Food and Procrastination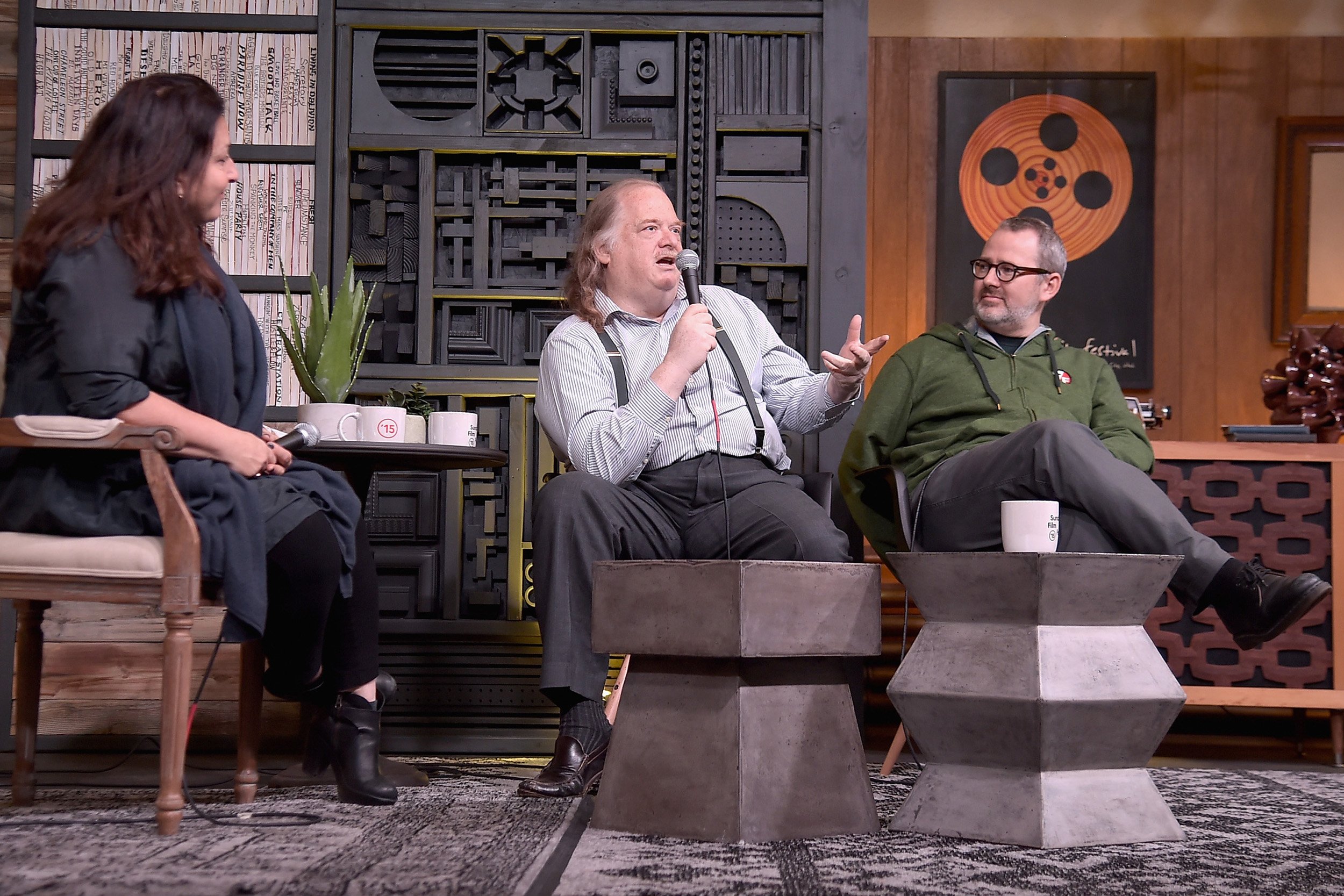 Updated | For a long time Jonathan Gold, the first food critic to win a Pulitzer Prize, was convinced he'd be a bad subject for a documentary. Laura Gabbert, a director (No Impact Man), approached him after years of reading his cult-favorite Counter Intelligence columns in the Los Angeles Times. "He told me that I really didn't have a movie, because he wouldn't let me film him doing any reviews and he wouldn't provide me with any kind of interesting dramatic conflict," says Gabbert of first pitching Gold her idea for a feature-length profile.
"I wasn't about to break up with my wife for…a beat in the film," Gold jokes.
Good thing he eventually got on board with the project. Gabbers's charming resulting documentary, City of Gold, premiered at the Sundance Film Festival in 2015 and begins a limited theatrical release on Friday. It follows Gold, known for his democratic Los Angeles Times food criticism (he returned to the paper in 2012 after a second stint at LA Weekly, where he had originated his food column in 1986), as he crisscrosses his native Los Angeles in a Dodge pickup. Gold would sooner walk up to a taco truck than play haute-cuisine kingmaker, and in the movie we learn—though it's perhaps unsurprising to anyone who's read his magpie prose—that his eclectic tastes extend well beyond the regional menus of strip-mall holes-in-the-wall.
Gold, who trained as a classical cellist at UCLA, rhapsodizes about punk and hip-hop as often as he does about early music; his wide-ranging library has evidently long since overflowed its shelf space. Gabbert's camera pans over stacks of books going all the way up the staircase of his home, where he lives with his journalist wife, Laurie Ochoa, and their two children. But City of Gold also manages to be more than merely a beguiling portrait of one of America's greatest omnivores. The film, which features interviews with many proprietors of Gold-starred small businesses, doubles as a city-symphony celebration of L.A. as a nexus of global cultures, as well as an implicit argument for the value of well-practiced criticism.
Last week, Gold briefly left L.A. behind for New York to do press for the film alongside Gabbert. He had an iced coffee perspiring in front of him when he spoke with Newsweek on a sunny afternoon.
What did you have for lunch?
I went to the North End Grill, a Danny Meyer restaurant, and I had some charcuterie. There were pressed pig trotters. There was a really nice house-cured meat that they called "lardo" but really wasn't, but it was nice anyway—it had more of the papery texture of speck. And then I had roast squab with huckleberries.
I know you used to live [in New York, when you reviewed restaurants for Gourmet from 1999 to 2001], and you're seen visiting in the film. But after watching the movie, it's hard to imagine you out of the context of L.A. Do you come to New York with a list of places that you know you want to go to? Do you have old favorites you like to visit?
I don't like going to places with lists. But some are that; some are the new places. Obviously, a ton of my friends are food writers, and I'll go wherever they drag me. Last time I was here, I think [former Village Voice columnist and current Eater critic Robert] Sietsema dragged me to nine places in an afternoon.
How did you feel about eating on camera so much?
Oh, completely self-conscious. [Laughs.] I mean, nobody eats delicately, right? And especially some of that stuff you don't eat delicately. The movie as it was originally constituted was supposed to be way more meal scenes. There's a couple of scenes that came early on in the filming—and I think it was over the course of four or five years—where I'm sitting alone at a table with 19 dishes around me. [Laughs. Gabbert adds, "Which actually isn't totally fair, because he was ordering for the crew too."]
I do not go into restaurants by myself and order 19 things. But it's also my natural habitat, sitting at a restaurant table and talking with friends. You get used to the camera being there.
In the movie, we see you talking about boiled ox penis. We see you talking about hagfish—which, at least to me, sounds disgusting. And we see you munching on grasshoppers. Is there anything you categorically won't eat?
Yeah, I'm not fond of eggs.
Is it a textural thing?
I'm not really sure what it is, because I cook eggs almost every morning for my family. And we're at a point in restaurant history where it's almost impossible to go to a certain kind of restaurant and not have an egg on every dish. People used to put foie gras or caviar on stuff, and now it's like the egg is the go-to garnish. But, yeah, I'm not sure what it is. And it's universal, right? I have been served a bowl with a fried egg on a fonduta made by Daniel Boulud himself on which there was like an inch of shaved white truffles, and I still passed the dish to my neighbor. [Laughs.]
In the movie, we also see a couple of your editors talking about how difficult it is getting you to turn in pieces sometimes. We see you procrastinating—and you say yourself that you're a great procrastinator. We see you talking about having seen a therapist for writer's block. Is the process of writing something that you have a distaste for?
Oh, I don't have a distaste for it. I'm a perfectionist, probably, and the sight of a false sentence just fills me with fear and loathing. And I've worked with enough writers to know that it's not super unusual. But, you know, you start out, "This is going to be the best piece ever!" And then it's going to be, "Well, this'll be OK." Then you go through the thing of self-loathing—"Oh my God, how am I going to do this?" And then you come to the point of, "The English language—how does it work? How do words even follow one another?" [Laughs.] And then that gripping fear comes in of missing the deadline. And then—pfff—you finish. And my copy's really clean; I always self-edit a lot as I go along. But I've never been one of those people who could turn off their Internet. It's hard.
We see you do a lot [of research] in the film—of course, the more you know about something, the more pressure you put on yourself to communicate a certain amount about it.
Well, especially the thing with the Internet, right… It used to be that I'd, say, be doing a piece on a restaurant that served the food of Hyderabad. And I would have 20 Indian cookbooks in my library, maybe three of which were specifically about Hyderabad. And that would be fine—really, that's adequate. But with the Internet, you go and you look at things, and then you realize that, oh, wait, Hyderabad not only has an English-language press, it has a huge English-language press, and there are magazines like The Village Voice, and they are as obsessive about biryani as you ever have been about anything in the world. And so you could literally read about 10,000 biryanis if you let yourself. And at some point you've just got to cut it out, right? And especially with the distractions of social media.… I wish I could quit you, Twitter!
In the film, one of my favorite interviews is the one with Sue Horton from Reuters, who talks about your use of the second person, and how it sort of draws the reader in. I'm curious how you think about your own writing style.
I do use the second person a lot. When I came back to the L.A. Times, the copy chief there came to me the first month and said, "You know, I think you use the first person about twice as much as the rest of the writers in the paper put together. [Laughs.] But because you're a columnist, we have to let you do it."
But one of the things I try very much to do is to include the readers in the process. It's not that I am in this restaurant that is either fabulously expensive or fabulously obscure—or fabulously ordinary—but to try to take them through in a way that they understand the process, that they will get to the restaurant and they will feel, "Wait, this feels really familiar," and they'll look at a menu and they won't be filled with the fear. And I've got to admit, I was really bad at this at first, but the idea of trying to make somebody think that they've actually eaten the food—which is difficult, because it's an abstract sensation—is something I try really hard to do.
The film premiered at Sundance last year, and right beforehand, you published a piece in which you took off your cloak of anonymity [as a restaurant reviewer], and your photo was published in the paper. Have you noticed a change since you've done that in any respect?
No, not even a little bit. You know, if you're going to the kind of restaurant where anonymity is an issue—and there aren't that many places; a lot of restaurants think they're at that level, and they're not quite at that level—they know who you are anyway. And sometimes their early-warning system isn't great, sometimes it is, but they've always known who the critics were. They knew who Craig Claiborne was, they knew Mimi Sheraton; in the days before [The New York Times's Pete Wells and Sam Sifton] started becoming restaurant critics, you could find pictures of them on the Internet. [William] Grimes had that picture on the cover of his book.
They know who the critics are. So it's more a case of plausible deniability than it is actual anonymity. And the game just got tiring after a while, worrying "Did they know who I am?" And it's a lot of you sitting at the table pretending not to notice the people in the kitchen pretending not to notice you pretending not to notice them noticing you. It's more of a distraction. That being said, would it be better if one could have an absolute cloak of anonymity? Yeah, probably. But there's a way that restaurant critics act that tends to give us away anyway—just in what we order and the way that we look at menus and the tribe's love of obscure white wines at the bottom of the list, because that's what our papers will pay for.
I remember once I was following Sarah McLachlan, of all people, around for Details, and I went to eat at a restaurant in Richmond, Virginia, that had gotten some good press. And I'd never freakin' been to Richmond before, but something about the way I ordered, the waitress said, "So you're a restaurant critic, aren't you?" I was like, "What the hell?" [Laughs.] And that wasn't before the Internet, but it was before social media, certainly.… There was one time at a restaurant in Las Vegas that I'd managed to go through half a meal unnoticed, and then somebody who'd been a maître d' at a restaurant I'd been to before saw me sitting where I was, did a spit-take, physically picked up the table and moved it to the center of the room. [Laughs.] That was funny.
Correction: A previous version of this article incorrectly spelled Laura Gabbert's first name.