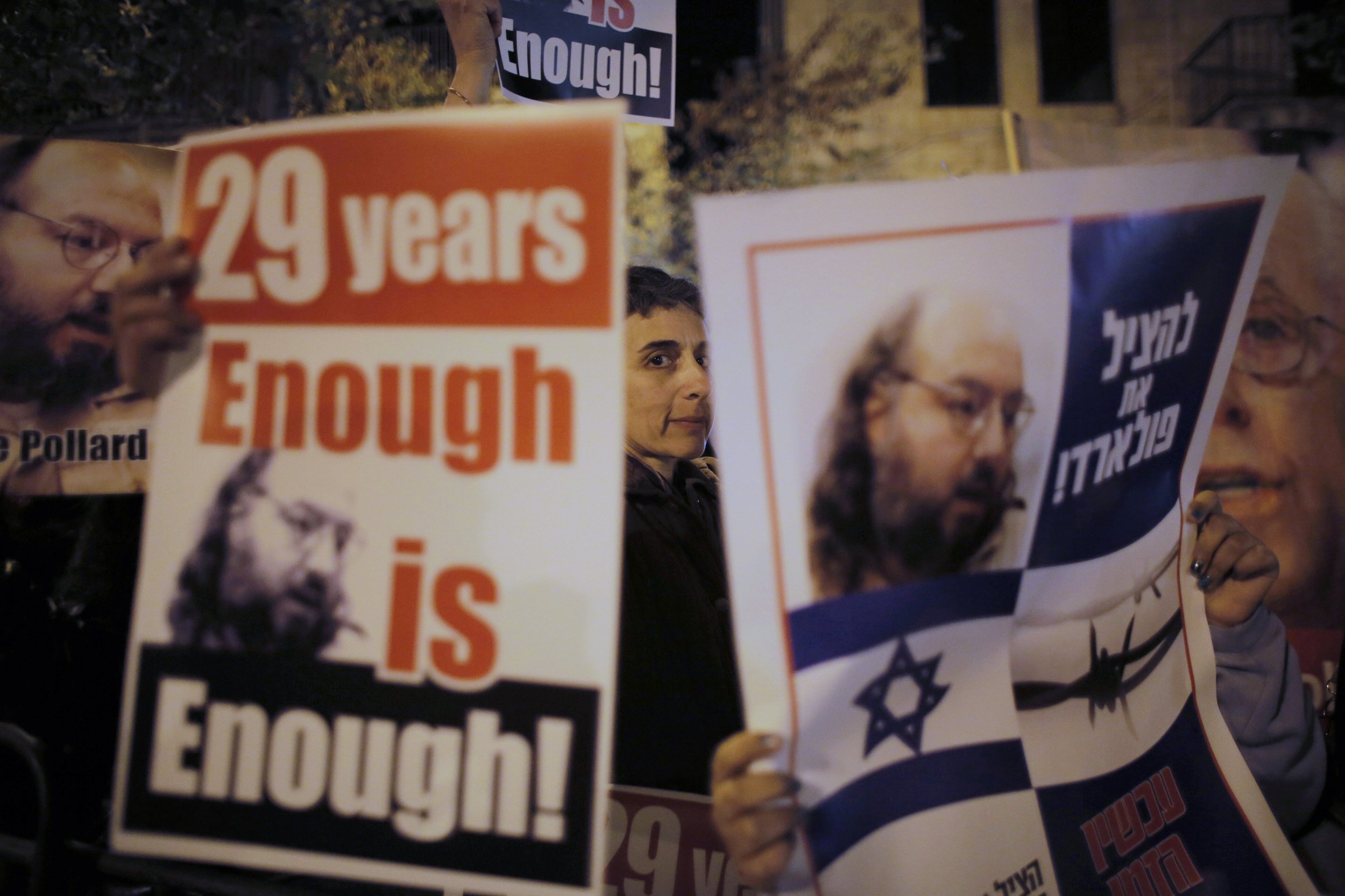 If past reports are true, convicted spy Jonathan Pollard could have about $1 million waiting for him in a Swiss bank account when he is released from federal prison on parole in November. Pollard, whose release was announced on Tuesday, has served nearly 30 years for supplying the Israeli government with classified U.S. intelligence documents.
Pollard's new problem: how to get to the cash, and when. According to multiple past reports based on the statements of United States investigators, Israeli intelligence paid Pollard $50,000 by the time he was arrested in 1985, on top of lavish gifts, and promised to deposit $30,000 a year for him in a secret Swiss bank account. The original 10-year deal could have amounted to as much as $540,000, officials said when he went to jail. But if the Israelis continued the payments to their captured spy—a common practice of major espionage agencies the world over—then Pollard could be in line for a $1 million payday, or more.
News of Pollard claiming such a reward, however, could touch off a firestorm in the already rocky relations between the U.S. and Israel.
Pollard attorney Eliot Lauer called past reports of Israel setting up a Swiss bank account for his client "poppycock." He also told Newsweek that an earlier statement he gave to the media saying Pollard would be confined to the U.S. for five years after his Nov. 21 release was wrong. "I don't know the exact conditions of his parole," he said in a brief telephone interview from his New York office.
The U.S. Parole Commission did not respond to several requests for comment on the conditions of Pollards's life after prison or whether U.S. intelligence agencies and past national security officials, who in the past overwhelmingly opposed Pollard's early release, had been invited to submit their opinions in the latest hearing.
But a senior intelligence official, speaking on the condition of anonymity, told Newsweek that, "The views of the intelligence community were solicited and we provided a response in this matter. The relevant agencies were queried whether they could articulate how a release would lead to additional criminal acts and that none were presented."
The Naval Criminal Investigations Service, or NCIS, which had a lead role in the Pollard investigation, declined comment. The CIA referred an inquiry to the Justice Department.
On Tuesday Justice Department spokesman Marc Raimondi said that the department had been consistent through the years in its position that "Pollard should serve his full sentence for the serious crimes he committed, which in this case is a 30-year sentence, as mandated by statute, ending Nov. 21, 2015."
M. E. "Spike" Bowman, a former top FBI and National Counterintelligence Directorate official, who was one of the leading opponents of Pollard's early release, said the U.S. Parole Commission did not solicit the advice of him or others this year. "I don't think they asked," Bowman told Newsweek. "In the past, we were very vocal, so I don't believe we needed to be asked again."
As for the conditions of Pollard's parole, Bowman said, "they don't have to give him his [U.S.] passport back, but I suspect they would." He added, "Israel deposited money for him in a Swiss bank account."
In 1986, Pollard pled guilty to one count of conspiracy "to deliver national defense information to a foreign government" according to court documents, which carried a maximum prison term of life. He agreed to cooperate fully with the government's ongoing investigation. The sentence mandated parole after 30 years.
But according to Ron Olive, the NCIS investigator in the case, hard copies of the documents that Pollard stole over 18 months could "fill a room that is six feet by six feet by ten."
"No other spy in the history of the United States stole so many secrets, so highly classified, in such a short period of time," he said in a 2010 interview. He and other U.S. intelligence officials maintain that Pollard sold documents to "Pakistan, South Africa and two other countries they declined to identify," Bowman said.
Charles S. Leeper, the assistant United States attorney who prosecuted Pollard, said money was a big motivation for the spy, who claimed he was only trying to help Israel, a U.S. ally, not not to betray his country, according to a 1999 account by Seymour Hersh in The New Yorker. In his sentencing memorandum, Leeper pointed to Pollard's annual cash contract with the Israelis, saying he "stood to receive an additional five hundred and forty thousand dollars ($540,000) over the expected life of the conspiracy," Hersh reported.
Pollard may well decide to eventually move to Israel, which would certainly make collecting any back pay held for him easier. The Israeli embassy in Washington did not immediately respond to a request for comment on their erstwhile spy's pay or future disposition.
But Israeli Prime Minister Benjamin Netanyahu spoke Tuesday with Esther Pollard, the wife of Jonathan Pollard, just hours after his parole was announced. "After decades of efforts [to secure his release], finally, finally Jonathan Pollard will be freed from jail," Netanyahu was quoted as saying. He added that throughout Pollard's "long period of incarceration, I made sure to raise the subject of his release in all my meetings and conversations with the heads of the American government."
The prime minister did not saying anything about a possible Pollard move to Israel, which granted him citizenship in 1995, much less unfreezing the former spy's espionage pay. But according to Pollard's lawyer, he's going to be sticking around, at least for awhile. "We …secured employment and housing for Mr. Pollard in the New York area," said the statement from Eliot Lauer. He added that "Mr. Pollard is looking forward to being reunited with his beloved wife Esther."
Pollard's first wife, Anne Henderson Pollard, who was arrested with her husband in 1985 and served 40 months of a five-year prison term for being an accessory to possessing classified documents, moved to Israel in 2010. In a 2014 Israeli TV interview, she said she had been "abandoned and betrayed" by the Jewish state.
Suffering from poor health, she said: "The government owes me at least… they owe me for my medical issues. I've never asked anybody to feel pity. I'm not being a victim. What I'm trying to do is have an ounce of justice."