Jonathan Pryce: 'There Are More Brutal Things Than Game of Thrones'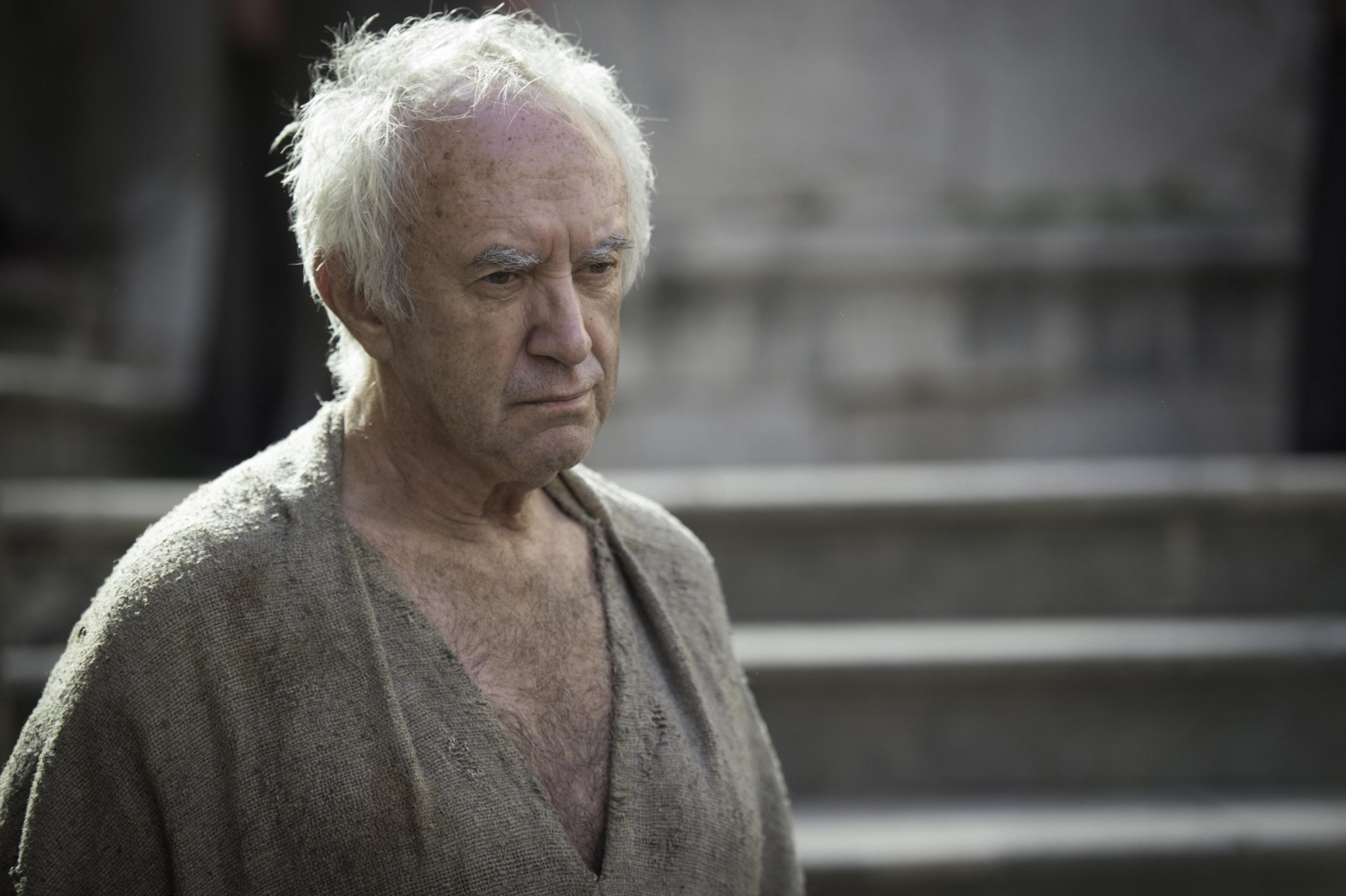 Jonathan Pryce is a man of opinions—many of them. At 68, the British star of Brazil, Tomorrow Never Dies and the Pirates of the Caribbean movies has a considered worldview—not too swept up in the fame he has amassed during his four-decade career to take an interest in politics or world news.
Indeed, his own acting choices of late appear to be stoked by parallels in the news agenda. His recent role as the religious zealot the High Sparrow in Game of Thrones, he points out, appears at first a saintly figure, not dissimilar to Pope Francis, with "his public persona of a man of the people, [who] washed the feet of the poor and kissed the heads of the sick and tortured."
The character of High Sparrow wasn't the first time he had been asked to star in the show, however. "I'd been approached when it was just starting up. It was the kind of thing I wouldn't watch—dungeons and dragons and fantasy stuff never really appealed to me," Pryce tells Newsweek. But he was finally lured into the mythical world when presented with the High Sparrow role years later. "I'm still glad I said no the first time round. I waited for High Sparrow."
His latest film role in low budget British comedy Dough, set in London's East End,is a cantankerous Jewish baker who is faced with the possible closure of his ailing business. Until his young Muslim apprentice accidentally laces the bread mix with cannabis, sparking an unexpected uptick in sales.
"I thought it touched on serious issues but with lightness. It exposes misapprehensions about race and religion," Pryce explains. "Underlying it is how people can have greater tolerance and more understanding of each other's differences." Against the backdrop of bloodshed between Palestinians and Israelis and Europe's migrant crisis, Dough shares a potent message of cross-cultural harmony.
The film doesn't claim to espouse any politicized rhetoric about the refugee situation, but it is a subject Pryce feels strongly about, particularly as the European Union referendum—or "Brexit"—looms in June. "I am for staying within the union very strongly. [In the film] I very happily live in a [multicultural] community. I'm happy it demonstrates how well people live together."
Pryce has been unimpressed by the campaign to leave the EU and the "lies told—Boris Johnson puts out the same old claptrap about the EU and when confronted about it, he laughs it off and says: 'Oh, I'm just an old buffoon.'"
"But he's the voice of a lot of people who talk about getting back Britain's sovereignty and 'we want to rule ourselves.' But the facts don't hold it up. There are European regulations that are frankly very good for us. There's so much more to be gained from being in the union," says a clearly impassioned Pryce.
But a potential Brexit isn't the only thing that fires him up. Born in Wales, his father was a former coal-miner who, together with his mother, ran a modest grocery shop. This isn't the likeliest of backgrounds for a future actor, but nonetheless, Pryce persevered and was eventually accepted to the prestigious Royal Academy of Dramatic Art (RADA) in London. But, he says, had it not been for a generous scholarship he may not be where he is today.
"I went there penniless," recalls the actor. "They waived their fees—it was a time when grants and scholarships were much more readily available. You can't punish the middle classes for going to drama school—you need to punish the education system and the associative governments for devaluing the arts."
Pryce warns that current and future generations will miss out on the same opportunities afforded to him amid cuts to the education of drama, music and other arts across British schools. "When the arts are taken out of the syllabus, people are not going to know what it's like to value the theater," he says. "For a lot of young people, the image of actors who are celebrities is stronger than theater as a viable artform."
But there are other pressing matters at hand—the current Conservative government who he believes are "trying to destroy the BBC" among them.
The public broadcaster has faced steep budget cuts and a Department for Culture, Media and Sport report in March suggested the BBC could benefit its commercial rivals by as much as £115 million annually by making less popular programming—bolstering the U.K.'s pay TV sector. "This culture secretary now, I don't understand his political drive. It's kind of a personal vendetta," says Pryce.
Pryce's staunch defence of the BBC comes as Wolf Hall, the BBC Two drama set in King Henry VIII's court, in which he plays Cardinal Wolsey, celebrates four nominations at the BAFTA TV Awards in May. "The independent companies didn't choose to make Wolf Hall—the BBC did," he points out emphatically.
It's in this kind of rhetoric that you can see why he was drawn to the role of Game of Thrones' High Sparrow, a "modern politician in a way." Joining the show in its fifth season, Pryce's character played an integral role—charging villainous queen regent Cersei Lannister of adultery, and in the lead up to one of the show's more harrowing scenes, instructing her she must walk naked through the city to gain repentance.
High Sparrow presents a complex dichotomy that Pryce relishes as an actor—outwardly a man of the people but ultimately harboring far more sinister motives. "When you play a character, you commit yourself to their beliefs. People say, 'You're playing a bad guy,' and I'm thinking, 'I'm not playing a bad guy. I'm playing a good guy.' High Sparrow believes he's good, as do many religious fundamentalists believe they are good. Ultimately, what they are doing is wrong."
"I hope he gets his comeuppance one day—but not necessarily [in] season six," the actor says with a mischievous glint.
With a career spanning stage and screen, little about Hollywood fazes Pryce. But even he concedes: "It's quite extraordinary, the Game of Thrones phenomenon." Such is the secrecy that shrouds the show that cast members have been known to be sent heavily redacted scripts to prevent potential plot leaks. Anticipation is at fever pitch when Pryce speaks to Newsweek just days before the premiere of the sixth season in Los Angeles. The cliffhanger on which the show was left—the possible death of one of the show's key character, Jon Snow—has been a global conversation. It's a testament to a compelling reach.
"I get asked this every day—as do we all. I just ask you to be patient and you'll find out," Pryce jokes when the subject of Snow is raised.
Pryce says he is one of the lucky cast members whose scripts aren't blacked out—so he could know Snow's fate, but chooses not to. "I get everything but I only read my lines. I like to find out what's happening while I'm watching it."
A fairly new addition to the Game of Thrones family, Pryce has "seen all of season five and the previous season, and I dipped into earlier seasons." That's enough of a sampling to get a feel for the show's tone outside of his own scenes. So what does he make of former cast member Stephen Dillane criticizing the show for being "too brutal?"
"It's brutal, but that's what it is at times. There are more brutal things in cinema. I've left films that I was watching," Pryce says. "I remember watching Fargo, I thought that was cruel. GoodFellas, lots of Scorsese stuff, I think is unnecessarily violent and almost a celebration of violence. I don't see Game of Thrones as being a celebratory violence. I think there are worse [things] out there and things that are more upsetting."
With Thrones, Wolf Hall and a role opposite Tom Hardy in his highly anticipated new BBC drama Taboo, which he says is "as dense, and as rich, and as textured as Game of Thrones," Pryce is experiencing something of an upswing in his career and reaching new audiences in his twilight years.
There's much to celebrate in his personal life, too. In April 2015, it was reported he married his partner of 43 years Kate Fahy—the mother of his three children. "It was done for all the wrong reasons, to do with inheritance tax and all that, just to put the house in order, as it were," he says.
"We just weren't sure about each other. It's lasted—just over a year now," he jokes.
And with that the conversation winds down. Still, there's just time for one more attempt to coax Pryce on Jon Snow's fate. It proves futile. Can't blame us for trying.
Game of Thrones premieres on HBO on April 24. Dough is released in theaters in the U.S. on April 29.