Republicans' Impeachment Witness Says Retaliation Against Vindman, Sondland 'Wrong' But 'Legal'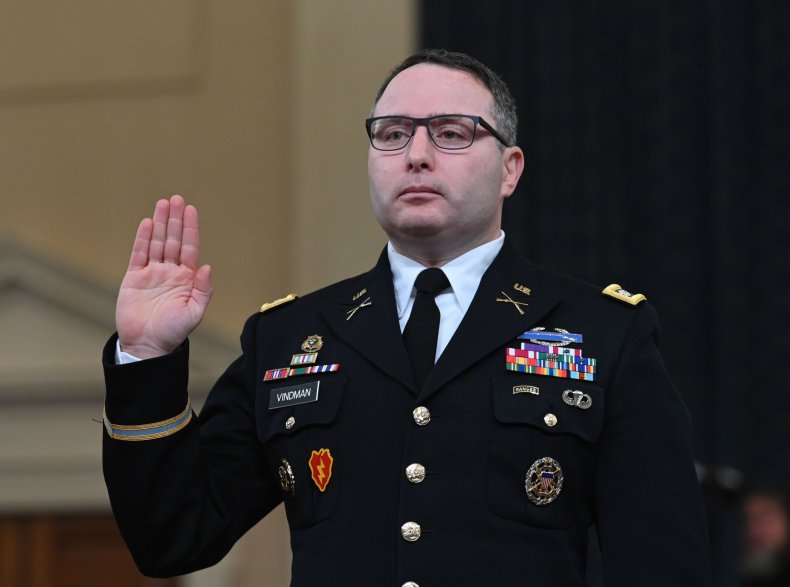 The Republican-called impeachment expert during that weeks-long inquiry in the House of Representatives argued that President Donald Trump did not contravene criminal law by ousting two impeachment witnesses from their posts, and said those actions "are both legal and not unprecedented."
In a recent column for The Washington Post, George Washington University law professor Jonathan Turley wrote that Trump's decision to reassign Lt. Col. Alexander Vindman (along with his twin brother) and European Union Ambassador Gordon Sondland did not rise to the level of criminal retaliation, mainly because of the imperatives afforded to the presidency by the Constitution.
Additionally, the statute commonly cited would not likely apply to congressional witnesses.
"White House officials and diplomats serve at the pleasure of the president and are thus the ultimate 'at-will employees,'" Turley wrote. "Presidents are generally allowed to pick their advisers and staff for good reason, bad reason or no reason at all."
Until their removals last week, Vindman and his brother had been serving on the National Security Council, which provides the president with foreign policy and security analysis.
Vindman testified during the House impeachment inquiry hearings that he "was concerned by the call" between Trump and Ukrainian President Volodymyr Zelensky on July 25, in which Trump pressed for an inquiry into Joe Biden, then his chief rival in the 2020 presidential race.
"It is improper for the president of the United States to demand a foreign government investigate a U.S. citizen and a political opponent," Vindman said.
During his testimony before the House, Sondland called the White House's bargain for an investigation an explicit "quid pro quo" deal. He was recalled from Europe hours after Vindman's exit.
Although he neither found criminal wrongdoing with the president's actions against the witnesses nor found that they were otherwise unprecedented, Turley conceded that it was "wrong" to retaliate against them for their testimony.
This is not the first time Turley has, to some extent, sided with the president's critics on issues of impeachment.
In January, he said it was "erroneous" to believe that impeachment requires a criminal or near-criminal violation, an argument that had been proffered by Alan Dershowitz, a key member of the president's defense counsel.
"For my testimony before Congress during the impeachment hearings of both President Clinton and Trump, I took the opposing view that a president can be impeached for a noncriminal act," he said.
Notwithstanding the occasional, moderate disagreements with Trump and his defenders, Turley is a steadfast opponent of impeachment. He expressed deeply held reservations about the process undertaken by the House, which he alleged was premature and lacking in evidence. He also argued that Trump's conduct did not rise to the same level of criminality as occurred in the events surrounding the Nixon impeachment.