Jonathan Van Ness Brings 'Queer Eye' Positivity to His Own Relationship With Haters After VMAs Criticism
Queer Eye star Jonathan Van Ness isn't letting criticism get him down after the 2019 Video Music Awards (VMAs).
The renowned groomer wrote a heartfelt message on Twitter after some social media users slammed his appearance at the awards show. While his brand is to live positively, Van Ness admitted the negative comments hurt him.
"The VMA's were so major for me," he said. "I've gotten caught up in reading some really judgmental mean stuff about me. Some people hated my outfit, some hate me, they think I'm fake, irritating, too loud, too femme. But really I have to stay focused."
"When I was young I wasn't seeing people like me on the VMAs presenting awards to one of the biggest pop stars around," he continued. "I'm doing work that I'm passionate about and I do it authentically. Reminding myself that this moment is beautiful for me & proud femme non-binary people."
The groomer began appearing on Queer Eye—a Netflix revival of the early 2000s show Queer Eye For The Straight Guy—in early 2018. The successful series, which brings positivity to a wide range of subjects who want to love themselves more, is currently filming its fifth season. Van Ness had a portion of the spotlight before Queer Eye as a celebrity hairstylist and lead of Gay of Thrones, a YouTube Funny or Die series that recapped the ultra-famous Game of Thrones each week.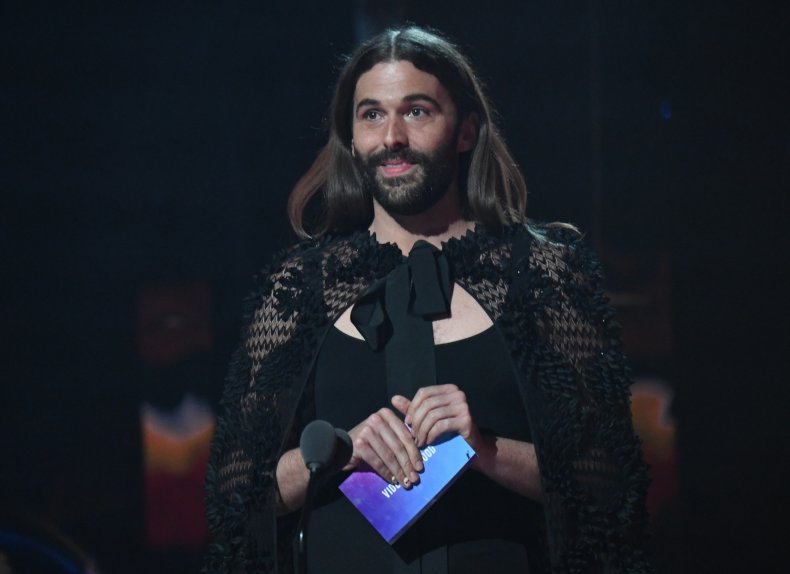 At the VMAs, Van Ness wore a black romper and black, lace cape. Fans seemed to be supportive of the look on Twitter, but Van Ness noted a hole of negativity he found and dove into. On Queer Eye, Van Ness is upbeat and caring. In real life, he has those qualities, but is also human, he told Newsweek in a 2018 interview.
"The most positive of people also have their moments. They also have their negativity," he said. "That's why I said look at the Twitter. I feel like that's where I go to express a lot of my frustration. I think there's a lot of facets to everyone, but I am a loving person and I am a really kind person, so all of that's real. But I think everyone has lots of sides."
Van Ness' supporters flocked to uplift him with praise and love. Over a thousand people commented on his initial tweet, most with words of appreciation, and even some asks for him to host the awards show next time.
Van Ness' open conversation comes just days after a Philadelphia Old Navy employee accused the store of whitewashing its staff for the show's filming. The employee posted a Facebook status last week after filming with disappointment in the company, who claims to be inclusive and diverse.
A Netflix spokesperson told Newsweek neither the Queer Eye hosts, crew or streaming platform knew of Old Navy's alleged choice to do this.