Senator Joni Ernst (R-Iowa), the first female combat veteran elected to the upper chamber of Congress, said that the U.S. should "absolutely" send military convoys to help evacuate Americans from the Kabul airport in Afghanistan.
Speaking on ABC News' This Week, Ernst said she believes the U.S. government and military should be doing "everything possible" to get Americans safely to the airport for evacuation after Afghanistan fell under Taliban control last week.
"We are the strongest military on the face of this planet and we should be exercising those authorities to make sure we are flexing our military muscle, especially when it comes to evacuating Americans," she said on Sunday.
"The Taliban needs to understand quite clearly that we have the right to get our American citizens out of Afghanistan," the senator added. "And if that means we need to escort them to our airport to get them out, then we will do so.
"There should be no reason we cannot exercise our authority to evacuate those that have not only supported our American troops," she continued, "but also our very own citizens. They deserve to be evacuated safely."
Ernst's statement comes amid fears that Americans attempting to reach the Kabul airport for evacuation could face terrorist attacks by the Islamic State group (ISIS) or threats from the Taliban. The U.S. embassy on Saturday told citizens "to avoid traveling to the airport and to avoid airport gates at this time unless you receive individual instructions from a U.S. government representative to do so," over potential security threats.
On Sunday, National Security Advisor Jake Sullivan said the threat of attack is "real" and "persistent" and said that U.S. officials are using "every tool in our arsenal," to protect the safety of Americans. Days earlier, Defense Secretary Lloyd Austin reportedly told lawmakers in a briefing call that "some people, including Americans, have been harassed and even beaten by the Taliban," according to multiple sources cited by Politico.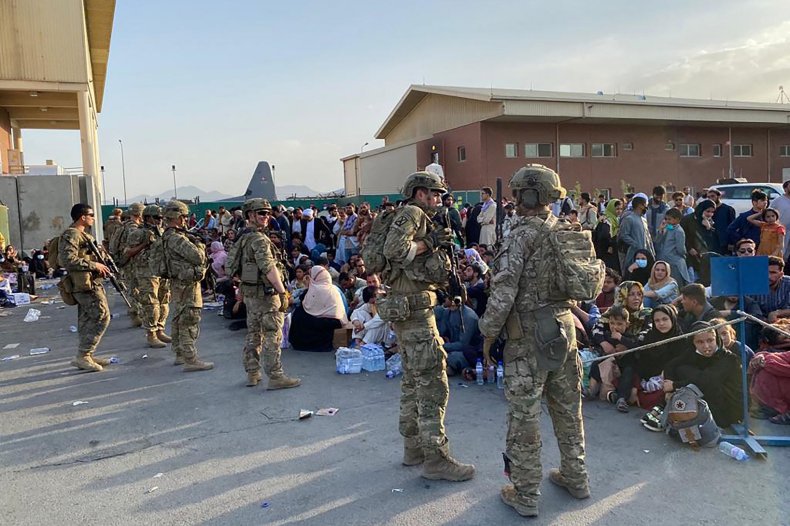 Also on Sunday morning, the U.S. Defense Department activated the Civil Reserve Air Fleet (CRAF) for only the third time in history, calling upon commercial airlines to be prepare to assist in the ongoing evacuation efforts. That means American Airlines, Atlas Air, Delta Airlines, Omni Air, Hawaiian Airlines and United Airlines will provide a total of 18 aircraft to support the evacuation of citizens and personnel. The commercial jets are not expected to fly in or out of Kabul airport, but rather to help to ferry thousands stranded at U.S. bases in Qatar, Bahrain and Germany.
So far, the Pentagon said that about 17,000 people, including 2,500 Americans, have been evacuated from Kabul. By Sunday it was unclear how many Americans are still in Afghanistan, though Sullivan estimated that it is still "several thousand."
For those who want to leave the country, the national security advisor said "it is our responsibility to get them out."
"That is what we are in the process of doing right now. We are working hard to organize groups of Americans, to bring them on the air base, get them on flights and get them out of the country," Sullivan said during a CNN interview Sunday. He added that the Taliban has been warned that if Americans are not given safe passage to the airport, the U.S. "will deliver a swift response."
President Joe Biden has maintained that his deadline for completing a full withdrawal of U.S. troops from Afghanistan is August 31, but noted that it may be extended if there are still Americans in the country. Biden has faced substantial criticism amid evacuation efforts and following the Taliban's rapid takeover of Afghanistan.
According to new polling released Sunday by NBC News, only 25 percent of respondents said they approve of Biden's handling of the situation in Afghanistan, while 60 percent said they disapproved of the president's actions.
Newsweek contacted the White House for additional comment, but did not hear back in time for publication.