Joni Ernst Wins Re-Election After Hard-Fought Campaign Against Theresa Greenfield
Senator Joni Ernst has successfully defended her seat in a close race against Democratic challenger Theresa Greenfield.
Ernst, who was first elected to the Senate in 2014, won her bid for reelection by about seven points, although ballots were still being counted when Fox News and the Associated Press made the call. Going into Election Day, she had a two-point lead on Greenfield following months of nearly even polling.
Eyes were on the Iowa Senate race because of the national implications it carried. According to the Des Moines Register, the Senate race was the second most expensive in U.S. history, and ousting Ernst from office would have given Democrats one of the four seats they need to have majority control of the Senate.
A comforting result for Republicans, Ernst's seat was seen as one of the most likely to flip and the Register reported Greenfield outraised Ernest by a 4:1 margin.
Ernst campaigned with President Donald Trump and he pushed his supporters to cast ballots for her, saying at a rally in Dubuque on Sunday, "we have to get Joni Ernst elected."
"She's a terrific person and she really fights hard for the state," Trump said after welcoming Ernst to the stage.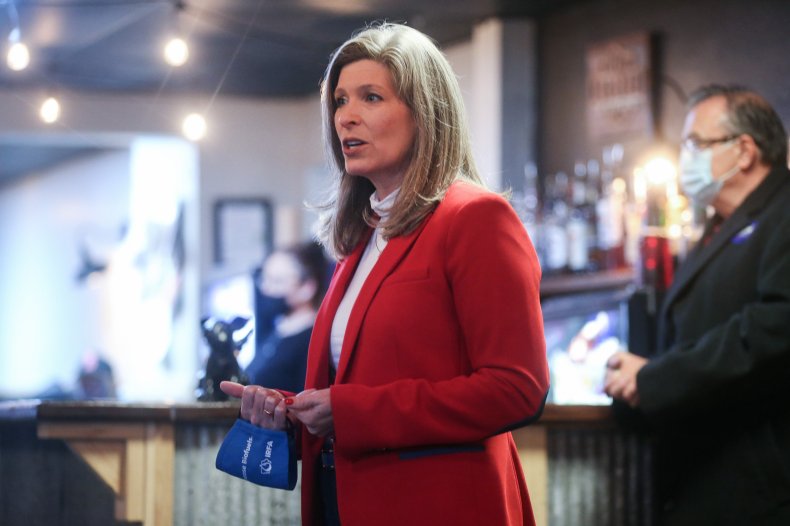 The senator visited all 99 counties in Iowa and Tim Hagle, a political science professor at the University of Iowa, told Newsweek the state-wide tour helped her connect with voters and establish name recognition. Days before the election, he predicted that Ernst would win and that she would do it by a larger margin than Trump.
"It just doesn't seem likely that someone who is voting for Trump wouldn't vote for Ernst, it doesn't compute," Hagle said. "Whereas, with Trump, you could have the opposite and someone voting for Ernst might not vote for the president."
Republicans had the advantage over Democrats going into the election, as they had about 20,000 more registered voters, according to the Secretary of State's office. This is the first election in 20 years that voters registered to one political party outnumbered "no party" voters, also referred to as Independents. The trend began in June, when Democrats had the lead and since then, both parties have continued growing their voter pool but Republicans had more supporters by the end of October.
However, a third of the state's voters are considered "no party" and in a purple state like Iowa, they can be the swing that puts a Democrat or Republican in office. Ernst's support among independents grew as the election drew near. In September, Greenfield had a 15 point lead, according to a Des Moines Register poll, but the outlet's final poll in October showed the tides turned for Ernst, giving her an 8 point lead.
Having been a member of the National Guard, county auditor and state senator, Ernst used her resume to show Iowans that the state is at her heart. Greenfield has also touted herself as a true Iowan, affectionately referring to herself as the "scrappy farm kid" in a nod to her being raised on a farm.
In the last days of the election, Ernst encouraged undecided voters to look at her record as proof that she's the best candidate for Iowa. Greenfield, who hasn't held elected office and therefore can't tout her political record, criticized Ernst for not knowing the price of a soybean in an attempt to paint her as out of touch with the real Iowa.
While Greenfield proved to be a strong competitor, her message and the support from nationwide organizations weren't enough to oust the incumbent from office and Ernst will once again represent Iowa in Washington, D.C.