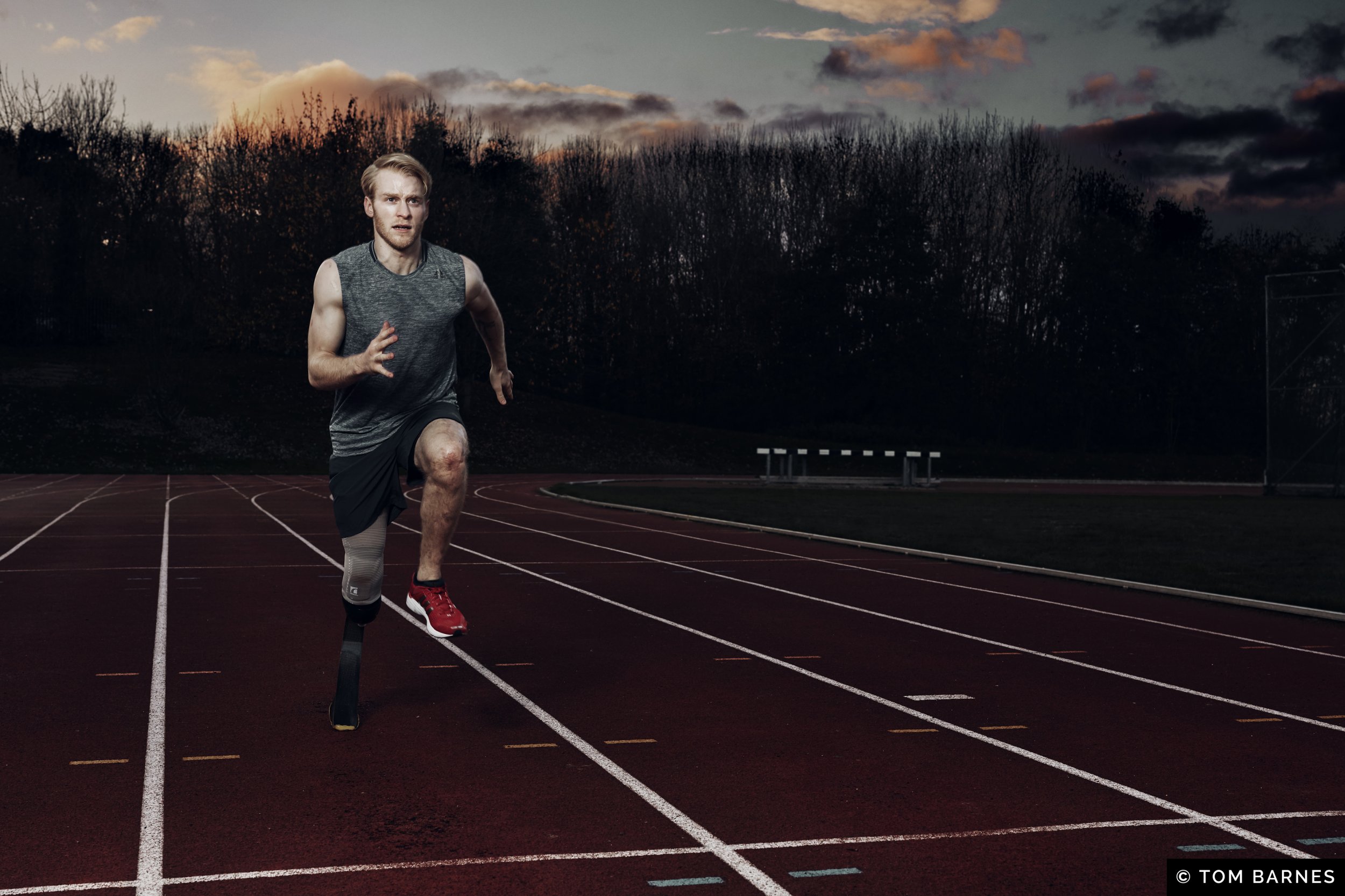 "We're the superhumans," is how British broadcaster Channel 4 is once again theming its Paralympic coverage this September.
The subtext of the three-minute advert is obvious. Far from being a sideshow to the main Olympic smorgasbord, Paralympians can entertain and amaze in their own right, perhaps in more astounding ways than their able-bodied counterparts.
For Jonnie Peacock, the gold medal winning sprinter from the London 2012 Games, the reality is more prosaic. Disability is less a hurdle to baulk at and more a challenge to hurdle, with little difference from the kind of trials and tribulations with injury any athlete faces during an Olympic cycle.
"Why do I need to change anything?" Peacock replies when asked by Newsweek whether his training differs from that of a regular Olympian. "When you run, you want to look as able bodied as possible. There are certain things that differ - I think one of the biggest problems for Paralympic sprinters is the projection out of the blocks and the first few strides. They are always a little bit more upright than our able bodied counterparts. But it's all about doing the best with what you've got."
Peacock, 23, contracted meningitis aged five. The virus killed tissues in his right leg that forced doctors to amputate below the knee. In 2015, he was forced to pull out of the IPC (International Paralympic Committee) World Championships in Qatar when the stump left after his amputation developed a sore. Not something an able-bodied sprinter would ever have to experience, but, viewed from askance, is it not just another injury? Justin Gatlin, at 34 and still one of the world's pre-eminent sprinters, missed out on the 200 meters final in Rio when an ankle problem flared. Same result.
"The way Dan looks at things, this is an injury not a disability," Peacock says. "'OK, you've got a slight injury, how do we modify training to account for that.' With my technique, I get as close as possible to what he wants from his able-bodied athletes."
Dan is Dan Pfaff, the vastly experienced Canadian coach who trained Olympic compatriot Andre De Grasse to two bronze medals and a relay silver in Rio. With 40 years' experience, he also handles Greg Rutherford, the British long jumper and former Olympic champion turned Strictly Come Dancing contestant. This indiscriminate work across the spectrum highlights a point stressed by Peacock. The bodies of Paralympians and Olympians might differ vastly; the training does not.
"He's (Pfaff) an incredibly smart guy, a problem solver," Peacock adds. "I've got huge confidence in him.
"My programme is exactly the same as what was given to Donovan Bailey."
Pfaff was Bailey's coach when the Canadian scorched to Olympic 100 meters gold at the 1996 Atlanta Olympics, in a then world record of 9.84 seconds. 14 years later, in June 2012, Peacock broke the Paralympic world record of Marlon Shirley by 0.06 seconds.
As the Paralympics have grown in reputation and importance, so they have been unable to escape athletics' darker side. While the International Olympic Committee (IOC) was criticized for passing on the decision as to whether to ban all Russian athletes from the Rio Games down to the individual sports' governing bodies, in the wake of a series of doping scandals, so the IPC came down hard, barring Russia completely from the Paralympics.
"Clearly, there are issues over that side of the world. Just because of the fact it's a culture over there. You have someone saying, 'Why shouldn't we be able to take drugs'. Why should you even ask that question? That's not what this sport is about, it's not about the best cocktail, it's about who can create the best programme, who has got the best talent in their body. That's why people want to watch," Peacock says.
He is more defensive when comparing athletics with other sports, suggesting the sport's perceived drug problem is magnified by its success in catching cheats.
"In the NFL (National Football league), I think they get a four game ban and for a second, ten… it's a joke. With your first official offense in athletics, you get done for four years. Four years out of your career in athletics. We just tell people, the reason people think badly of athletics is because we put our hands up and say, this guy tested positive. He's out. We've found somebody. Whereas other sports are a bit, hush hush, don't tell anybody about that.
"I think people have this warped opinion of cycling, athletics and swimming and it's just wrong. Ours is actually probably one of the cleaner sports."
Perhaps you could view the recent positive test for EPO, the banned blood booster, by Australian Paralympic cyclist Michael Gallagher as evidence of Peacock's point. Certainly, on the eve of a Games marked by reports of poor ticket sales and funding shortages, it was publicity that the Games' organizers could have done without.
Rightly or wrongly, when the Paralympics begin on September 7, Peacock and his competitors, and the sports they excel in, will be the center of attention, above politics and drugs. Superhuman, maybe, in what they have overcome; yet, in training and public perception, closer than ever to their Olympic cousins.
Jonnie Peacock is a BT Ambassador. BT is a long-time supporter of disability sport in the U.K. and the founding partner to the British Paralympic Association.
Uncommon Knowledge
Newsweek is committed to challenging conventional wisdom and finding connections in the search for common ground.
Newsweek is committed to challenging conventional wisdom and finding connections in the search for common ground.
About the writer
Sportswriter at Newsweek.