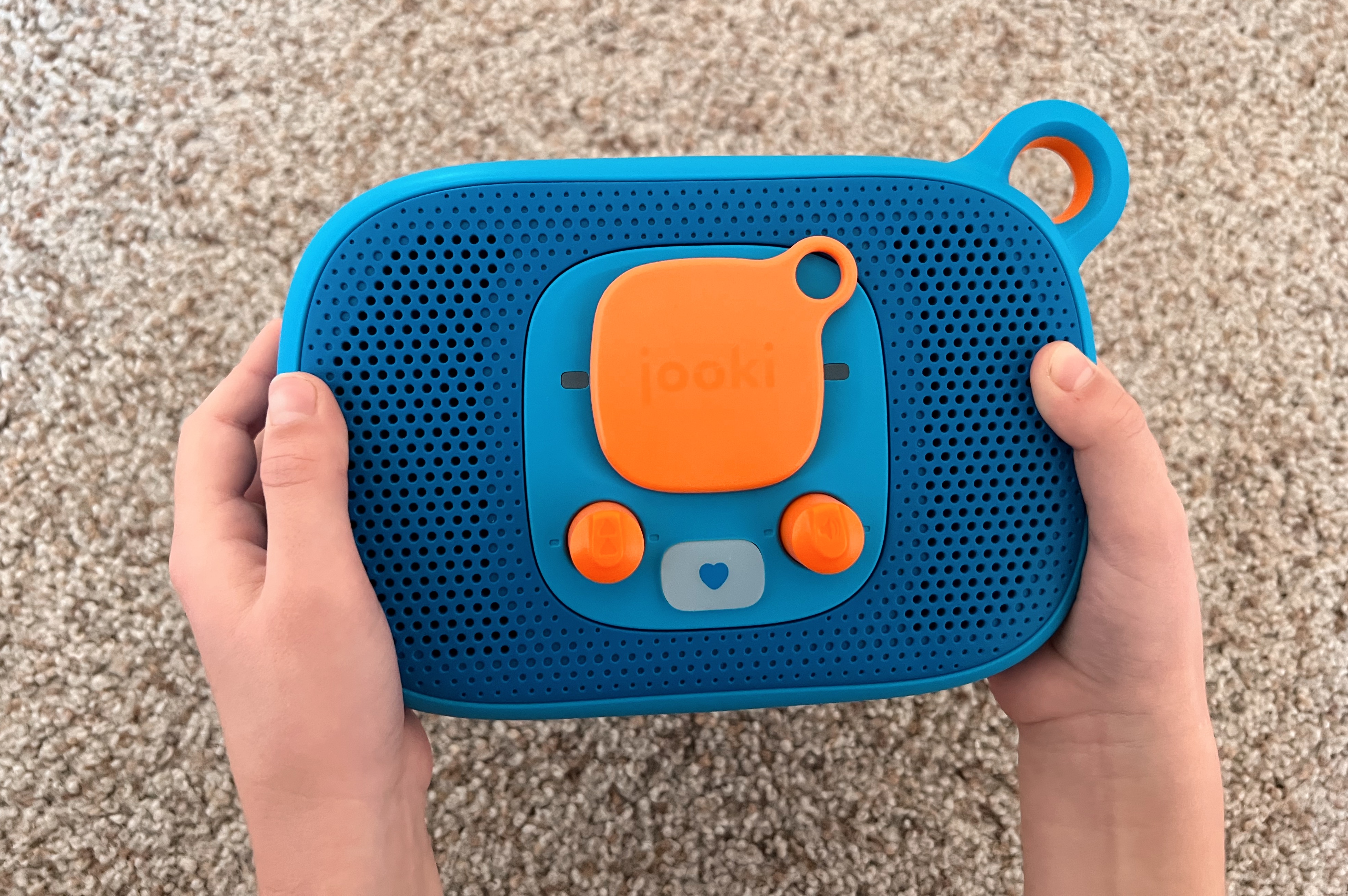 If the task was to create a fun-looking speaker for young kids, then Jooki understood the assignment. This second-generation Jooki Player from the company is easy to hold with minimal buttons. Plus, at launch, it comes in an attractive blue and orange colorway. The problem here isn't its appearance—it's that the speaker is actually confusing to use, for both kids and adults.
Usually, when I test out kids' toys or devices, I help one or both of my kids set them up and then I let them use the product on their own for a while to observe it in the wild, so to speak. This time, the Jooki Player stumped my daughter and me right out of the box. Even plugged in for some time, it would turn itself off going through the setup process, making it unclear what the problem was, whether it was power, connectivity or a number of other potential issues.
After a successful connection and two firmware updates, the experience of using the speaker felt very lackluster.
TL;DR
Pros:
Easy to hold speaker with knobs geared toward children
Can connect to Spotify for an extended library of songs
Cons:
Convoluted process to link a token to a Spotify playlist
Frustrating app experience and sometimes lacking instructions
Buy at Jooki.
The Frustrating Parts
On the whole, Jooki Player is a fine product. But it's not as straightforward as it may seem (or could be), and that's what's most frustrating. Some of that is due to how Spotify allows devices to connect to its service, but not all of it. There are some redeeming qualities about the speaker, but I think it makes more sense to point out its missteps first.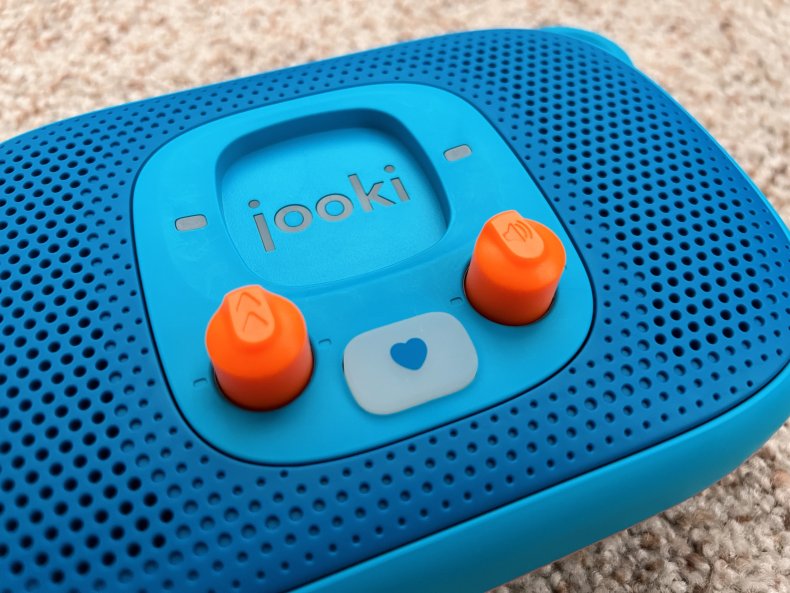 The Jooki Player's physical design is great for durability, but that same minimalism is tough for usability. The device has multiple lights on the front in the form of the Jooki logo, side dots and a button with a heart on it. After several days, you can begin to understand the lights' blinking language. Out of the box, it couldn't be less clear.
I didn't realize, for example, what it meant when the heart would glow green and then white and then cycle between red, and then all lights turned off. Later I came to understand that it meant it had a low battery. On my first experience with it, I thought that light combination might be indicating that I put in the wrong Wi-Fi password, which I mistyped the first time.
This is how I came to find that the instructions in the app are lacking, or were when I went through the process, and not fully updated to include this new second-generation Jooki Player. Eventually, I figured out that my phone and the speaker needed to be on the same Wi-Fi network to see each other. All of this may sound simple in hindsight, but when a child is staring at you waiting for their new gadget to be ready, nothing is obvious.
That brings me to the physical controls. There are two knobs that turn, one for skipping tracks and one for volume, in addition to the button with a heart on it. That's it. After I got the speaker to play music, I handed it to my 9-year-old daughter and asked her how to pause the music. She tried the heart button first and then the knobs. but she was as stumped as I was initially. To pause music, you need to remove the token from the speaker. Returning the token will resume playback. Is this actually bad design or not? I think it's rather clever, but it can be another item of frustration on top of the others.
One thing I think is a genuine problem is using the speaker with Spotify. Without my knowledge of how Spotify works and help from company representatives, I don't think I would have fully figured it out. There's a software button for Spotify in the settings section of the Jooki app, but that only opens Spotify—it doesn't connect anything or become linked. I went around and around with it more times than I'd like to admit.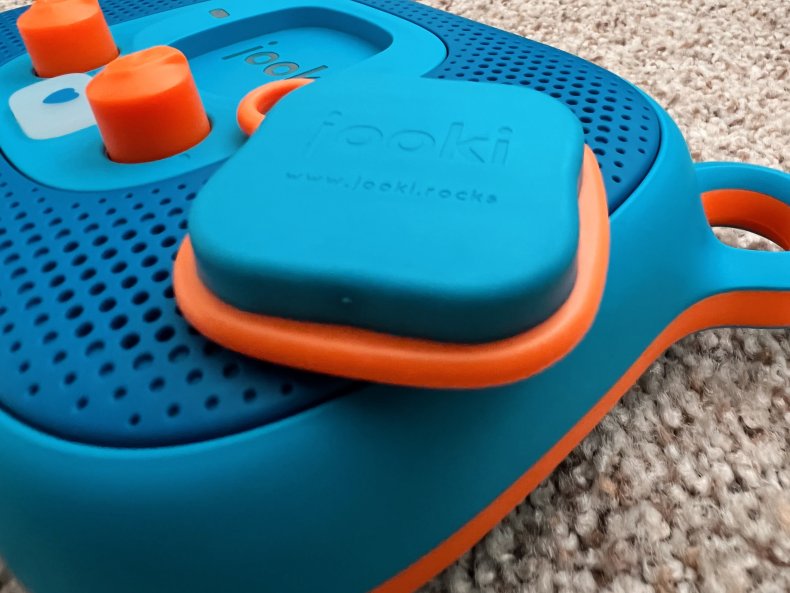 To get the speaker and the music service working together you need to open the Spotify mobile app, select the speaker icon to send audio to a different source and then select the Jooki speaker. That makes it a destination for music from the mobile app for the specific playlist that is playing. Then you need to go back to the Jooki app and link one of the tokens, which are different color combinations to distinguish playlists, to it.
It's complicated in general, but especially for a product intended for young kids. The big surprise comes once Spotify is connected. If you have the standard $10 per month premium Spotify subscription, then only one device can play music at a time. This isn't specific to Jooki, but if someone is using Spotify to listen to music, then you can't listen to the service on your phone or other speaker.
If you want to stream music to multiple devices, you'll need a family account for Spotify. I'm very familiar with this limitation from using Sonos speakers for the last decade. For example, if I drove to the store close to the time my kids went to bed, I couldn't listen to the same streaming service in the car that they were using on their Sonos speakers in their rooms.
There are some other minor inconveniences, such as the order that songs play in token-linked playlists. Maybe less minor is that the product didn't live up to the full 8 hours of its quoted battery life. Kids can plug it in and use it like that, but then it's tethered to that spot. But, without belaboring the point, I never found the Jooki Player to be a set it and forget it kind of product—which most people looking at it will likely be hoping for.
The Good Parts
The good news is that if you really need a device that young kids probably won't destroy, this can still serve that need. Setting it up may not be intuitive for parents, but toddlers can probably manipulate the knob controls and tokens without much assistance.
Even at age 9, my daughter did enjoy using the tokens to switch between different playlists. I set one to play music she liked and one to play nature sounds like rain, a campfire crackling and ocean waves crashing.
While I don't think the Spotify operation is great here, it does come with the advantage of providing a vast library of songs to choose from. Here's a tip for parents: Nearly all songs from shows and movies are available. Programming a playlist of songs from kids' favorite shows can help facilitate screen-free playtime.
If you have ripped MP3s (or OGG audio files) you can load those directly on the Jooki Player. There's 5GB of internal storage to add audio content. The Jooki mobile app is still used to associate internal files with a token.
Within the Jooki app, parents can choose to limit the speaker's loudness which is a nice touch for protecting ears and making repeating music less annoying to everyone else in the house.
It is nice that the speaker uses a USB-C port to recharge. USB-C uses a nondirectional plug so it's easier for kids to plug in than older standards like MicroUSB. Be aware, there isn't a headphone jack on the speaker, but the company's website states a USB-C adapter to connect wired headphones will be coming in the future.
Should You Buy a Jooki Player?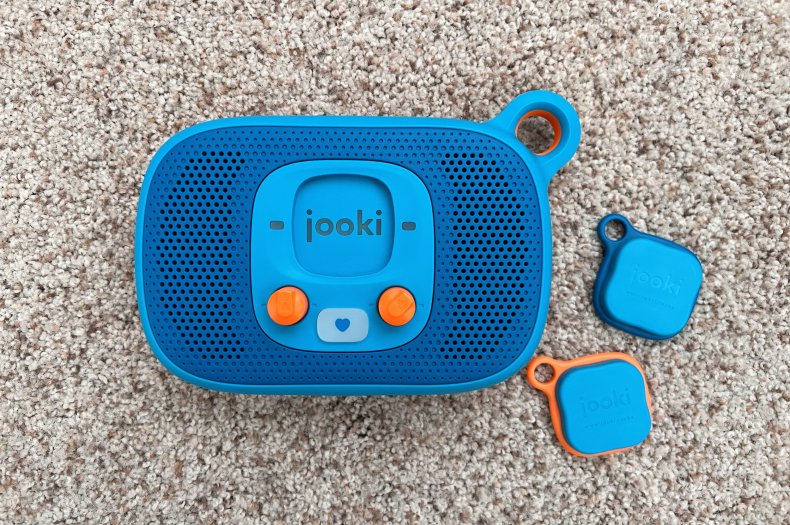 Overall, the speaker and its token system is a neat way to offer young kids a way to play music (mostly) independently. If it were connected to Spotify in a more seamless fashion and the software were more polished, then the Jooki Player could be pretty compelling for a narrow age window of kids and their parents. As the product stands now, however, I don't think the $112.99 starting price is a great value.
A kids' edition of Amazon's Echo Dot (without a screen) typically costs less than $50. There's a version of Lenovo's smart clock that can play music and only shows the time. Plus, there are also kids-specific devices like Yoto Player and Yoto Mini that are more intuitive and have easier access to a variety of content. The Jooki Player could be a really solid product, but I think it needs to start with a rethink of how its software works.
Buy at Jooki from $112.99.
Newsweek may earn a commission from links on this page, but we only recommend products we back. We participate in various affiliate marketing programs, which means we may get paid commissions on editorially chosen products purchased through our links to retailer sites.