NYC Gynecologist Files $1 Million Lawsuit Over Negative Yelp Reviews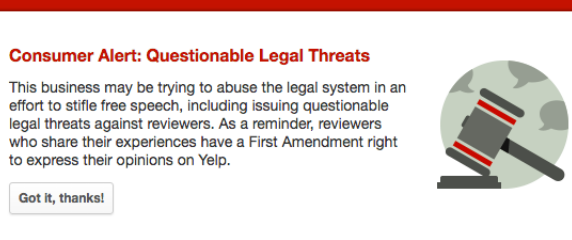 New York City gynecologist Dr. Joon Song filed a $1 million defamation lawsuit against a former patient after she posted a review on Yelp and other doctor review sites detailing how he'd tried to "scare" her, before overcharging and convincing her into a costly second visit through a "false diagnosis."
Michelle Levine took to Yelp, Healthgrades and RateMDs.com to criticize Song, an OBGYN, over a major financial discrepancy from a visit in July 2017. Levine told Newsweek that Song's office attempted to "scare" her into a second checkup after billing her for unnecessary medical procedures and then wittholding information over the phone to force her to come back in for even more billable procedures.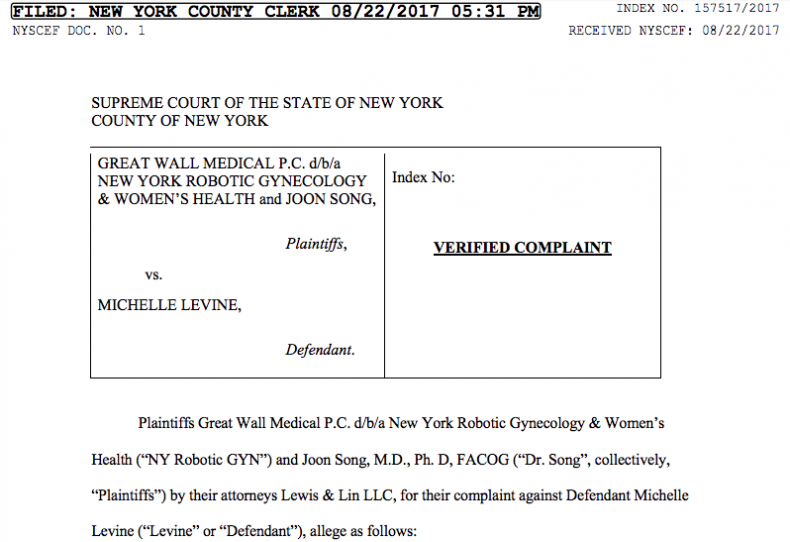 Levine claimed in her initial Yelp review she was a victim of "medical billing fraud" after she booked a simple annual checkup that was covered by her health insurance. But Levine said she soon received a bill for over $500 more than anticipated—apparently because the visit was not listed as a basic annual checkup. Song's office later claimed in a comment response that Levine complained of "acute and worrisome symptoms" which required additional medical evaluation that superseded an "annual checkup." Several of Song's defamation claims against Levine in the lawsuit use her comments of "crook" and "scam artist" as a basis for the minimum $1,000,000 sought by his office.
Levine also alleged that Song "had my medical records published online" in the wake of the continuing legal action.
The lawsuit filed last year on behalf of Great Wall Medical P.C. d/b/a New York Robotic Gynecology & Women's Health (NY Robotic GYN) and Song seeks a recovery of damages and injunctive relief from "false and defamatory" reviews. The lawsuit makes a wide variety of claims that Levine "commenced a campaign of harassing and defamatory behavior online" against Song.
Levine told Newsweek there was "no privacy" and her initial negative review in August 2017 said she was given "false information" regarding blood test results in order to force a second visit. "I booked a woman's annual checkup. All I wanted was my annual exam. I did not have anything going on and I didn't expect to be billed after the visit, annual checkups are covered under my insurance."
The lawsuit filed by attorneys at Lewis & Lin LLC notes "intentional infliction of emotional distress" on Dr. Song and is seeking a trial. Levine said she already spent nearly $20,000 attempting to settle the case but Song's attorneys rejected any continued out-of-court arbitration. Levine started a "Right To Yelp" GoFundMe page hoping to assist her defense and vowed to donate up to 20 percent of any potential winnings to organizations fighting frivolous lawsuits against online comments and to women's health organizations. The Note of Issue on the case is set for July 12, 2018.
Although Levine deleted her initial comments while attempting to settle the matter, she posted Wednesday to reaffirm her allegations in the case.
"I didn't learn until after my visit that an ultrasound cannot be a part of an annual. I told Dr. Song that I was there for an annual and he agreed that I was there for an annual so when I was given an ultrasound I thought I was getting an annual. Nonetheless if he gives EVERY new patient an ultrasound but an ultrasound can not be part of an annual how should he bill that?" she wrote Wednesday.
"If EVERY new patient gets an ultrasound but an ultrasound is not a part of an annual then no new patient can get an annual from Dr. Song that will be covered by their insurance as an annual," Levine continued. "I don't think that insurance companies would be happy to learn that he is performing an ultrasound for every single new patient. The Ultrasound is a procedure that is meant to be used on a need basis, not for standard screenings, as they are expensive."
The plaintiff's attorneys at Lewis & Lin LLC did not immediately respond to Newsweek's request for comment. A Yelp spokesman told WCBS-TV that New York needs stronger laws to protect people making reviews from business owner lawsuits.