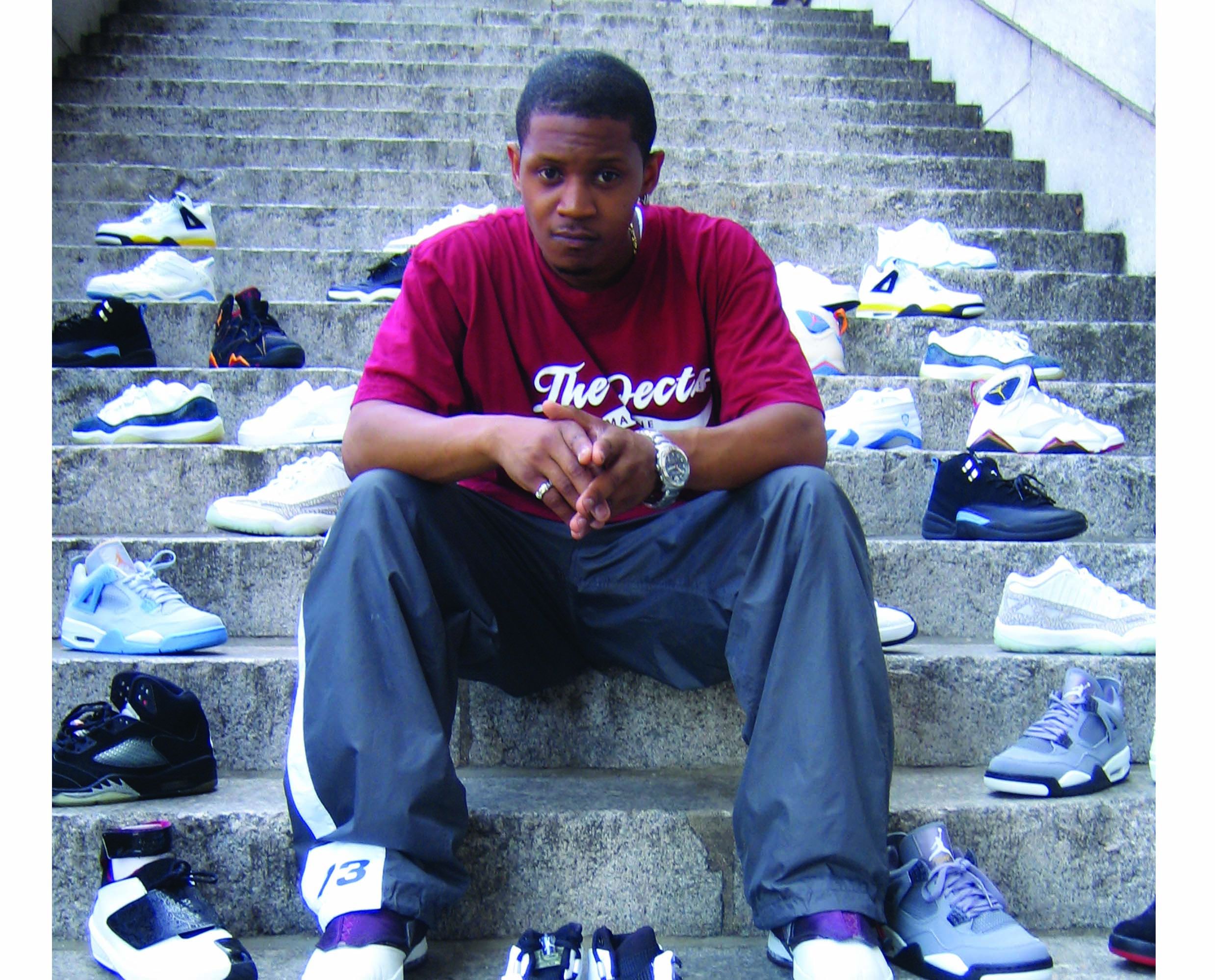 This article, and others celebrating 30 years of Michael Jordan's record-breaking career, is found in Newsweek's Special Edition: Jordan 30 Years of Greatness.
How and when did Jordan Heads start?
I started shooting in 2004. I got the idea while I was working at the Puma store in Manhattan. I noticed a lot of people wearing Jordans coming in. It was kind of odd that they were wearing brand new Jordans that were released in the '80s and '90s. I asked them "How'd you get these sneakers because they haven't been out in so long?" I didn't know they were retroing all of these sneakers, putting them back out. Each person had a unique story—what they were wearing when they got arrested for the first time, what they were wearing when they got married. The myriad stories and randomness made me want to do this documentary. And given the history of Michael Jordan's shoes, I wanted to explore the consumer side, the historical side, the legacy side.
You coined "Jordan Head" in 2004 when you started making the movie, but do you think the subculture started immediately with the release of the Air Jordan 1 in 1985?
They had peaks and valleys, but they're at their highest right now.
Is it more than the fact that Jordans are a great looking shoe?
It's a combination of the shoe and the design. Each is very different because it relies on MJ's lifestyle. Whether it's the type of cigar he likes to smoke [or something else he's into, like motorcycles], they infuse his lifestyle into the shoe.
What makes Michael resonate so much?
That "go hard or go home" mentality. He won six championships, two three-peats. He involved his team in winning; it wasn't just all one guy.
Where and how did you find Jordan Heads?
First, I posted a website asking people if they were Jordan Heads. They sent me pictures, they sent me videos—my mailbox was flooded. I couldn't believe the overwhelming response. People I interviewed would tell me about someone else they knew who was even more extreme, even more of a Jordan Head. I have 2 or 3 terabytes of footage. There's so many more people, but you have to stop somewhere. I had to stop. I've talked to hundreds, all across the world, various economic backgrounds. I traveled from the suburbs of Orange County to the hood in South Central. I hung out in the Best Buy in Beverly Hills. [Being a Jordan Head] crosses all different boundaries. And even given the fact that this man hasn't played in X amount of years, his sneaker is still the most popular sneaker out there. And the reason is because of what he did on the court. If MJ hadn't done what he did, his sneakers wouldn't be selling the way they are. People pass down this information to their kids. Some people are in it just for the hype, but the reality is he did the work on that court.
How did executive producer Michael Rapaport get involved?
My cousin knew him from back in the day. Grew up together.
What do you see most of the serious Jordan Heads doing with their sneakers—keeping them safe in a box or wearing them?
They're sealing them up in airtight containers, with a special type of box to wrap that up in. And then cellophane. They're not holding back on preserving these shoes. And they're smart. There's value in these shoes, and I don't see it stopping anytime soon. If you have the sneaker, the OG models, they're going to hold value.
If people put them away and don't wear them, how does the brand continue to be so important?
Not everyone's doing that. One of the people I interviewed was Kadeem Hardison. He had these really special sneakers just sitting in his closet. Just sitting in his closet! Game-worn, signed by Michael Jordan. Any other Jordan Head would have put them in a vault somewhere sealed tight with guards in front. This guy had them in the bottom of his closet with every other shoe. That's the mentality that he has. I told him he could buy another house with those—and he lives in Malibu. It really depends on the person and how they feel about the shoe. They might feel so proud to be wearing it and want to be seen in the shoe. There are various extremes of being a Jordan Head, if you will. We have a Kadeem Hardison who really doesn't care. He loves what he has, but he's keeping them where he wants to keep them. He might wear the shoe. Parents are also starting to understand the value of these shoes. A lot of kids are staying out of trouble by going to [Air Jordan] swap events—and they're also making a profit. There's a cool synergy taking place.
You've heard a lot of Air Jordan stories. What are some of the most memorable?
A young lady ate ramen noodles for a week to get a pair of Jordans that came out that Saturday. She met her goal. She essentially starved herself, but she had the sneakers. A lot of people think people'll rob and steal—do anything to get these shoes—but Jordan Heads are like everybody else. Really cool people who just have this obsession with Michael Jordan's sneakers. It's not just sneakers: It's a lifestyle at the end of the day.
In a culture that's so obsessed with the newest and most high-tech, why would people want to wear the classic, low-tech Jordans—either OGs or Retros?
It's a subculture within the subculture. They're attached to a Michael Jordan who did things on the court that no one will be able to replicate. I mean, the guy played with a full-blown flu. He couldn't walk off the court. That drive and that ambition transfers into the sneakers as something tangible that we can hold and touch.
What do you think wearing Jordans signifies? What makes wearing them so special?
It's aspirational. It makes people feel special, like when they put these on they're a part of history. It's history that they're documenting. It's history that you can wear on your feet. No other footwear has been able to do that—not a sneaker, that is. Me, personally, I wasn't able to get them as a kid. A lot of people didn't have a whole lot when they were kids. Their parents didn't have the money to get these shoes. Now they have jobs, they're financially stable, and they can buy them and they can relive their childhood. It's very nostalgic. In my store in Brooklyn, I have people tearing up when they walk in the door. They have very special, fond memories.
Which one's your favorite?
The Air Jordan I. It's just a very simple silhouette, beautiful colorway—the red and black, with a little bit of white—you can wear them with anything. That's mainly the reason I love the shoe. There's no need to think about coordinating colors, or matching. It is a very distinct looking shoe. And on top of that it's Michael Jordan's introduction into the NBA, so it's the alpha.
Has sneaker culture changed since that shoe came out 30 years ago?
Most definitely. Sneaker culture was created in the streets. It was in the hood. The internet didn't dictate what was cool and what was hot. It's something kids in the city created. It goes hand in hand with hip-hop. As hip-hop grew, sneaker culture grew. As people saw the sneakers on rappers' feet, they wanted to emulate their favorite rapper—wherever they were: Idaho, Iowa, overseas. It grew out of New York, and now we are where we are. The sad thing about it is the corporations have gotten wise and dictate what's cool now. The inner city kids no longer have that kind of power. Now the sneakers are coming out, and you gotta get 'em because they're limited—and if you don't get 'em now, you're not going to be able to get 'em again. I really wish we could go back to a time when you could go to your mom-and-pop shop and pick out anything you like and you can make it cool. The great thing about Jordans, then, is there are so many retros. One through 18—you can pick and choose, each model is very unique and individual.
What do you hope this movie does?
I hope it helps to enlighten people about the consumer side. You see a lot of documentaries on sneaker culture and you see a lot of celebrities in them, and that's not what this film is about. It's about the consumer and their struggle. And their appreciation for the sneaker in general. Celebrities talk about their sneakers, and it's not fair—a lot of them don't go through what the average consumer goes through to get their sneakers. It really shows the passion for the shoe and the love for Air Jordans.
This article, written by Johnna Rizzo, was excerpted from Newsweek's Special Edition: Jordan 30 Years of Greatness. For more on the greatest basketball player to ever grace the court, pick up a copy today.