Who Is Jordan Greenway? First Black Hockey Player In Olympic History to Play for U.S. Hockey Team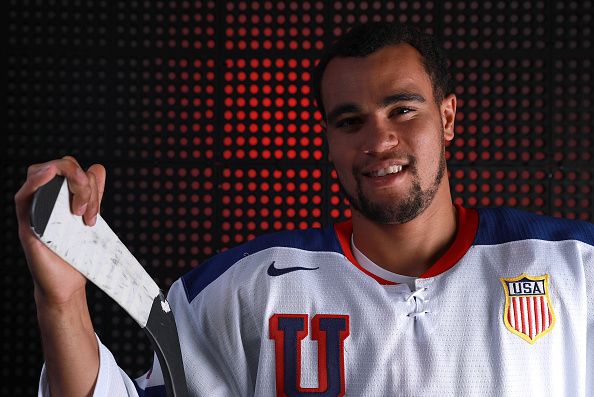 Jordan Greenway is making history by being the first black person to play for the U.S. Hockey Team at the Winter Olympics in PyeongChang.
Greenway, 20, towers over the competition at 6 feet, 5 inches at 238 pounds and will be the biggest player on the U.S. team. He was told that he was selected to play by his coach late last year and said it was the "greatest Christmas present" he ever received.
"I dreamed of [it] as a kid, and I didn't think it was going to happen before I graduated college, but I'm fortunate that it did, and I just couldn't be more excited!" Greenway told CNN.
Greenway put on a pair of skates at the age of three. In his hometown of Canton, New York, everyone played hockey and ice rinks were all over town.
Greenway and his younger brother, JD, both play hockey. Despite their competitive nature in the rink, the two have encouraged each other to be great hockey players.
"JD was probably the better athlete in the family, but yeah, no matter whether we were playing hockey or football or rock, paper, scissors, whatever the case was, we always wanted to win, so I think that's really allowed us to continue to work hard and have the success that we've had up to this point," Greenway said.
Many of the NHL players are white, but Greenway was never phased and continued to play the sport he grew up loving.
"There wasn't a lot of African-Americans playing and I think, honestly, outside of my brother and I, I can't think of a ton ... so I just kind of grew up around it and it was kinda the norm," Greenway said.
The 20-year-old was picked up by the Minnesota Wild in the 2015 NHL draft while he was trying to complete his last year at Boston University where he plays Division I hockey. Greenway is also the first hockey player in three decades that is an amateur playing for the U.S. men's Olympic hockey team because no players from the NHL were sent to compete this year.
"I'm the first African American to play hockey for the United States at the Olympics but hopefully I'm the first of many," Greenway said. "Hopefully these kids go out, try something different, play hockey, and hopefully I see a lot more playing in the near future."